10 Ways to Save at Starbucks
This post may contain affiliate links and I may be compensated for this post. Please read our disclosure policy here.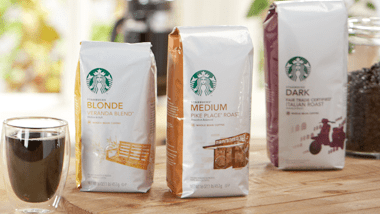 For those of you who are die-hard Starbucks drinkers (we know you are out there!), Starbucks just released this article on The Top Ten Ways To Save at Starbucks. Do you have more tips on how you save at Starbucks. Share them below.
Make sure to check out more ways to save at Starbucks from a Starbucks barista that Jen interviewed a few years ago.
Here is Starbucks' list:
1 – $2 Grande Iced Beverage: Enjoy your favorite afternoon refreshment with Starbucks Treat Receipt. Now through Sept. 3, bring in your morning receipt after 2 p.m. on the same day to participating stores and get a 16 fl. oz. Grande cold beverage for just $2 (plus tax). Savor the final days of summer with a handcrafted cold drink of your choice; Starbucks RefreshersTM, Frappuccino® blended beverages and Smoothies included!
2 – Free Refills: Register any Starbucks Card, earn 5 Stars and enjoy free refills of brewed coffee or tea- hot or iced while you're in store. Benefit applies to same store visit at participating stores.
3 – Save 10 Cents When You Bring Your Own Cup: Receive 10 cents off your beverage when you bring in your own reusable cup, mug or travel tumbler.
4 – Stock Up on Whole Bean Coffee For Under $10: Now is the time to stock up and save! Three of Starbucks popular whole bean coffees—Veranda BlendTM, House Blend and Fair Trade CertifiedTM Italian Roast—are just $9.95 per pound (reg. $11.95) now until Sept. 3.
5 – Brew Your Coffee At Home: Get things brewing at home! Did you know that one pound of coffee yields more than 45 cups of your favorite joe? That's about 30 cents a cup.
6 – Buy Two Petites, Save 50 Cents: Grab a friend and enjoy a sweet treat with Starbucks Petites—all under 200 calories—and priced so sweet you should probably have two. $1.50 for one, $2.50 for two.
7 – Make Great Coffee On-The-Go: Whether you enjoy it hot or iced, as a morning ritual or during your Labor Day camping trip, Starbucks VIATM Ready Brew is an instant, delicious option for about $1 per cup.
8 – Enjoy Free Entertainment: Download free apps, digital books, TV shows, movies, music and much more with our Pick of the Week Program. Each Tuesday, Starbucks releases fresh, unique entertainment that's picked especially for you, and is completely free. Visit participating Starbucks locations and grab a Pick of the Week card on the counter and enjoy.
9 – Get Connected with Free Wi-Fi and Starbucks Digital Network: Bring your laptop and catch-up on the news of the day while surfing free Wi-Fi and the Starbucks Digital Network. The in-store Starbucks Digital Network is unique in its content offerings, allowing customers free unrestricted access to various paid sites and services such as wsj.com, exclusive content and previews, free downloads, local community news and activities, on their laptops, tablets or smart phones
10 – Monitor Your Coffee Beans: By downloading the Starbucks app on either your iPhone or Android device, you can now have your Starbucks Card balance right at your fingertips to keep track of your weekly (or daily) coffee spend.
Two bonus tips from us: 
Earn a Free $5 Starbucks Gift Card:  join the race to earn 12 Stars from August 27 – September 9 and Starbucks will send you a $5 eGift. Earn a Star each time you use your registered Starbucks Card.
Order a Smaller Size: Starbucks does not advertise 8 oz sizes, but they are still available at many locations (kids size). You can request most coffee drinks in this size to cut the price down some.
What do you think of their list? Comment below with your best tips!