This post is part of the HEALTHY ESSENTIALS® 2014 program by Johnson & Johnson Consumer Companies, Inc. and The Motherhood, who sent me a box of products and compensated me for my time. Opinions, experiences and photos shared here are all my own, and I hope you enjoy them.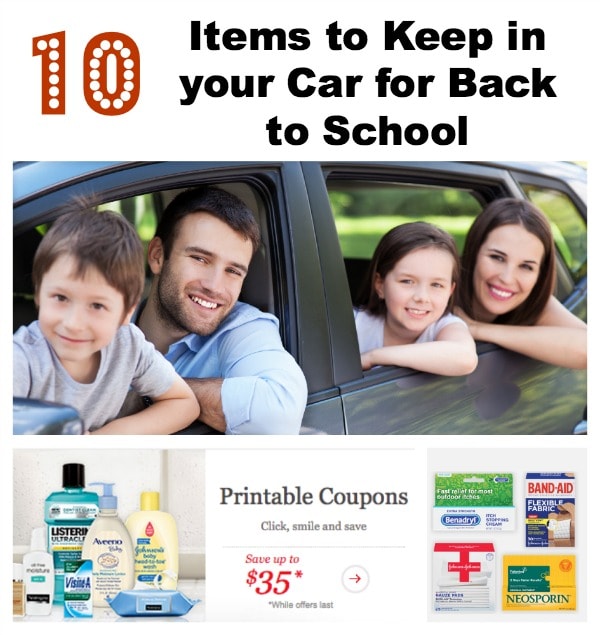 This was our big back to school week for my girls as it was for many kids around the Northwest and it was a big step for our family as our younger daughter headed off to all-day Kindergarten this year. What a change that is to not have any kids at home during the day – definitely bittersweet as I'm sure many of you can relate whether your child went off to preschool for the first time or off to living away at college. Love to see them grow & change but hard to let go, too!
With back to school, though, comes the busy schedule of homework, sports & other after-school activities. Last year, we were on the go so much, driving back & forth between activities, I found that I really relied on being prepared ahead of time to help us get to where we needed to go with all the necessary items & not forgetting things. We lived a good 20 minutes or more from everything – school, church, the YMCA, etc, and usually went from activity to activity, so it was critical that I was prepared for each of the places we went to as there was no way I could drive back home for something we forgot – so it would mean extra money spent (at full price) if I had to run out & buy something.
It really helped to start off the school year by stocking up the car with essentials that we'd need for any situations that would come up, so I am working on getting our car stocked up again, especially with both of my girls now in school.   I thought I'd share some of the essentials with you that we stocked in our car, as well as a few others I'm going to add to my car.
Healthy Essentials for the Car at Back to School Time:
1) Reusable Water Bottles – this is an all-important one for us as my girls are always thirsty -as am I. I'm trying to get us all to drink more water & what's the best time – when you're in the car & only have one option! We then try to remember to refill on trips inside or if we happen to run thru a drive-thru like at Starbucks or somewhere, I always ask for water & ice, to fill up my water bottles.
2) Healthy Snacks – This is another very important one as it seems my girls are without fail, always hungry, especially after school. We have a bit of a drive from school to home every day, so we try to keep healthy snacks stocked in the car. Some non-perishables to keep in the car can include things like Clif Bars & Fruit Ropes, Kind Bars, make-your-own snack bags of crackers, pretzels, etc, as well as adding in baggies with fruit or veggies or cheese sticks. Costco is my favorite place to stock up on the snack items.
3) Baby Wipes – To go along with the snacks, it's important to have those baby wipes on hand for sticky fingers, messy faces & general spills. You never know when these will come in handy!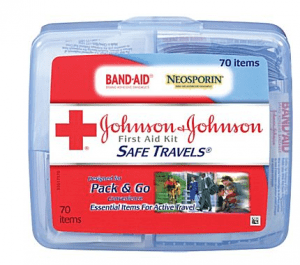 4) First Aid Essentials – This is an important one to always keep in your car as you just never know when you might need it or if someone else might need to use it. I love these little Johnson & Johnson First Aid kits – you can find them at Walmart or Target for just around $1 & they're easy to stick in the seat pockets. I'd also recommend adding some Band-Aids to your purse or glove compartment, too. Lastly, Neosporin might be a great one to add to your travel first aid kit, so that you can help prevent infection for cuts & scrapes.
5) Benadryl – This is one that I have not kept stocked in my car before, but we were recently at a park gathering and a little girl got a bee sting and her mom kept Benadryl in her car, to make sure she didn't have an allergic reaction – plus it seemed to help with the pain/itchiness of the bee sting. With the amount of serious allergies nowadays, this is definitely a must-keep item to keep close at hand.
6) Hand Sanitizer – This will come in handy so many times, when you stop at the park to play & all they have is a Port-a-Potty or to use before eating snacks or meals in the car.
7) Pain Relievers (for parents & kids)– Always, always keep Tylenol, Motrin or another  pain reliever  in your car for headaches or other ailments for both you & your kids. Can't tell you how many times I've been SO thankful we had Motrin in the car to catch those headaches right away so they don't ruin a fun outing you're having with your family or to help your child feel better if you've got a long drive ahead of you.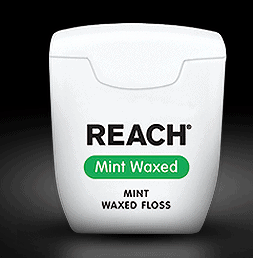 8) Floss – I keep Reach Floss in my purse or a little compartment in my car as it can be so frustrating when you're out & get something stuck in your teeth or you just want to stay on top of your oral hygiene when you have some spare time sitting in the car waiting for a sports practice.
9) Umbrella – I'll admit this was one I haven't been as good about bringing in the car because I'm a Northwesterner – we don't use umbrellas, right? However, I forget about those little people in my car who really do prefer to use an umbrella on the really dreary days or when it's just raining too hard to deal with just a raincoat.
10) Change of Clothes, Socks & Shoes – This is just one I like to keep in the car for emergencies, especially the socks, as my little gal is always managing to step in all the rain puddles & end up with wet socks the rest of the day.
Make sure to take advantage of the  $35 in printable coupons available on the Healthy Essentials website. They have coupons on such a variety of great healthy essentials such as:
$2/2 Benadryl or Children's Benadryl
$1/1 Motrin
$3/1 Zyrtec
$1.50/1 Johnsons Baby Products
$1/2 Band-Aid First Aid products
What are some of your essentials that you keep stocked in your car during the school year? Anything I've missed?