Ways to Give Back to Frontline Workers in Seattle & Tacoma
This post may contain affiliate links and I may be compensated for this post. Please read our disclosure policy here.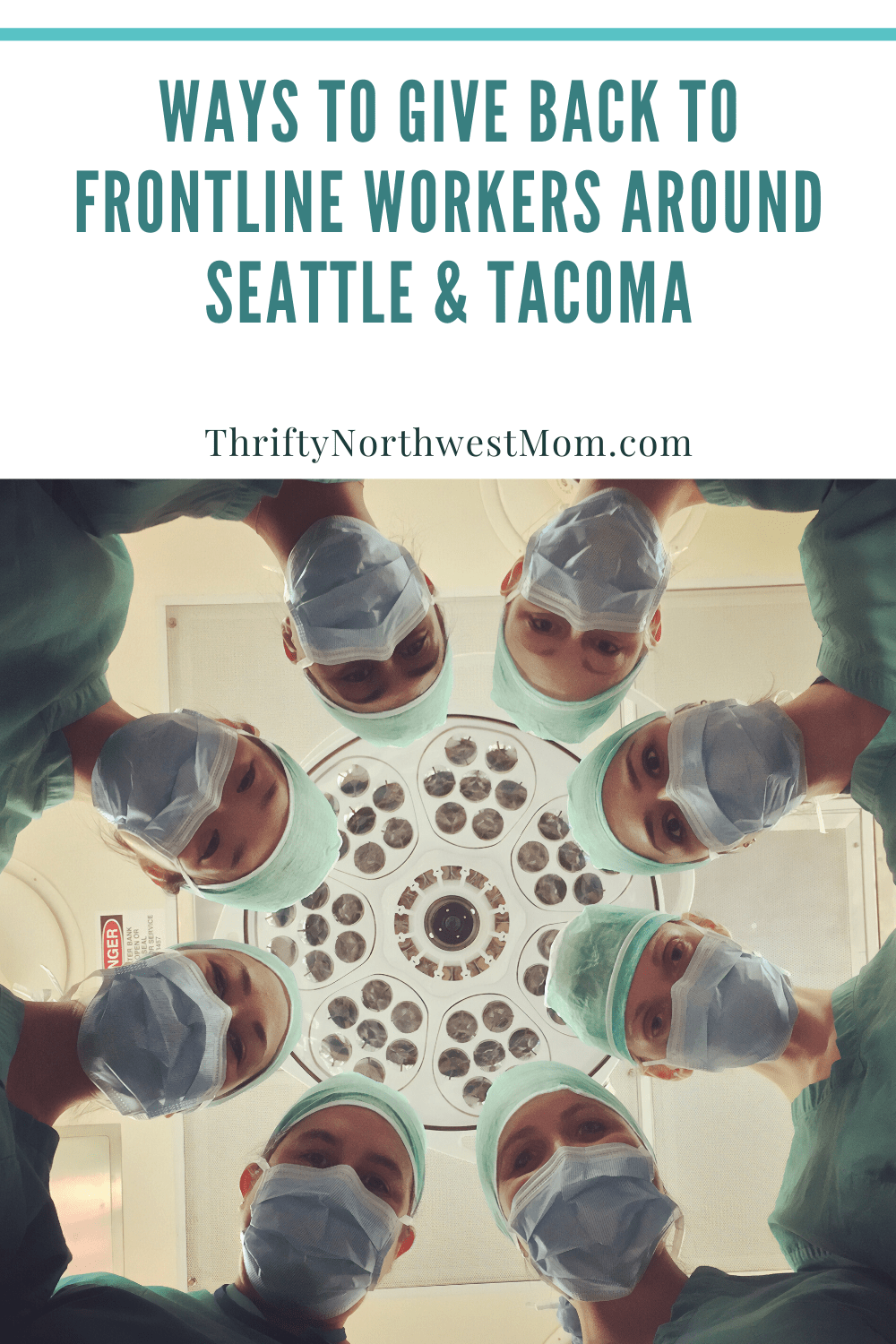 Ways to Give Back in Seattle & Tacoma
We are in the midst of unprecedented times during this Quarantine period during the pandemic outbreak. Most of us are staying home due to flatten the curve & help keep the virus from spreading. But there are many people who are not able to stay home as they have essential jobs such as grocery store workers, utility workers, truck drivers & so many more essential workers who we so appreciate that they are keeping things running so we can have all the supplies we need. Then, there are those who are risking their lives by taking care of all of us – the healthcare workers & first responders (police, fire, EMT, etc). Many of these people do not have adequate PPE (Personal Protective Equipment) still, yet they are putting themselves (& their families) at risk to help their patients & the community.
We wanted to put together a resource of ways that we can support those on the frontlines who are risking their lives by taking care of patients with the virus. Many of them are working long, extra shifts due to the increase in patient numbers & more care required for these patients.  First responders are having to help in situations that puts them at much greater risk. So, we want to find ways to continue to show support & thank these selfless heroes.
I know all about the extra care & time required for the patients who have Covid19 as I was one of them. Many of you may have seen on Facebook or Instagram that I was diagnosed with the Covid19 virus & they think my symptoms technically started one month ago today, Friday April 10th. I actually spent the first part of March with a diagnosed case of Influenza & then somehow I then also managed to get the Covid19 virus at the same time (or right afterwards). I have asthma & other lung issues, plus having the flu on top of the virus, so it was much more difficult for me. This meant I ended up spending 5 days in the hospital on the Covid19 special wing. So, I saw firsthand what the medical professionals had to deal with in the extreme shortage of PPE & the great risks for them as they cared for me.  I can never thank them enough for all they did to care for me & bring me back to better health.
Let us know of any other businesses you hear of, which are offering ways to support those on the frontlines of fighting this Covid19 virus. We'd love to keep adding to our list! This is also such a great way that you can both support those on the frontlines – as well as supporting the restaurants & businesses by providing business for them to help in these very difficult economic times.
Provide Meals for those on the Frontlines:
King County:
Maven Meals 
Maven Meals is delivering meals to Seattle & Tacoma where you can go on to their website under "Menu" & choose how many meals you would like to send to workers on the frontlines.
The Herb Farm 
The Herb Farm in Woodinville has a GoFundMe page set up where you can donate to provide meals for healthcare workers around King County. Each $25 gift provides one cooked-from-scratch with locally farmed, fished or foraged ingredients three course meal to medical staff in a King County location. They also provide a thank-you note with the meal.
Trophy Cupcakes
Trophy Cupcakes is offering a Pay it Forward program where you can purchase a dozen cupcakes (or more) & they will deliver to healthcare workers & first responders around King County area.
We Got this Seattle Fundraiser
The We Got This Seattle fundraiser that is teaming up with a number of Seattle restaurants to provide meals for healthcare workers around the Puget Sound area.  Ellen Kuwana who is providing lunches, chocolate & water to 15 medical sites around Seattle. Some of the participating restaurants include Pagliacci Pizza, Starbucks, Seattle Chocolate, Portage Bay & more.
Pierce County: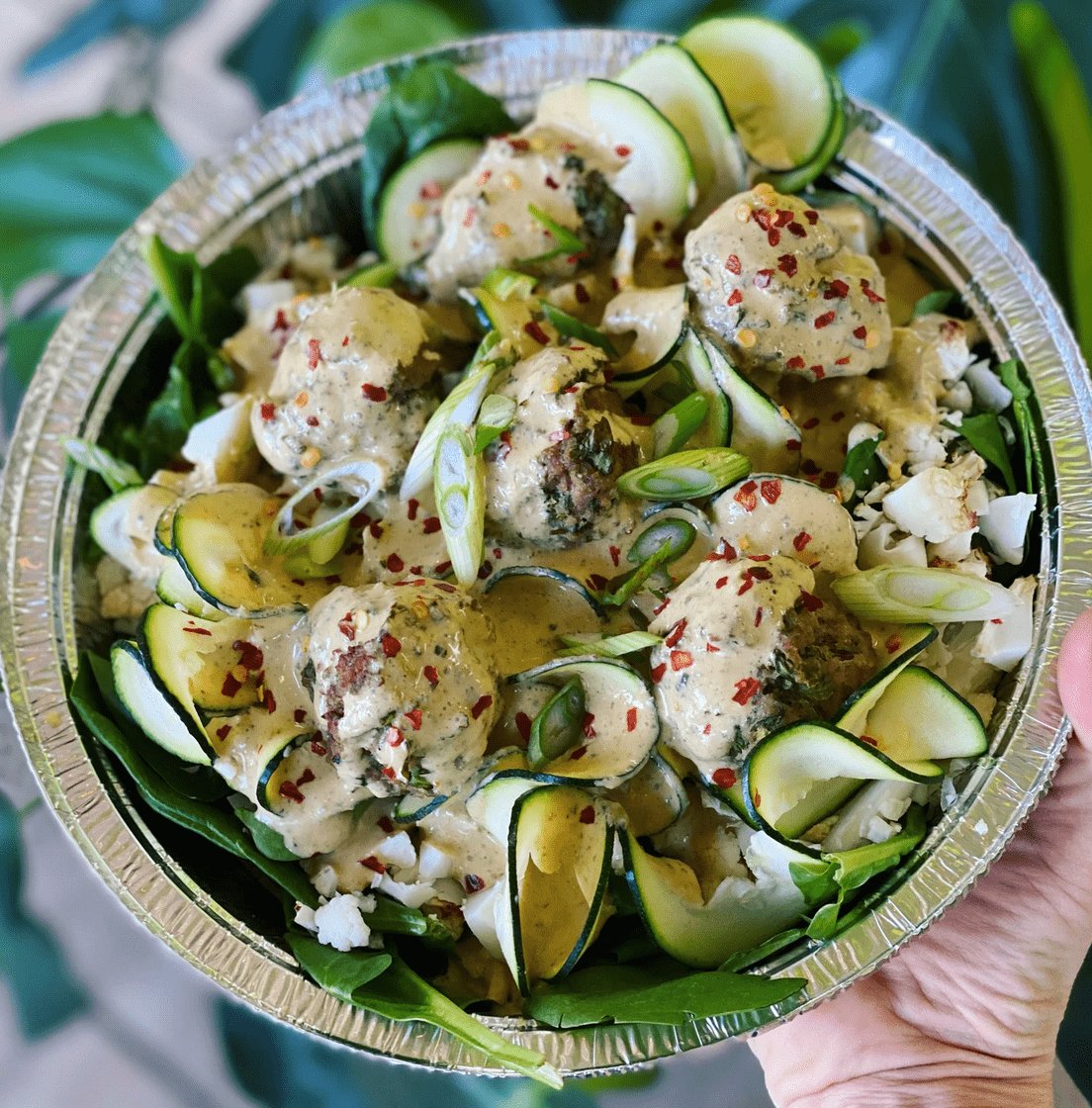 Crisp Greens 
You can donate 3 meals from Crisp Greens to healthcare workers & first responders for $21 on their website. They will deliver these around the Tacoma area to first responders, doctors, nurses, medical testing staff & other medical professionals.
Bob's Burgers & Brews (Puyallup)
Bob's Burgers & Brews is delivering meals to local Pierce County first responders & healthcare workers. For $12, you can donate a meal. Make sure to use their paypal donation form linked on Facebook.
Moctezuma's
Moctezuma's is delivering food to healthcare workers. Just email [email protected] to find out how you can donate to provide these meals for them.
Happy Teriyaki (downtown Tacoma)
Happy Teriyaki is donating meals for healthcare workers and first responders. They have a Paypal account set up that you can send your money for donations.
Farm 12 Restaurant
Farm 12 restaurant in Puyallup/Sumner is donating meals for healthcare workers & first responders – you can check out their Take Out page as they will be updating with more information about what they are offering for meal donation ideas, but it's best to either email [email protected] or give them a call at 253- 697-9486 & they can tell you how to donate.
Muscle Maker Grill
Muscle Maker Grill in Puyallup is also offering the opportunity for you to partner with them to donate meals to different hospitals & other locations around Pierce County for healthcare workers.
Skagit County:
Feed the Frontlines
Feed the Frontlines is a GoFundMe set up to bring meals to those on the frontlines in Skagit County. This is an article in the paper with the link to the GoFundMe in the article, but it gives more information about this project.
Donate Flowers to those on the Frontlines:
Tulip Town
Tulip Town is offering Color for Courage – this is an opportunity for you to pay just $15 to donate a bouquet of tulips from the Skagit Valley tulip fields.  They will deliver these to hospitals, nursing homes & other courageous members of the community. Sadly, the annual Tulip festival is not happening this year, so this is a fantastic way you can support these farmers & their workers while also showing support for the people working on the frontlines.
Donate Girl Scout Cookies
Girl Scouts has made it easy to donate cookies to healthcare workers & first responders for Covid relief. All you need to do is put your zipcode in & find out what options are available & they will donate to your local workers (depending on whether there is a local Girl Scout council offering this). I just put in my zipcode & there are options, so this should work for the Puget Sound area at least. It's just $5 box, but I'm sure it will put a smile on their face to have some delicious Girl Scout cookies delivered!
Make Cards & Posters for Healthcare Workers & First Responders:
If you're looking for a very low-cost, but meaningful & personal way to show your support to healthcare workers & first responders, making cards with your kids is such a great way to show support. It's a great service activity for your kids to do & those personalized letters, cards, drawings & pictures really do mean so much to those on the frontlines of fighting this to have some extra encouragement in their day!
The only cost would be supplies (although it's a great time to use up the craft supplies & cards you already have on hand) & postage to mail your items to the hospital if you choose to mail or you can email them to the hospital staff & they can print them off (even more frugal).
At a local hospital here in Pierce County, they take all of the cards, drawings & posters they get & they put them up on the halls for the healthcare workers to see as they are working there, which brings a smile to their faces during their shifts! (You can see examples sent by a friend who is a nurse at a local hospital of how they are lining the halls with the cards to encourage the staff). These can be both mailed or emailed.
This is an example of a card that was then emailed & printed off to display at the hospital
Make sure to check with your local hospital as to the best way to send these (mail or email), but I have included the general mailing address for the larger hospitals around the Puget Sound for you to check out. It's best to call to see if this is the best location to send items, though.  You could also call your local police department or fire department to find out how to best mail your items to them for donating to first responders.
Hospital Addresses Around Puget Sound:
I have provided links to each of the hospitals so you can go to their site directly & find other information regarding phone numbers & email addresses of who you can contact of how to send mail. There are also options of how you can email cards, drawings, and more to the hospital as well. The hospitals can then print off your child's artwork, cards, etc & place them for healthcare workers to see.
Many of the hospitals also have information if you'd like to donate masks, gloves, gowns & cleaning/sanitizing supplies (like Clorox wipes).
Several of the hospitals, like Multicare locations, also suggest how you can drop off commercially-packaged food items like granola bars for snacks for the healthcare workers, which is a more affordable option if you can't do meals but want to reach more people. This is another great way to stock up on some items at Costco & bring those to your local hospital if you live nearby only (first make sure to call or email to find out what's best).
King County:
Seattle Children's Hospital
Volunteer Services
M/S RC.3.820
4800 Sand Point Way NE
Seattle, WA 98105
University of Washington Medical Center
1959 NE Pacific St.
Seattle, WA 98195
Harborview Medical Center
325 Ninth Ave
Seattle, WA 98104
Swedish First Hill Hospital
747 Broadway
Seattle, WA 98122
Main Phone: 206-386-6000
Swedish Cherry Hill Hospital
500 17th Ave.
Seattle, WA 98122
Phone: 206-320-2000
Virginia Mason Medical Center
1100 Ninth Ave
Seattle, WA 98101
Seattle VA Medical Center
1660 South Columbian Way
Seattle, WA 98108
Northwest Hospital
1550 N 115th St
Seattle, WA 98133
Valley Medical Center
400 S 43rd St
Renton, WA 98055
Auburn Medical Center 
94 1st Street NE
Auburn, WA 98002
Covington Medical Center 
17700 SE 272nd St
Covington, 98042
Evergreen Health Hospital
12040 NE 128th Street
Kirkland WA 98034
Pierce County:
St Joseph Medical Center
Cards for Caregivers
1717 South J Street
Tacoma, WA 98405
Tacoma General Hospital / Mary Bridge Children's Hospital
402 S J St
Tacoma, Washington 98405
Good Samaritan Hospital
1421 3rd St SE
Puyallup, WA 98372
Snohomish/Skagit:
Providence General Foundation
916 Pacific Avenue
Everett, WA 98201
Skagit Valley Hospital
300 Hospital Parkway
Mt Vernon, WA 98273
Kitsap County:
Harrison Medical Center
2520 Cherry Ave
Bremerton, WA 98310
Thurston County:
Providence St Peter Hospital
413 Lilly Rd NE
Olympia, WA 98506