Top Smartphone Apps for Black Friday and Cyber Monday
This post may contain affiliate links and I may be compensated for this post. Please read our disclosure policy here.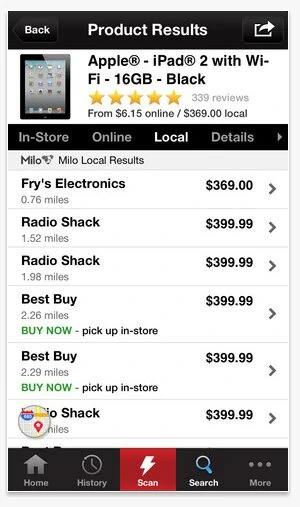 Black Friday is this week and many of you have been busy writing your lists and doing your research to prepare for this big shopping day, whether you're shopping online or in the stores. However, it can get complicated trying to keep track of all the products you're interested in and comparing prices to find out where the best price will be on the items. Thankfully, there are now a number of Smartphone apps to help you better navigate Black Friday and save you time and money.
Black Friday / Cyber Monday Best Apps for Saving Time and Money:
Price Comparison Apps:
Red Laser – A free shopping app which offers price comparisons on products for iPhones, Android phones and Windows phones.  All you have to do is scan the barcode of a product you are interested in. Then, it will tell you the lowest price available on this product in your local area. It will also help you compare prices to thousands of retailers both in-stores and online. One last unique aspect to this app is the fact that it will help you scan food and determine whether it contains an allergen that your doctor or nurse will need to moniture.
Shop Savvy -A free shopping app which is a barcode scanner – available via iPhone or Android. You can use this to scan products with the UPC number or scan QR codes at stores to get more information about the store, any special discounts, and more. If you're using as a Barcode scanner, it will also give you price comparisons on that item to give you the lowest online or local store price. You can also organize your searches with lists.
Ebates.com App – This is available for iPhone & iPad devices only.  You can compare prices across online retailers,  find coupon codes & free shipping offers, shop directly through the app and get cash-back on your purchases from Ebates and more.
Black Friday Apps:
TGI Black Friday – This app is available for an iPhone / iPad  or Android phone.  Using this app, you will have access to the Black Friday ads for all the major retailers and you can search over 10,000 Black Friday deals  thru this app. You can then create a shopping list when you find items in the ads & access that shopping list at any time via your phone. Or email the shopping list to yourself or other people.
The Black Friday App – Not only can you browse Black Friday ads as they become available, but you can also create a shopping list and do a price comparison on various products to see which retailer will have the best deals. You can email the list to yourself or share it with others by email, Facebook, Twitter & Google + . Available via iPhone or Android.
More Money-Saving Apps:
Ibotta – This app has gotten huge this year as it's a way to earn cash-back on your purchases at a number of retailers such as Target, Walmart, Costco, Home Depot & Lowe's, Burger King & now even at the theaters – AMC & Regal Theaters. You can earn cash-back on specific purchases as well as overall purchases, too. This app works for iPhones & Apple devices as well as Android devices. Make sure to read all about how Ibotta works.
ShopKick – Free for iPhones (iPads, etc) and Android phones. The more you shop, the more you earn in points ("kicks") from ShopKick. First, you get rewarded with "kicks" just by entering a store and if it's Black Friday, you could be entering a number of stores. You then can scan certain items as well to earn additional points or kicks. You can redeem your points to use towards gift cards such as Old Navy, Toys R Us, and more. You can also access special money-saving coupons via ShopKick
Foursquare –  Foursquare is an app where you check in to different locations. They are offering some special deals for customers who check in to Foursquare on Black Friday. For example, if you check in to Sports Authority on Foursquare you will receive a $25 gift card if you spend $100 or more. Aeropostale will offer 20% off purchases of $50 or more if you check in via Foursquare on Black Friday. JCPenney will donate $25 from 4am -1pm for every Foursquare check-in. This is available for iPhones or Android.
Apps to help you stay organized with gift giving:
Make sure to check out this article which lists 8 different Smartphone apps which will help you stay organized and stick with your budget & list when doing your Christmas shopping.
List Master – This is a very basic, free list organizer for the Android where you can list everything from Grocery lists, To-Do lists, to Christmas Lists. My husband and I used this one last year to write down gift ideas as we would come across them. Each person would get their own list. As we found an item for that person, we would then check it off the list. If you want more detailed lists where you can keep track of budgets and more, then I would go with a more in-depth app. This does cost $7.99 if you choose it for the iPhone, but I would look at a more in-depth, cheaper app if you're looking for the iPhone.
Christmas Gift List Planner – Free for Android or you can pay for a Pro version for $1.99. You can track your spending and the costs of individual gifts, track when the gift was purchased, wrapped and mailed. The Pro version looks very cool as you can scan an item's barcode & add it to your list that way.
 The Christmas Gift List – This is $.99 for the iPhone and it allows you to synch lists via email so you don't have to write down the info twice, track your budgets per person for gifts, gives you a shopping list view to see your list quickly and much more.
Lemon – This app helps you keep track of your receipts. You just take a picture of your receipt and it will digitize all of the important information. It also allows you to store a digital copy of all your cards – ID, credit cards, etc but it keeps it safe by requiring a special PIN # to access your account. You also can remotely unlink your cards if they are ever lost. This is available for your iPhone, Android, and Windows phone.
What is your favorite money-saving app? Do you have any favorite apps to help you with your Black Friday or holiday shopping?