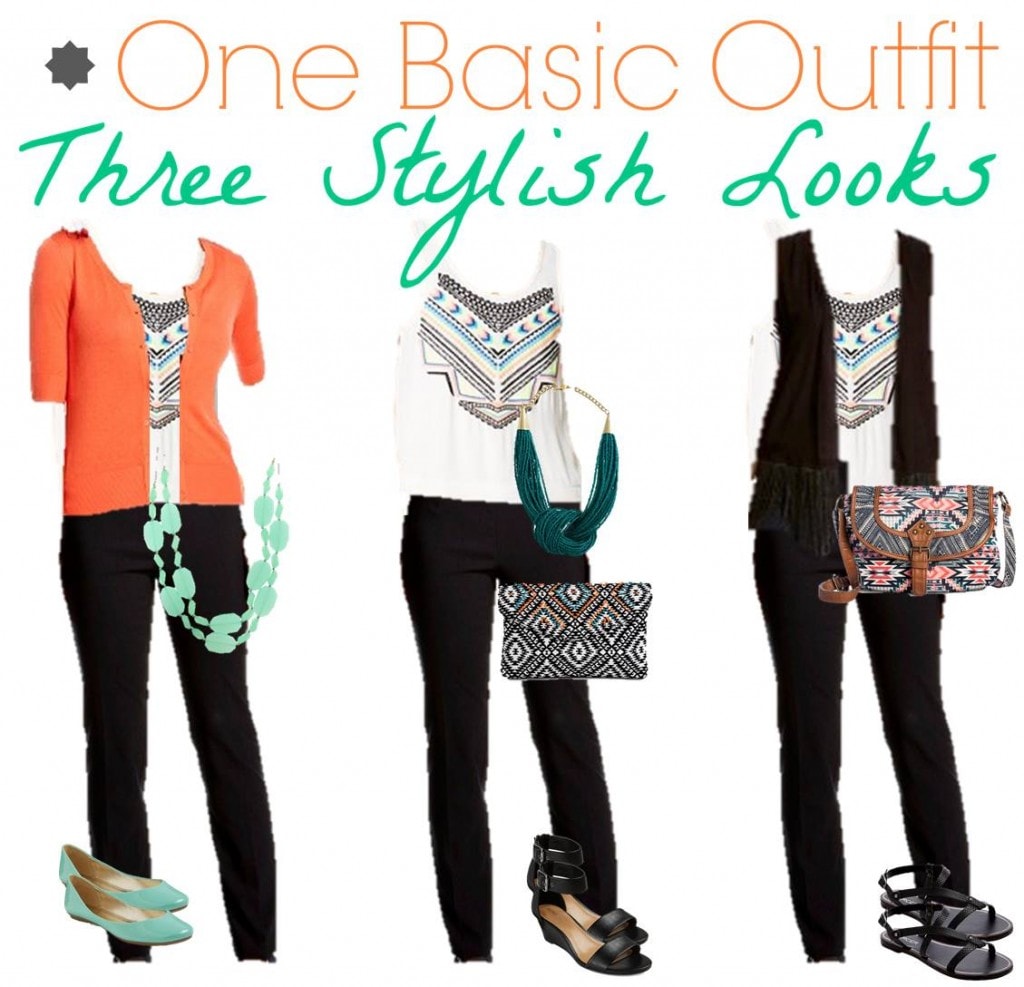 We are often sharing different clothing deals, but another way to save on your clothing wardrobe is to shop for a few basic pieces and then create multiple outfits out of those basic pieces by changing up your accessories and shoes.
Here is some inspiration for you, on how you could buy one tank and one pair of pants, and then create three different outfits by selecting different accessories and shoes to go with the tank and pants. This particular tank and pants will come to $57.98 before tax (but we have also included an option where the tank and bottoms will cost you as low as $15.94). You could use this same concept with a lower priced top and bottom if you want, but one thing to consider when you are buying a couple of pieces to use across multiple outfits, is that these are the items you might want to splurge a little more on (so they hold up, and you love them)!
We have included the three outfits pictured above, plus a couple of lower cost alternatives, if you like the concept but want to spend less. Personally I layer my tanks, so I would add a longer white or black tank under the embellished tank shown above. If you are the same way, you will want to make sure  you have one of those in your closet too.
Plus, be sure to check out some savings coupons you should be able to use at Target right now too: 
$5 off $50 + free ship – TGTXM6JP
Cartwheel has a few offers in case you decide to change out any of these pieces (25% off womens shorts or 20% off Gillian Omalley Styles)
Plus if you have a red card you should be able to save an extra 5% too!
Look #1 (As Pictured Above)
Look #1 (Lower Cost Alternative)
Look #2 (As Pictured Above)
Look #2 (Lower Cost Alternative)
Look #3 (As Pictured Above) –
Look #3 (Lower Cost Alternative)
* Note that prices may change, but were current at the time of posting.