The Great Big Toys "R" Us Book of Awesome is Released + $100 Toys R Us Gift Card Giveaway! #AwesomeMoment
This post may contain affiliate links and I may be compensated for this post. Please read our disclosure policy here.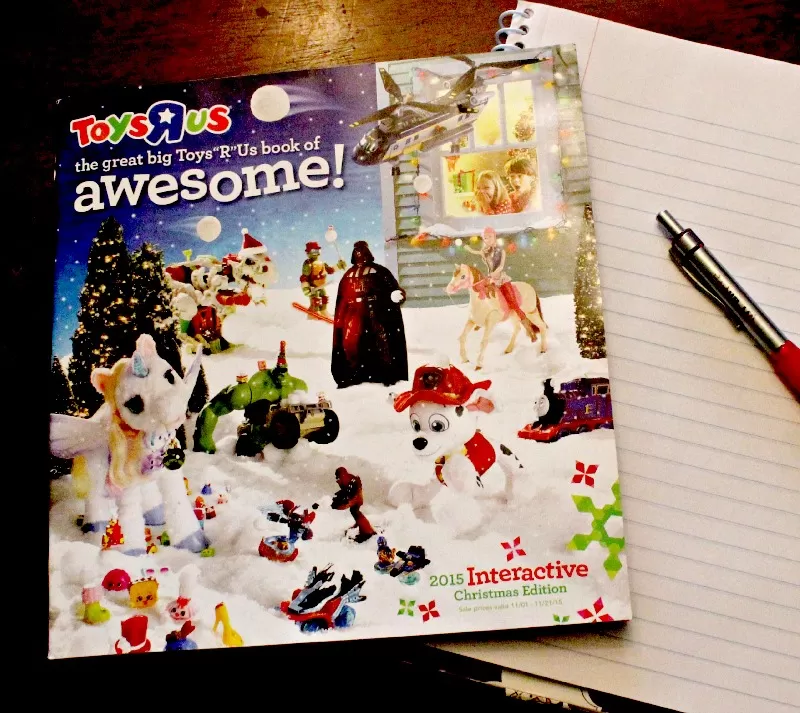 It's that time of year that kids start thinking about Christmas & what they want on their Christmas wish lists. In our family, we always exchange gift lists on Thanksgiving Day with extended family as that's the time when everyone is gathered together, so we can write down each other's lists. We draw names for the adults, but each family gives the kids a gift, so the kids love to go thru & make their lists of what's on their wish list.
Every year, my girls anxiously wait for The Great Big Toys "R" Us Book of Awesome to arrive as it is filled with tons of awesomeness in their little minds. They love to grab a piece of paper & spend an hour going thru the book & making out their lists.  They want to be prepared with ideas right away & then those ideas may change over the next few weeks as they keep looking thru the toy catalog until they are ready to present their lists to grandparents & family at Thanksgiving. My daughter has even brought the catalog into the car lately during our drives to & from school, as she loves to look at all the new toys!
I love seeing the excitement in my girls' eyes, as I know these years are short & fleeting & my girls are growing too fast – I now have a 9 year old & 7 year old and in a few years, they won't be interested in all of these fun toys anymore (well, they will have moved on to bigger "toys" – ha!) So, we enjoy every minute and make it a fun experience while they still enjoy the magic of getting The Great Big Toys "R" Us Book of Awesome!
Here's a look at The Great Big Toys "R" Us Book of Awesome on Youtube:
By now, you should have seen this toy catalog in the Toys "R" Us stores, found it in your newspapers, or had it sent to you in the mail like we did. The Great Big Toys "R" Us Book of Awesome toy catalog is packed with almost 1,000 of the year's hottest toys.  The deals you will find inside the catalog are in effect from Sunday November 1st through Saturday, November 21st, so plenty of time to head into a Toys "R" store or head to ToysRUs.com online and check them out. I know that some of the most popular toys get hard to find the closer we get to Christmas, so you won't want to wait if you know that your child is wanting one of the top toys!
New Features of The Great Big Toys "R" Us Book of Awesome::
Interactive Game – The Geoffrey Shuffle Game & Sweepstakes:
This year, Toys R Us has a new app called "The Geoffrey Shuffle Game" . This is a unique reality experience through which kids can bring their favorite toys in The Great Big Toys "R" Us Book of Awesome to life by using this game. Kids can check out their favorite toys in the catalog & zoom in on them to see the details close-up, as well as spin & walk around the pages to make this an interactive edition of The Great Big Toys "R" Us Book of Awesome.
They can also capture photos of their favorite toys within the game, as a fun way of highlighting their top toys for their toy lists!  If you don't yet have The Great Big Toys "R" Us Book of Awesome toy catalog,  they can use in "VR" mode (just the app by itself if you don't have the Book of Awesome yet).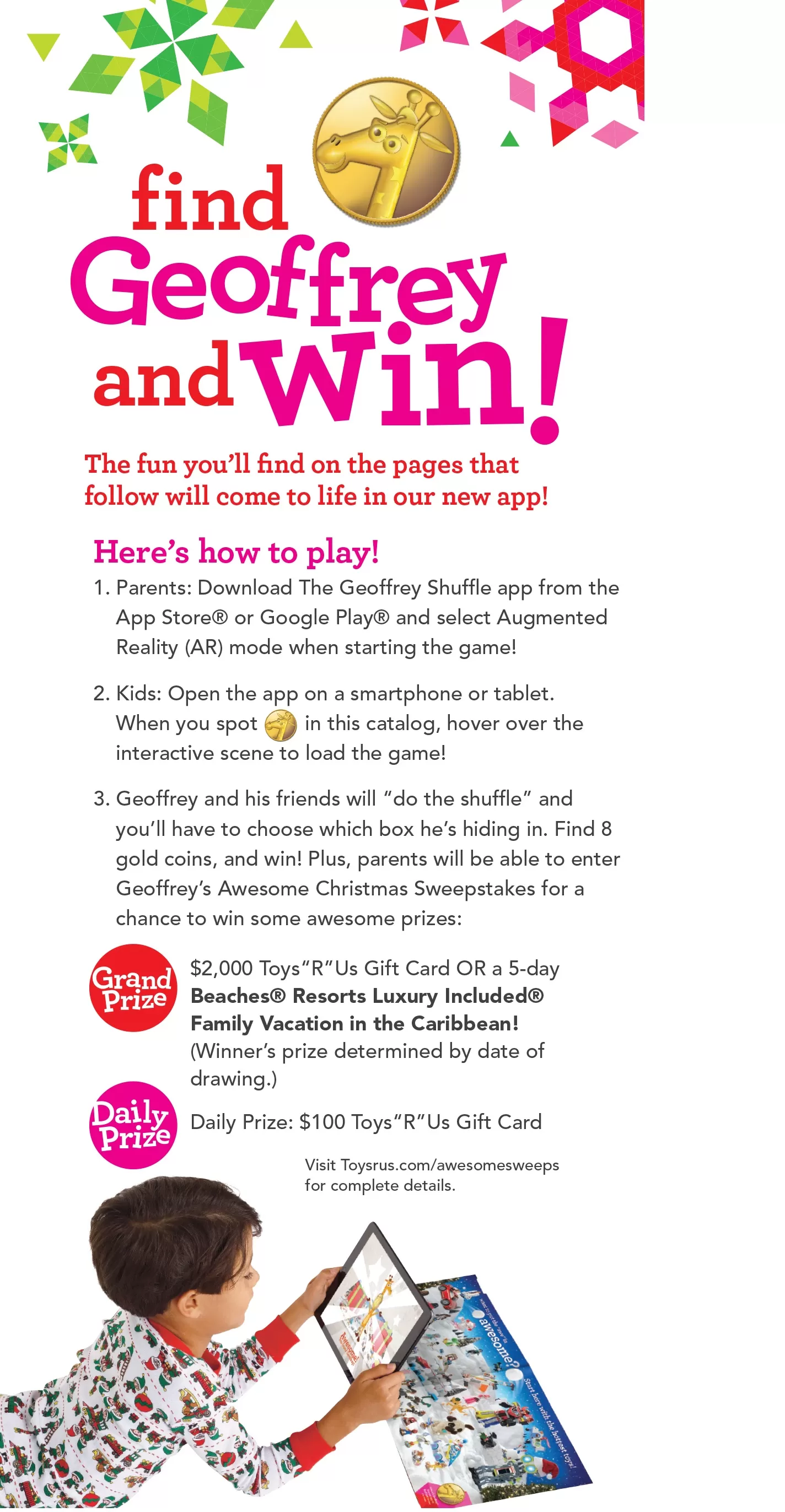 You can find out how to play The Geoffrey Shuffle game by checking out this video with step by step instructions.
In order to play, make sure you have downloaded the game (available in the App Store® or Google Play®). Using an interactive edition of The Great Big Toys"R"Us Book of Awesome,  your child should look for a golden Geoffrey coin, located at the bottom corners of the book's pages.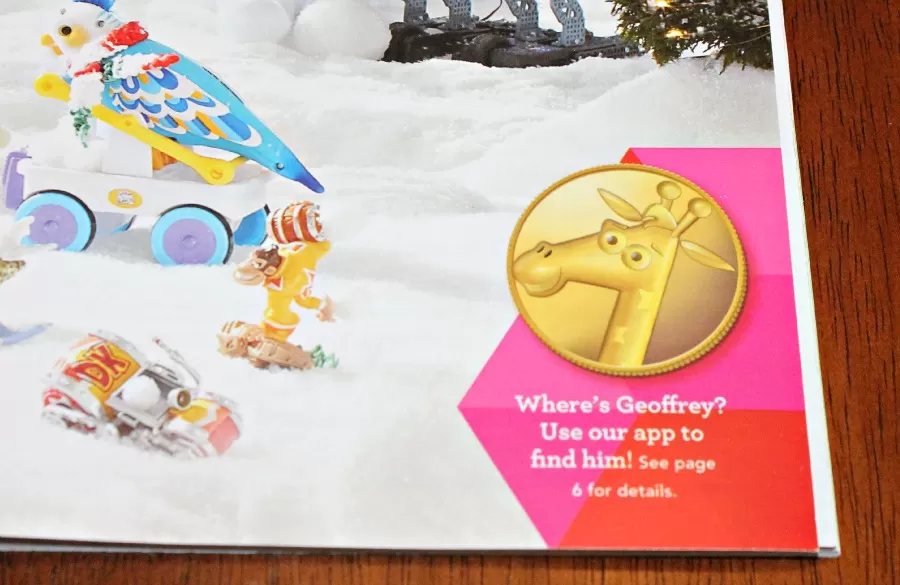 Once your child finds the golden coin,  hold a smart phone or tablet over the respective page and the game will begin loading. This game encourages players to find Geoffrey as he and two other kid-favorite licensed characters, such as Teenage Mutant Ninja Turtles, Barbie, Darth Vader and more,  hide in shuffled gift boxes.
Toys "R" Us Awesome Sweeps:
When kids finish the game, they can enter Geoffrey's Awesome Christmas Sweepstakes for a chance to win awesome prizes, including a $2,000 Toys"R"Us Gift Card and a Beaches® Resorts Luxury Included® Vacation. So, that's a nice bonus to enter to win, along with the fun that kids will have of using the app to look thru the toy catalog & search for those golden coins. My girls always love a good search & find game! 
You can also just enter the Toys "R" Us Awesome Sweeps sweepstakes without downloading The Geoffrey Shuffle Game & playing the game – go to ToysRUs.com to enter the sweepstakes.
Coupons in The Great Big Toys "R" Us Book of Awesome:
We love that Toys "R" Us always includes some great coupons in their big toy catalog as well as the toys. This can make for some great deals for items you want, without having to head out on Thanksgiving or Black Friday to get these deals, so make sure to check these out to see if there are coupons for the items on your Christmas list for kids.
Valid from 11/1/15 – 11/21/15::
*Free $10 Toys "R" Us gift card with an in-store purchase of $75 or more
*Little Tikes TotSports Easy Score Basketball Set – $24.99
*20% off Littlest Pet Shop – Pawza Hotel Style Set, Pet Jet, Backstage Style Set, Limo
*20% off Littlest Pet Shop VIP play sets – VIP Suite Style Set, VIP Party Style Set, VIP Friends
*$25 off Step 2 Rise & Shine Kitchen, Step2 Lil' Chef's Gourmet Kitchen, Little Tikes Kitchen & Restaurant & The Home Depot Pro Play Workshop & Utility Bench
*20% off My Little Pony Friendship is Magic Collection – Sweet Apple Acres Barn Pack, Scene Packs, Juice stand set, & Figure packs
*20% off My Little Pony Canterlot Castle
*20% off All Little Live Pets $40 or less
*$5 off Beados or Qixels purchase of $25 or more
*$5 off Crayola purchase of $25 or more (excludes Crayola electronics)
*$15 off regular priced Apple TV
*$25 off regular priced Apple iPod touch
*$25 off regular priced Apple iPad mini
*$50 off regular priced Apple iPad Air
If you got the catalog in the mail, yours might have also had an additional coupon on the front for 20% off a regularly priced item – good thru 11/21 on one transaction.
Holiday Shopping Programs at Toys R Us:
Rewards"R"Us – Earn points from Toys R Us with their loyalty program every time you spend money at TRU. You'll receive $5 in "R" Us Rewards for every $125 you spend. You can sign up atToysrus.com/myrewards. You'll also receive exclusive pre-Black Friday deals & discounts for Rewards members
Price Match Guarantee –Toys"R"Us will match a competitor's advertised price on identical items when customers present a local competitor's print ad or their website showing the item available for less.
Free Online Layaway –Create a layaway order at ToysRUs.com or BabiesRUs.com, in addition to in-store layaway program & you can make payments either in-store or online & pick up your item in-store  or delivered to your home. There is typically a $5 fee for layaway, but they are making it FREE for the holiday season.
Free Store Pickup – Toys"R"Us offers a 'Buy Online, Pick Up In Store' option, which allows customers to shop online from wherever they are and pick up the ordered item at their localToys"R"Us store in an hour or less.
Free Shipping – On Toysrus.com, the company offers free shipping on purchases of $19 or more every day.
Giveaway – $100 Toys "R" Us Gift Card
We have teamed up with Toys "R" Us & are giving away a $100 Toys "R" Us gift card. This way you can have the opportunity to do some Christmas shopping with (or for) your kids  or for others this season at Toys "R" Us.
This giveaway will end on Wednesday November 11th, at 9pm pst.
The winners will be drawn using a random number generator and announced on the blog.  We will also email the winners. The winners will have 48 hours to contact me, otherwise a new winner will be drawn. US residents only & you must be 18 yrs or older to enter the giveaway. This giveaway is not affiliated with Facebook in any way.
Here's how to enter this giveaway::
1st Entry (required entry): Let us know is on your child's (or a loved one's) Christmas list from Toys "R" Us. 
Extra Entries : (make sure these are all separate comments, with a comment for each entry)
2) Subscribe to the Thrifty NW Mom email (must be verified). Leave a comment to let us know you're subscribed!
3) Join the Thrifty NW Mom Christmas Deals Facebook group to stay up to date on all the deals we post in real-time
4) Follow us on Pinterest, and then leave a comment here saying you do so.
5) Follow both Jen & Sia on Instagram & leave a comment saying you do so.
6) Share this giveaway using one of the share buttons at the bottom of the post. Leave a comment to let us know how you shared – Facebook, Twitter,  email, word of mouth, in a Facebook group, Pinterest,  you name it!
Disclosure: Toys R Us has provided  a gift card to be given away to one Thrifty NW Mom reader randomly chosen as well as providing a gift card for us to review.  All opinions are 100% mine. See our disclosure policy  for more details.