Simple Ideas For Fall Themed Caramel Apple Bars
This post may contain affiliate links and I may be compensated for this post. Please read our disclosure policy here.
Disclosure: This post was sponsored by Walmart and Rewards Style. All opinions are 100% my own. Find our disclosure policy here for more information.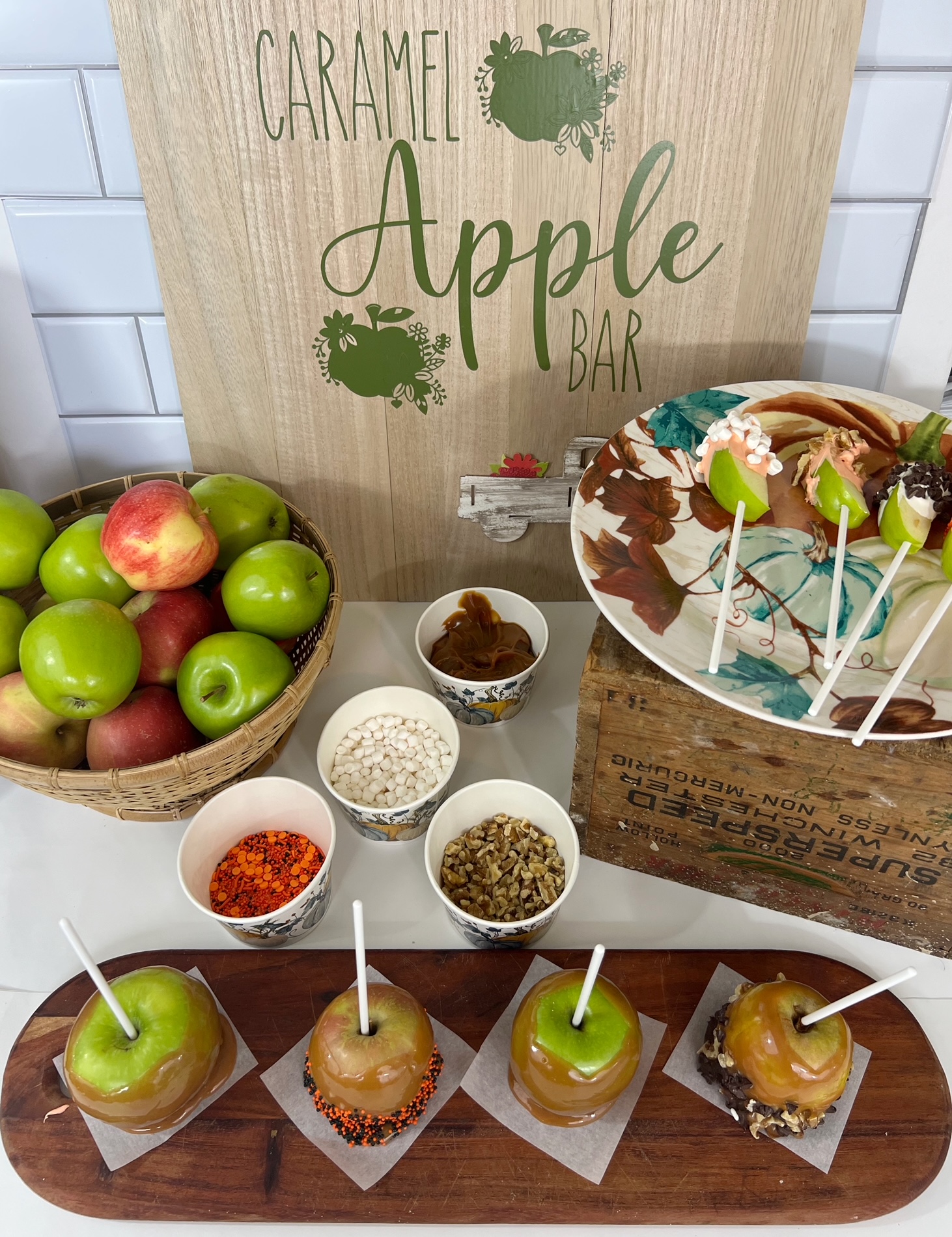 Simple Ideas For Fall Themed Caramel Apple Bars
Perfect for Fall Entertaining or Make with the Kids!
Caramel Apples make me feel like I am living my best life, especially during the fall season. The thing that is so fun about them is that you can make them for holiday celebrations, but with these simple ideas you can really enjoy them any old day. We share some tips and tricks you can use to keep the cost down for a caramel apple bar, as well as keep it as simple as you can, but without sacrificing any of the taste or fun of setting one up. Your guests will love it, or it is perfect for a special night at home with the family. It is also delicious enough, that you can serve it as a treat for a Halloween party, or to end your Thanksgiving celebration with.
I love that I can do these specialty seasonal spreads for my family, or while enjoying time with friends, without "specialty prices". I do that by shopping online at Walmart. So before I get into sharing the details for these simple caramel apple bar ideas, here is a little info on how I saved both time and money on my spread, that you can use to save too.
Save On Your Ingredients with Special Promo Code Offer for Walmart Pick Up & Walmart Delivery ::
Walmart is currently offering a special promo code you can use to save an extra $10 off your groceries. You can use that to make one of these caramel apple bars for even less.
New customers can use promo code TRIPLE10 to save $10 off their first three pickup or delivery orders. $50 min. Restrictions & fees apply. This will save you both time and money with this offer! Start shopping here.
It is also really convenient. Using the Walmart Online Grocery service, saves me time, which is just as important as saving money some days. I can quickly do my shopping online, and then either have it delivered to me or stop by and pick it up all ready to go. It is that easy, and a game changer at my house.
Fun & Simple Ideas for a Caramel Apple Bar –
Click on the items in the image above to quickly find them and add them to your Walmart shopping cart!
I was able to get all of the items I needed for a fun caramel apple bar to have ready for my kids and a few of their friends, without having to spend outside of my regular grocery budget,, Another way I saved is by shopping the Walmart brands on many of the items needed.
These are fun ideas to use for entertaining, but also so fun to do with your kids for an afternoon. It will not only provide them a delicious treat, but you are making memories that will stick with them! Here are some ideas you can use to make your own caramel apple dessert bar at your house.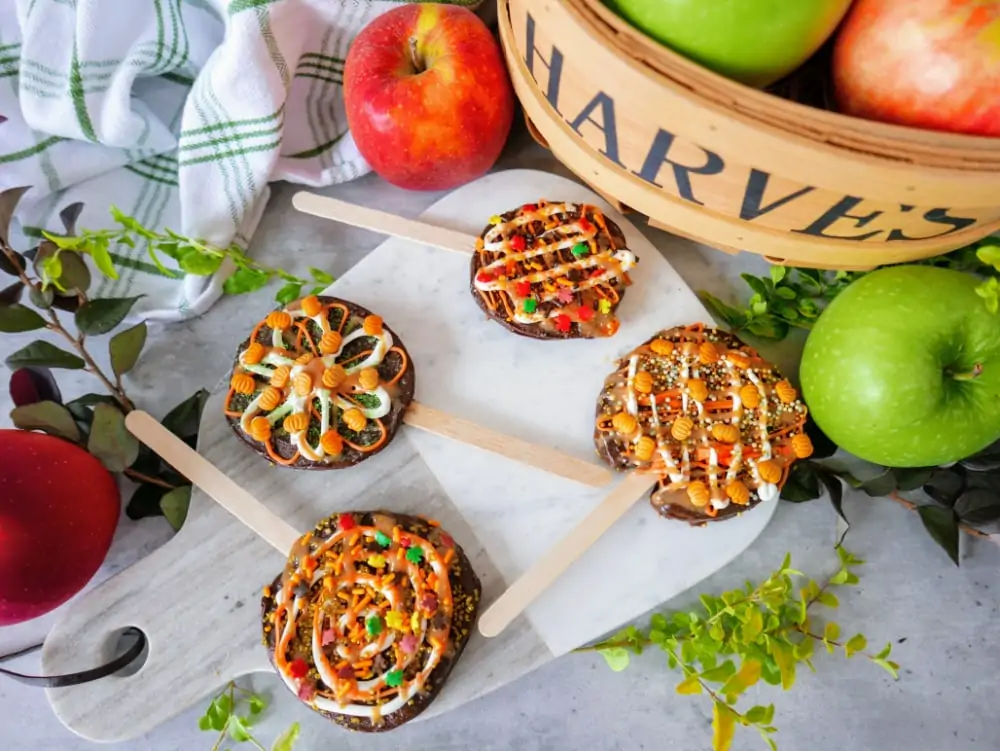 Sliced Apples on a Stick
Sliced apples on a stick is one of my favorite ways to do this. I love this idea because just a few apples go a long way if you are trying to feed a crowd. They are also easier to eat then classic caramel apples, as well as less messy when you are trying to eat them.
You can do these two different ways:
First idea is to make Caramel Apple Pops, cut into rounds and put on a stick. I find these to be the easiest to eat, and they show so pretty too.
An even easier idea is to buy the Freshness Guaranteed apples already sliced and and stick them on a stick for easy dipping and decorating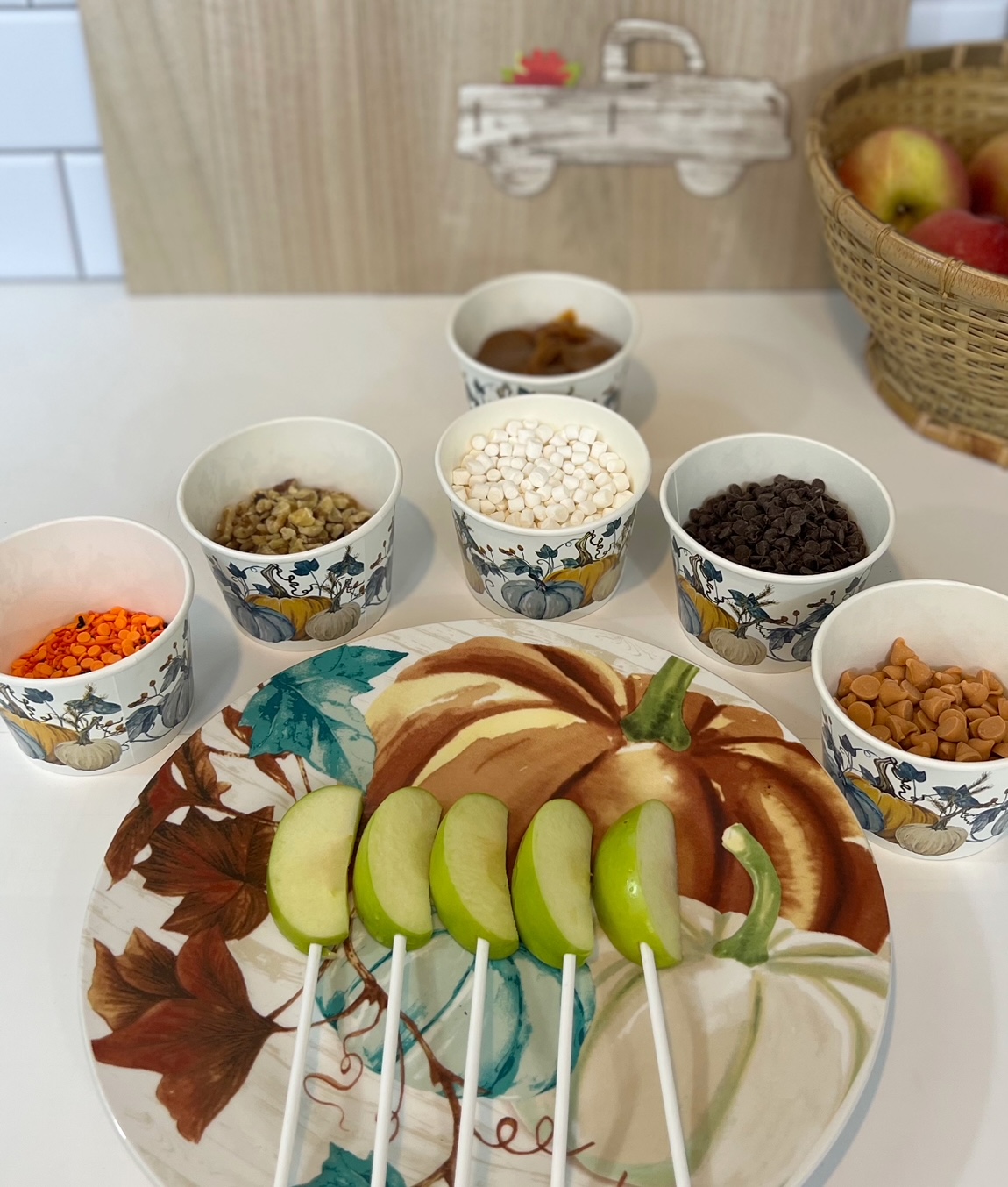 There are a couple of ways you can do this method with the apples on a stick too. Once you have all your sliced apples on a stick, you can either decide to decorate them yourself, or leave that for your guests or family to do.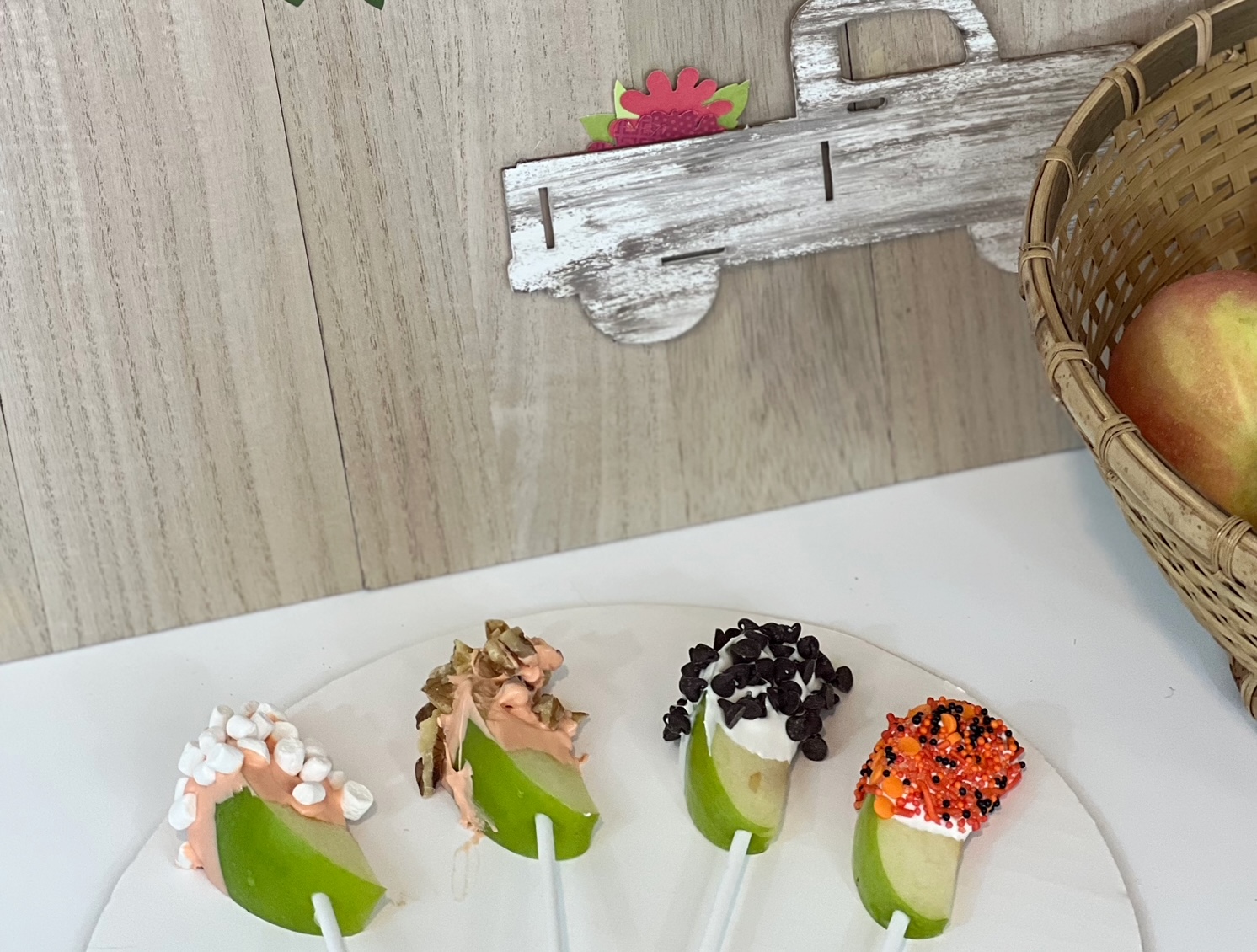 To decorate them yourself, candy melts work best. Melt up your candy melts, then dip them in some fun toppings, and let them harden. Once they are ready you can display them on a plate for your guests to pick their favorite ones to enjoy.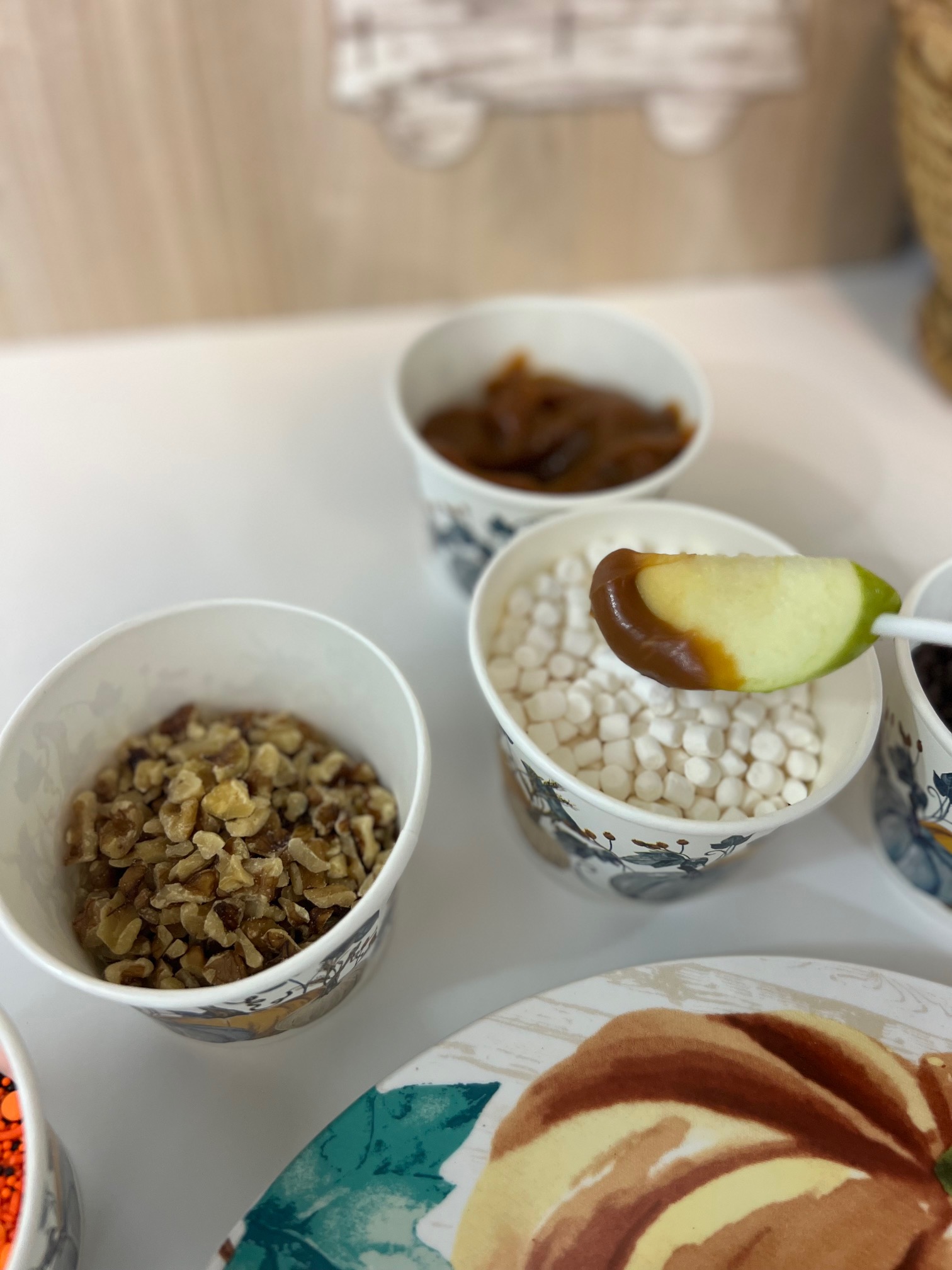 Or you can put out your sliced apples on a stick, and some dipping caramel and toppings. If you are using this method, you will want to use dipping caramel (which does not get firm like the caramel you melt for traditional caramel apples). Then let your guests choose their own toppings to add to their apple slices.
Some ideas for ingredients & toppings for your Caramel Apple Bar include: 
I love these
sprinkles that Walmart sells
in the canisters, as they are the perfect size for dipping apples in. That means you just open them up and they are ready to use for a caramel apple bar. Here are some more fun ideas to use for your spread.
Fall Sprinkles
Caramel

dipping caramel sauce works best if you are having your guests dip their apples
or use caramels and melt them down if you will be making them ahead of time

Melting Candy Wafers
Pumpkin Spice Chips
Crushed nuts
Mini Marshmallows
Mini Chocolate chips
Find all of these ideas here too.

You can simply click on them to add them to your Walmart cart, keeping things as simple as possible!
Caramel Apple Nachos (Sliced Apples on a Sheet Pan)
Another idea for using sliced apples is to use them as a base for sheet pan caramel apple nachos. This idea is about as simple as it gets. Buy the Freshness Guaranteed pre-sliced apples, spread them out on a cookie sheet and then divide into four sections, and decorate each one differently.
You could then set out plates and tongs, with some extra toppings on the table too. People can then dish up a plate of caramel apple slices, and then add more toppings if they want.
Traditional Caramel Apple Bar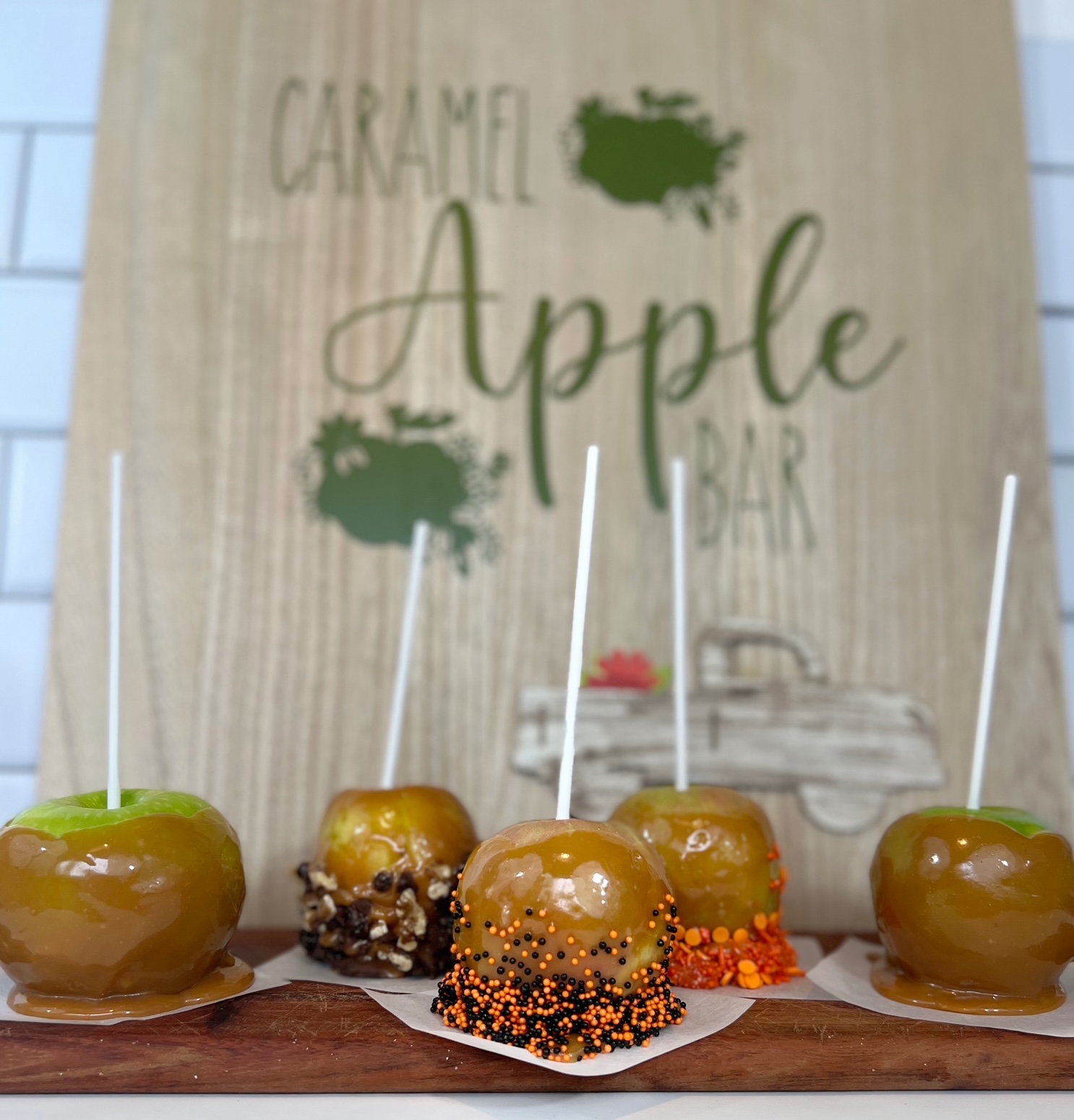 Making a traditional caramel apple bar is always the most beautiful in my opinion. Plus, making the caramel apples is a fun activity to get the kids involved in too. You can either make the caramel apples ahead of time, and have some items out that people can use to add extra toppings to their apples with. This is the best option if you want them to be able to eat them right away. Put out some caramel sauce that they can use like glue to make the other toppings stick.
Or my favorite way is to warm the caramel up in a slow cooker, and put the apples with sticks out next to that. Add in some containers with toppings and then everyone can make their own apples.
The caramel does need time to set, and allow the caramel to cool a bit before eating. So make sure you have some table space or counter space for everyone to put their apples out to rest for sometime. This is always nice, as it builds in time for just enjoying each others company, while you are waiting for your apples to set. They can then be eaten, or you can provide cellophane bags, or boxes for guests to take their apples home in too.
Tips for making your Caramel Apples
When making your caramel apples there are a few tips that will make things easier. They include:
Clean your apples before dipping them in the caramel. Many have a waxy coating on them, and the caramel can slip off of them if you do not clean them first.
Place your apples on parchment paper after you have dipped them in the caramel. Spray the parchment paper with cooking oil prior to putting apples on it for the best results. The apples should come off very easy if you do both of those things. It is important to note that wax paper and parchment paper are not the same, and parchment paper is what you want in this case.
If you have the room, it really helps to cool your apples in the fridge. The reason why is because they will cool faster, giving the caramel less time to slide off. I like to use a baking tray for this (lined with parchment paper and sprayed with cooking oil).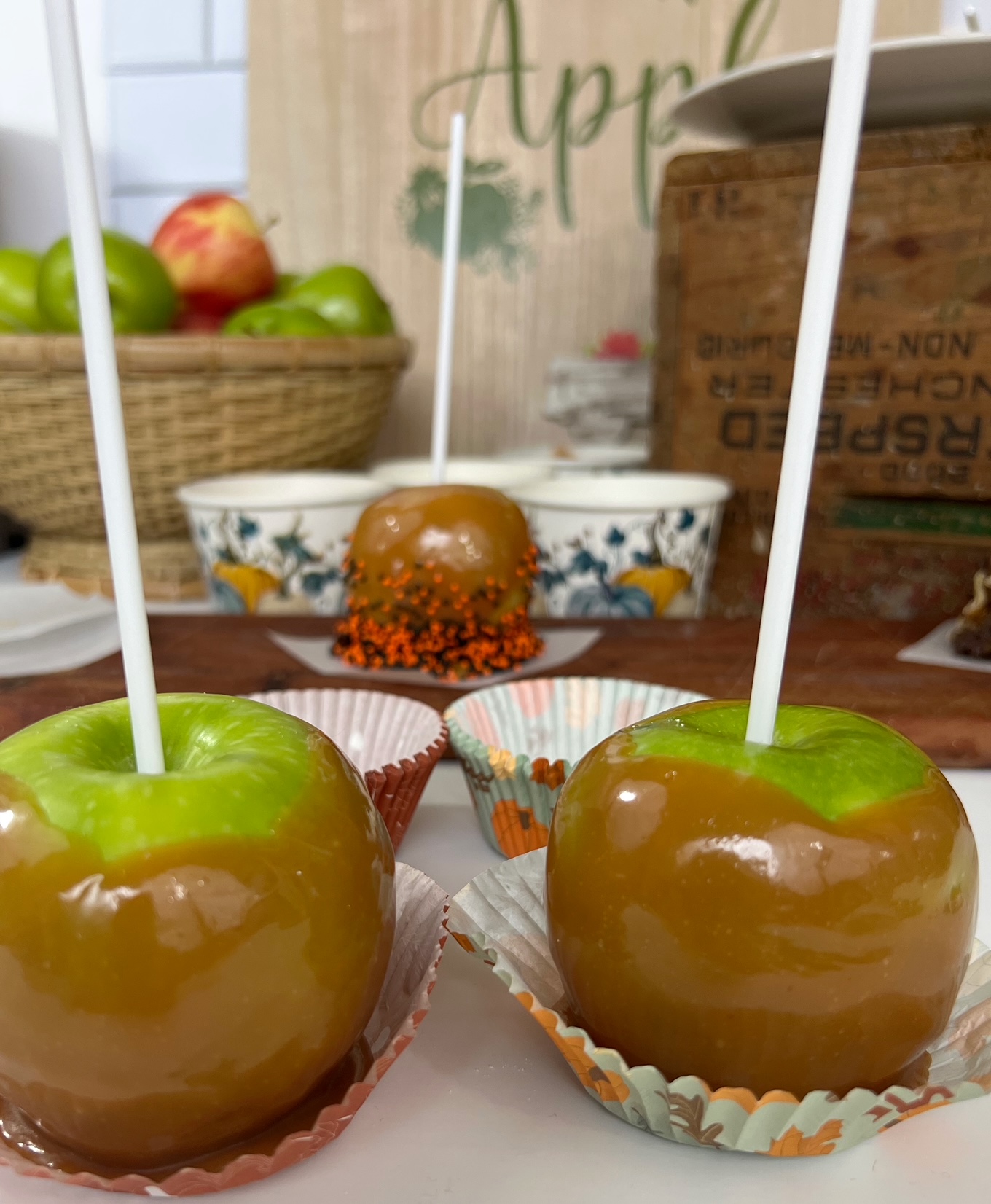 Use Cupcake Wrappers to display them in. This is a fun easy way to theme your caramel apples with whatever the season or occasion is. It also helps keep hands cleaner while eating them too.
You can buy cellophane bags or boxes to put them in if you want to gift them, or provide your guests with something to take them home in.
Stuffed Caramel Apples
The stuffed caramel apples method is a nice one for guests, as they have simple bite size pieces of caramel apples, and you can also still decorate on top of them if they want to add nuts, or chocolate chips etc. I did find this method to be the most complicated to make though. So if you are looking at doing the work ahead of time, and then keeping things really simple the day you want to put the spread out, this might be a good option.
You start by cutting an apple in half, and then hollowing each half out (making sure you have an even amount left around the edges).
Next you will melt your caramel and then fill the apples with it. Place them on parchment paper and then in the fridge for the caramel to firm up. Make sure you use the melting caramels like you do for traditional caramel apples for this method. Dipping caramel will be too soft, and won't stay in the apples once sliced.
Once the caramel is nice and firm you can take the apples out. Place them caramel side down on parchment paper and slice them into quarters. I did have some issues with caramel sticking to my knife, and found it helps to dip your knife in water after each slice to clean it.
Once they are cut, keep them in the fridge until ready to serve to prevent more browning (you can spray some lemon water on them to help with this too).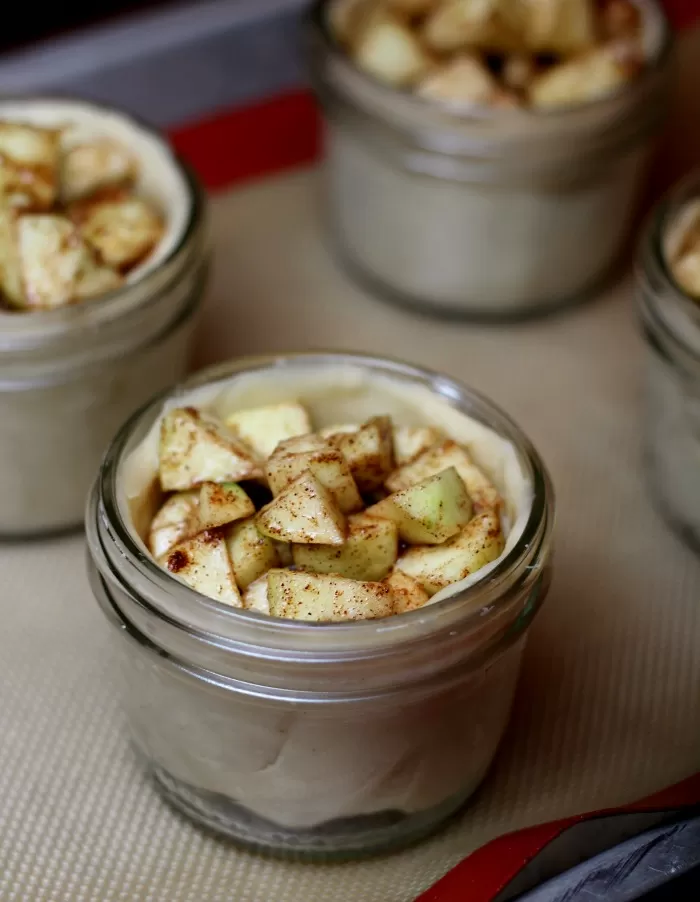 Mini Caramel Apple Pies Bar
One last idea that is especially nice for Thanksgiving day spreads, is to make up these personal sized apple pies in small mason jars, and then have a bar full of toppings that your guests can add to their pies, based on their tastes. Simply use your favorite apple pie recipe, but adjust it to make them in these personal sized mason jars. Bake them up and then set them out with all of the toppings you want to provide, and let your guests add the toppings of their choice.
This one works particularly well as a full blown dessert bar for a party, and for a special holiday treat to be served up on Thanksgiving.
Some ideas for toppings for your Mini Caramel Apple Pie Bar include: 

You can simply click on them to add them to your Walmart cart, keeping things as simple as possible!
Great Value Caramel Sauce
Great Value Whip Cream
Great Value Cinnamon & Sugar Spice Mix
Chopped Nuts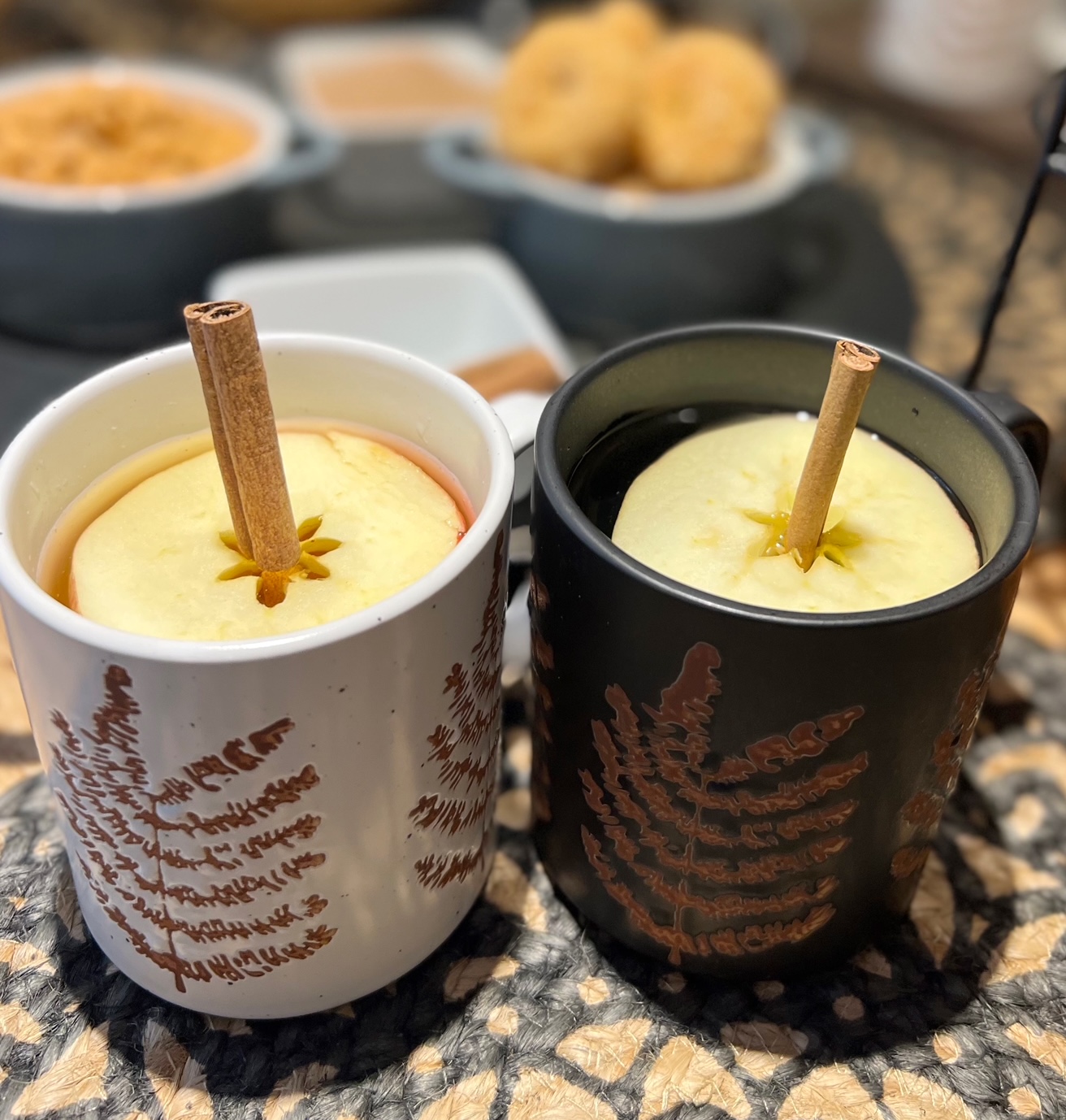 This Apple Cider bar might be a perfect pairing for Thanksgiving too, if you want more ideas on how to add an apple cider bar to your spread, using our Walmart finds, check this article out too.