#SavorSweetRewards – Win a Years Free Supply of Ice Cream + Sale at Safeway & Albertsons!
This post may contain affiliate links and I may be compensated for this post. Please read our disclosure policy here.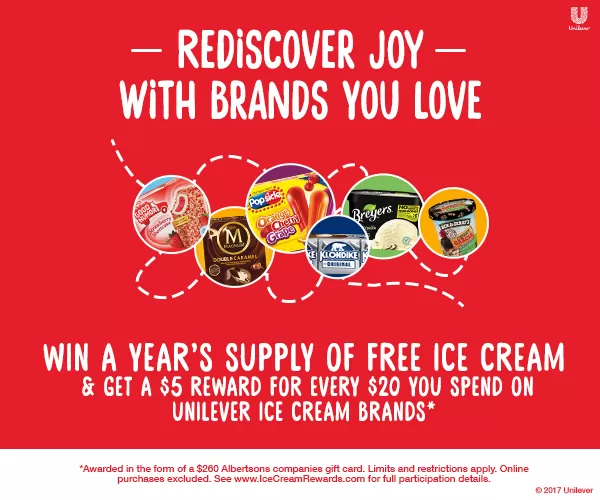 Sponsored post by Mirum Shopper. All opinions are my own.
Both Safeway and Alberstons have some great sales going on for Unilever Ice Cream Brands (like Magnum, Klondike, Popsicle & more)! You can save in store, plus for every $20 you spend on their ice cream, you will earn a $5 reward! I just stocked up my freezer during this deal, and paid around half of what I would normally pay for these ice cream brands. I love these sales, as we have a trampoline in our backyard. Trampolines are kid magnets, so our house is the one that many of the neighborhood kids end up at. The kids love when we have some ice cream on hand that they can sit down and cool off with after all that hard work of playing.
Plus, enter to win a FREE One Year Supply of ice cream! Unilever is giving away a free one year supply of ice cream to lucky winners each week right now. You can ENTER HERE to win.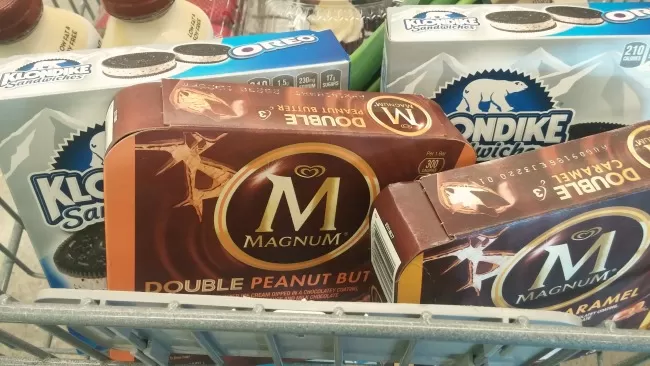 I recently filled my shopping cart up with a couple of our favorite brands. I like these sales because I can buy what we call "Grown Up" ice cream, and kid friendly ice cream at our house. My husband and I love the Magnum Ice Cream bars (especially the Double Peanut Butter), and my kids are all about Klondike Cookies and Cream Ice Cream Sandwiches.
Here is how to save the most, when you stock up on Ice Cream at the Unliver Ice Cream Brands Sale at Safeway or Albertsons:
#1 Use these coupons:
Just 4 U coupons you can load to your Safeway Card –
$0.50 off 

when you buy any ONE (1) Magnum® Ice Cream product
$1.50 off when you buy any THREE (3) Ben & Jerry's® Ice Cream products
$1 off when you buy any TWO (2) Breyer's® Ice Cream products (48 oz.)
$.50 off when you buy any ONE (1) Popsicle® product (9 count or higher)
$1 off when you buy any ONE (1) Breyer's® Gelato Indulgences™ product (28.5 oz)
$.50 off when you buy any ONE (1) Klondike® Ice Cream product
#2 Stock up, and buy $20 worth of Ice Cream, and get a $5 Gift Card (mix and match from the Unilever Brands).
Save your receipt and submit it at IceCreamRewards.com here (you can upload a photo of it), and earn a $5 reward on top of the coupon savings!
The $5 reward will come in the form of a gift card for the grocery store (limits apply). You will need to create a rewards account to get your gift card.
Purchases must be made between 5/1/2017 to 9/30/2017.
#3 Buy $30 and Save $10 instantly, on participating Unilever products (many of the ice cream bars are shown as participating in the May Big Book of Savings!)
If you combine all three of these savings tactics, you should be able to get your freezer stocked with ice cream treats at a big discount from what you would normally pay!
Here is a deal scenario you can try to save big at Safeway this week:
Magnum Ice Cream Bars are $3.50 a box – buy 4
Klondike bars are $3 a box – buy 2
Big boxes of popcicle treats are $3.50 – buy 2
Breyers Gelato is $3.99 – buy one
Total – $30.99, get $10 instant savings
Use the coupons listed above, and save $5 in coupon savings
Pay $15.99 out of pocket, and submit for the $5 reward
Final Price: $10.99 for over $30 in Ice Cream!
Brands included in this sale are:
Magnum

Popsicle

Klondike

Breyers Core + Gelato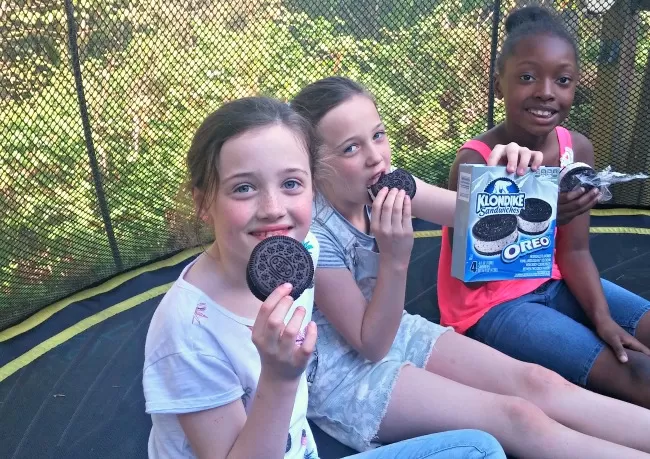 We stocked our freezer up, and this is my crew enjoying a break in the trampoline on a hot day, with their Klondike ice cream treats!
Don't forget to enter to win free ice cream. One first prize winner will be randomly selected each week to receive a year's supply of ice cream (awarded as a gift card). Enter Now!