Re-Purposing Old CD's
This post may contain affiliate links and I may be compensated for this post. Please read our disclosure policy here.
Today we have a guest post from reader Chrystal about re-purposing old CD's into adorable letters to spell her son's name in his bedroom.  I'd love to feature more reader frugal tips & craft projects (especially with Valentine's Day coming up)!  If you have a thrifty craft idea you'd like to share along with some pictures, email me at thriftynwmom (at) hotmail (dot) com.
Guest Post: Reader Chrystal from Chrystal's Corner
Being a mom on a budget who loves to craft, I am always on the hunt for thrifty project ideas. When I stumbled upon the idea for re-purposing old CDs at A Recovering Craft Hoarder I knew I had found a winner. In fact, having all the items I needed on hand, I sat down that very afternoon and completed the project in no time.
When I was pregnant with my first two boys, I painted and decorated wooden letters that spelled out their names and strung them above their cribs.  I hadn't gotten around to doing anything like that for our youngest son yet so I decided to make this a project for his room. Here is what I did: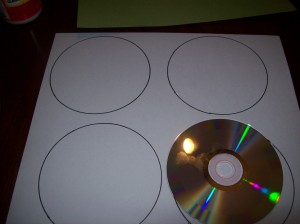 1. First I traced the CDs onto card stock. I wanted to cover both sides so I traced 12 circles for the 6 CDs I was using.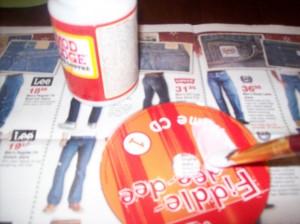 2. After cutting out the circles from the card stock, I used Modge Podge to adhere the card stock to each side of the CD.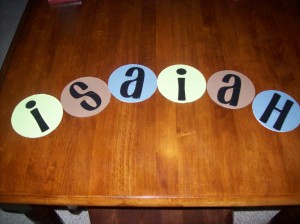 3. Using my Cricut machine I cut letters spelling out my son's name. You could just as easily do this free hand, with stencils or even with stickers. I again used the Modge Podge to adhere the letters to the card stock as well as a final coat on top of the letters to give the project a shiny finish.
4. At this point you have several options as far as displaying the letters. The original project involved putting holes in the top and using ribbon to hang them from a wooden hanging rack. I didn't want to mess with punching holes in mine so I kept them as is and propped them on a shelf in my son's room.
And there you have it. A fun, thrifty project that takes no time at all.
So, what is your most creative project where you've been able to re-purpose an item around the house?
Chrystal is a 29 year old stay at home mom with 3 boys ages 4, 3 and 7 months. She takes pride in making it her job to keep her family's budget intact by couponing and finding thrifty ways to make or buy the things they need and want. When she gets a free moment (which can be few & far between!), she unwinds through crafting and blogging.  You can keep up with Chrystal over at Chrystal's Corner.