Quiznos FREE Sandwich with App + Earn More FREEBIES at Quiznos With Points!
This post may contain affiliate links and I may be compensated for this post. Please read our disclosure policy here.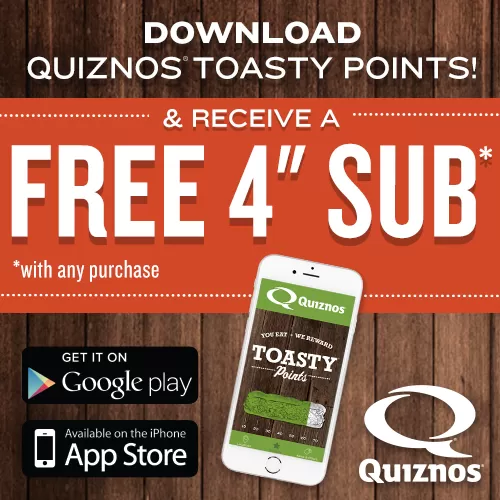 Quiznos has a New Toasty Points Loyalty App out now, that you can use to earn lots of freebies (including a free sandwich just for downloading and signing in). It is an app that you will be able to use to earn points on your purchases from Quiznos, and if you are a family who eats at Quiznos, your freebies will add up quickly. Plus, just for downloading Toasty Points, you will get a free 4 – inch sub with any purchase. In addition, we will show you how you can earn an extra 20 points during the sign up process below, which is enough points for a free fountain drink!
The way the app works is this:
Using Toasty Points customers get 1 Point for every $1 they spend at Quiznos ($10 = 10 points), and they can redeem these points for the following rewards:
20 Points = Free Regular Fountain Drink
35 Points = Free Chips & Fountain Drink
50 Points = Free Small Sub
70 Points = Free Regular Sub
So for example, when I stop in for a meal for my family of 5, I generally spend around $35 to $40. That means that it's likely I would earn a free chips and drink from each visit my family makes, when I use the toasty app. I can let that add up for bigger rewards, or use it on the next visit. Looking at the point rewards, I can see how my family would earn a freebie on most of our visits. That is exciting, since most rewards programs require multiple visits to start earning freebies!
Here is how to get an extra 20 points while signing up:
Start by downloading the Toasty App here. When I went to sign in the Toasty App offered me 10 bonus points if I logged in with Facebook.
PLUS, Thrifty Northwest Mom readers can use promo code thrifty to get 10 points added to your card immediately.
To add the promo code and earn your bonus 10 points:
Click on the 3 lines at the top left of the app
Select Promo Code
Type in thrifty and select continue
(note – if you logged in with Facebook and used our promo code, and don't see the full 20 points, close the app and reopen it, and you should see the full 20 points)
That means that I was able to earn 20 points, just for logging in with Facebook (10 points) and adding promo code thrifty (10 points). which gave me a total of 20 points, before even visiting Quiznos, so I can get a FREE regular Fountain drink too!
More Ways to Earn:
Once you have the app installed, you are able to invite your friends directly from the app. You will earn an additional 10 points from each friend who installs and makes a purchase (and they will likely love you for sharing with them, as they will get the free 4″ sub offer too). That means if you got the 20 points we shared above, and you get three friends to sign up with your code, you will have already earned a 2nd free sandwich!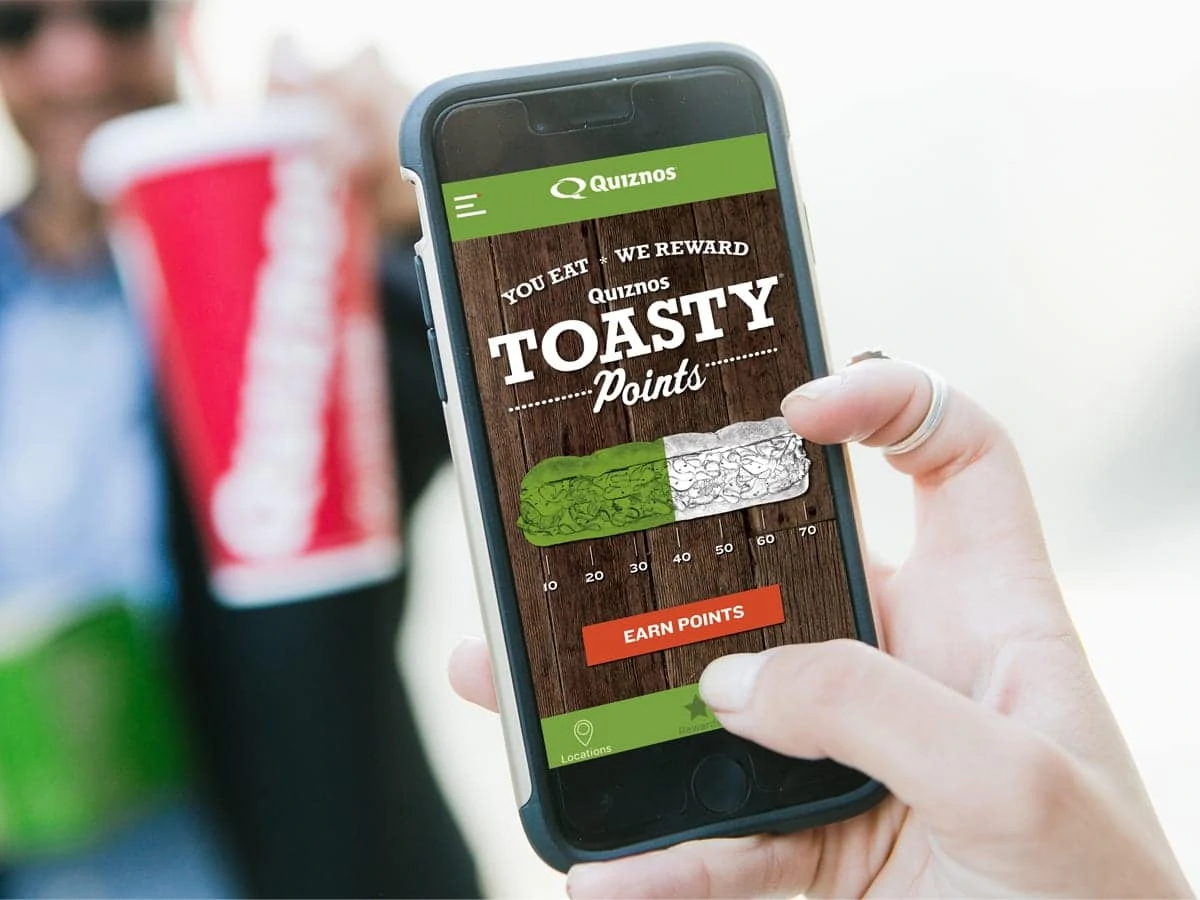 I have installed the app, and its so easy to use. You can track your points with the sandwich barometer (so you easily know where you stand with rewards). Don't worry, you can bank your points over 70! You can locate nearby Quiznos directly from the app too.
Then you just redeem them when you want to use them. You are allowed one reward redemption per visit. You can see from the image above, how I was able to unlock the free fountain drink just from the sign up bonus's we mention above (and that is in addition to the free 4 " sandwich you get when you install the app)!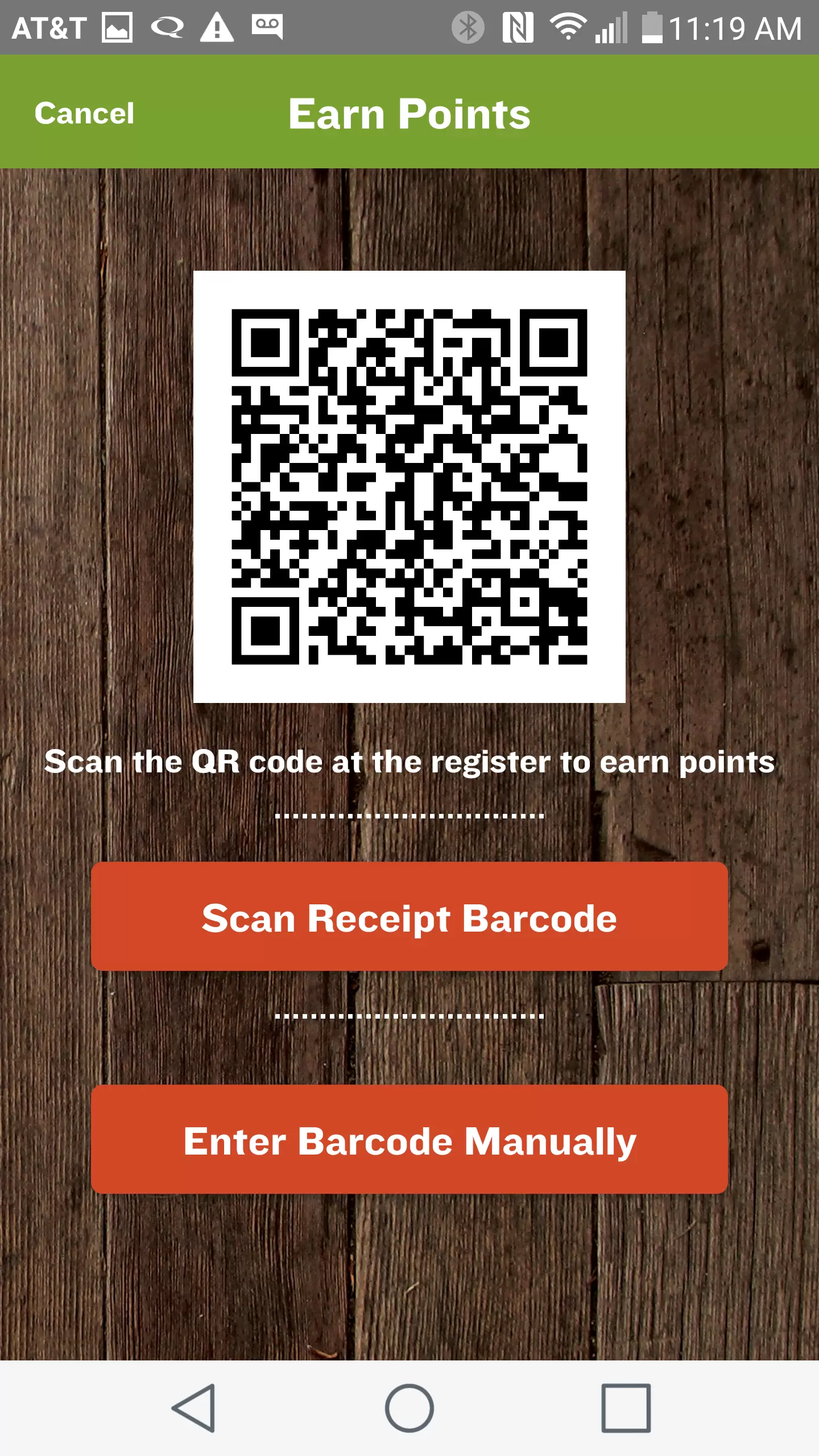 And to use it to keep earning or redeem, you just scan the QR code at the register. It's that simple, and you will start earning points right away. I love this way to save more at Quiznos, as it should work in addition to any Quiznos coupons you may find too. That makes Quiznos a great meal stop for my family when I don't feel like cooking, or we need to pick something up to eat on the go.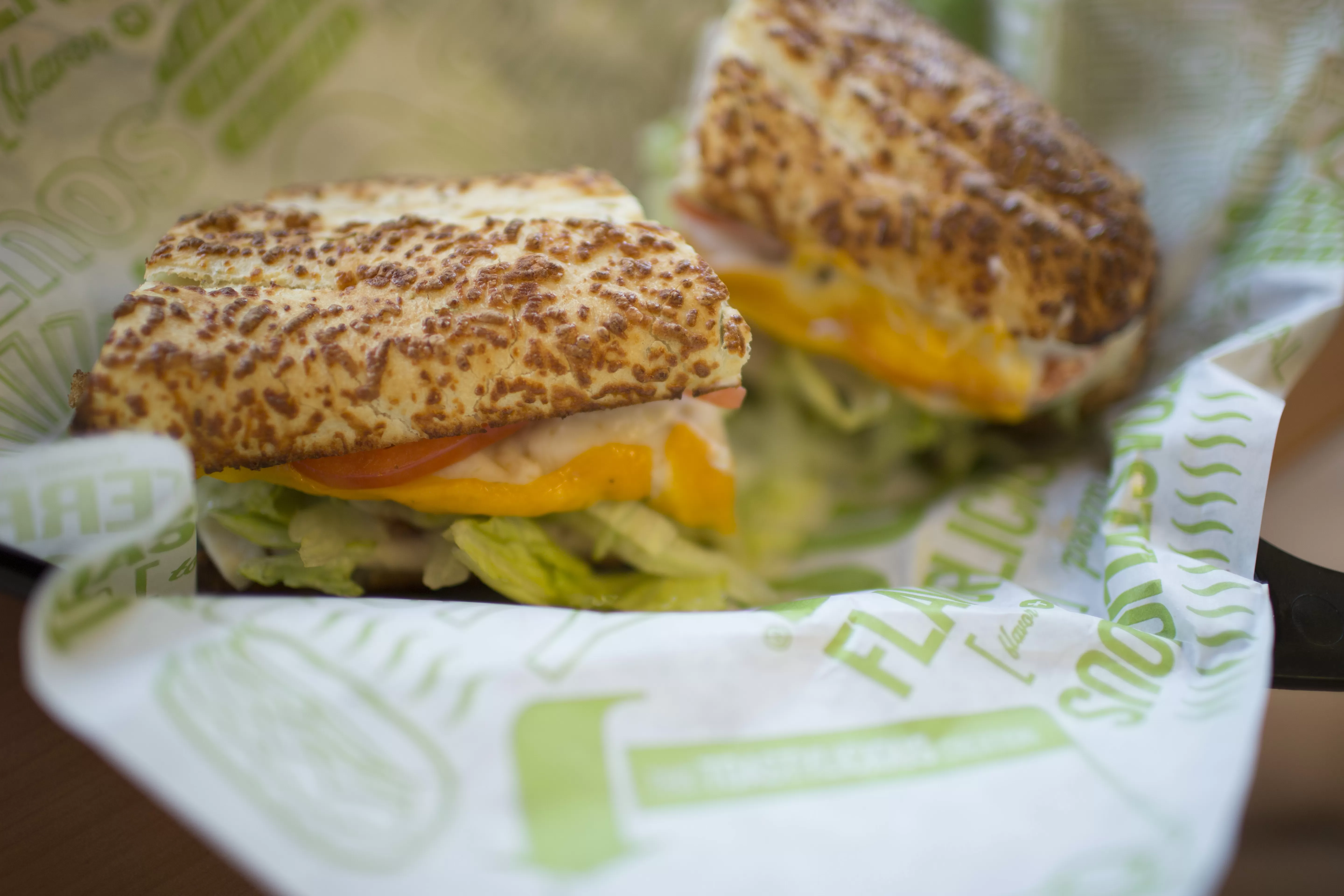 I installed the app so I can plan a budget friendly dinner date with my girls once they are out of school on Christmas vacation next week. We will be heading out for an evening of looking at Christmas lights, and what better way then to start the evening by grabbing our free sub with purchase, and free drink, then earning more points on the rest of our purchase! My entire family loves sub sandwiches for dinner, and I like the fact that Quiznos has many options, so no complaining from anyone in the family. It beats fast food any day for us, and with the extra app savings, it wont cost us anymore this next trip either!
Be sure to get the Toasty app installed on your phone here.
This is a sponsored conversation written by me on behalf of Quiznos. The opinions and text are all mine.