Here is a great deal available through Pure Matters. Get FREE Vitamins, and FREE shipping from Pure Matters! (Update – It looks like they have started charging shipping this morning – so you can still get the vitamins for free but will need to pay $4.95 for shipping cost.)
I recently ordered through Pure Matters on a voucher I got through one of the daily deal sites, and my kids really liked the vitamins we got. I was familiar with the company already (had a great experience with them), so I was really excited when we stumbled on this free deal!
To get your free vitamins you will have to first create an account and claim a $5 gift card. You will then be able to use your gift card to buy one of three great $5 deals they have available (listed below!), and get it for completely free.
Here is how this deal works:
1. Create an account at Pure Matters here, and earn 50 rewards points just for creating your account (note – make sure you type your address, and do not use autofill – or the system will not recognize your address and allow you to redeem your gift card).
2. Next: click on "My Account" at the top of the screen.
3. Then: Select "REWARDS" tab on the menu bar.
4. Click the "Redeem" tab on the menu bar on this page.
5. Select the $5 Gift card at the bottom that looks like this: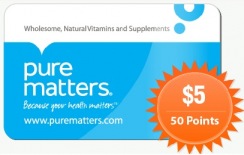 6. You will now need to wait for them to email you your reward card number and pin to email you signed up with. This can take up to 72 hours (but I got mine within a few minutes).
7. Once you have your gift card info select the vitamins that you want from one of these links, and add to your cart:
8. Go through the check out process, and use your gift card in the Gift Card Payment field (NOT as a promotional code).
9. Shipping is FREE. If you select one of the $5 offers above, you will not even need to use a credit card, the entire order will be free!! (they are now charging for shipping only, a $4.95 fee).
Thanks Hip 2 Save!