Online Math Tutor – Use Math Revolution Coupon Code To Get First Month for $5 (Reg. $150)!
With school being virtual in so many areas, I know many parents are looking for ways to get your kids caught up on certain school subjects they may have fallen behind on. If you are like our family, getting your kids some help in math is at the top of that list. Math has changed so much since I was a kid, that I really struggle to help my kids with their math homework. So like many of you, I have looked into Math Tutoring Online to help me navigate this new world of learning with my kids, and keep them on track. If you are looking for an Online Math Tutor as well, check out this current offer from Math Revolution. Get the first month for just $5 with this Math Revolution coupon code THRIFTYNWMOM!
So, if like me, you could use some help to help your child, Revolution Math is a wonderful option to consider. The best part is that you can try it for just $5 for one month, to make sure it is the math help you are looking for.
What Is Revolution Math – Best Online Math Tutors + Making Math Fun for Kids
Revolution Math is an innovative online math program designed to help kids in 2nd to 5th grade improve their math skills. They provide small classes (max of 4 people), with an online instructor. They provide learning opportunities that are fun for the kids. Parents can track their child's progress online and through weekly video updates from our trained teachers.
It is designed as an after school program, so most of the time slots will be in the afternoons (times will vary depending on which time zone you live in) but it can be used for those wanting at home learning opps for any reason.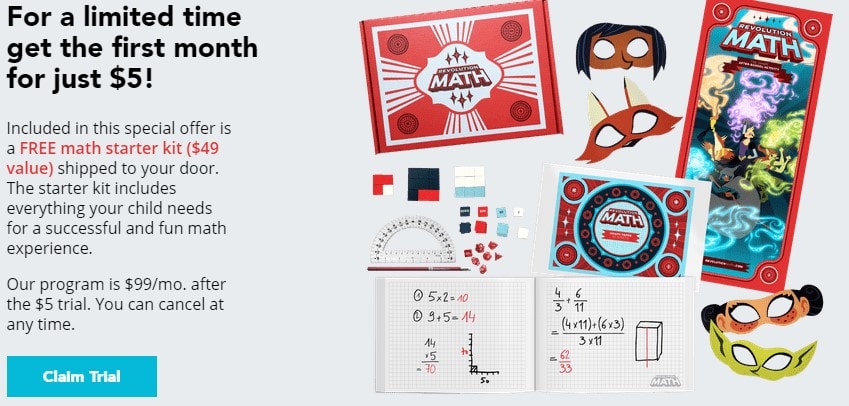 How To Get Your First Month for $5 With Math Revolution Promo Code
Its not a free online math tutor, but $5 is for the first month is a super price for this highly rated program! So if you are looking for the best deal on math tutoring, I think this is the one.
Just use promo code THRIFTYNWMOM when you sign up on this special promotion page here.
After the first month, the program is $99 a month if you pay annually, or $149 a month if you pay monthly. You are able to cancel at any time, so try it out risk free for just $1 the first month.

Plus, as part of the first month for $5 promotion, they will send you this Math Starter Kit to your door for FREE ($49 value)! Some of the things you will find in the free starter kit include:
Dice
Pencil
Protractor
Graph paper
Area Tiles
Flash cards
Character masks
Poster
That means that altogether you are getting almost $200 in value, for just $1 this first month. That is a huge savings, and the offer is only available for a short time.
How Does Revolution Math Work?
Your child will attend class online with 3 other students, plus one instructor for 60 minutes a week. The class time will include story based instruction, math games, and all with the same teacher each week. This way the instructor can monitor your childs progress and identify where they may need extra help, etc.
Things I love about Revolution Math:
They use a story based, immersive program that makes it fun for kids to learn.
It is interactive, which is so important to keep my kids engaged.
It uses math games for kids to help them learn – and they will be in a class with three other kids and a teacher so it keeps them learning together.
They can earn points that can be redeemed for real world prizes to help keep them motivated.
There are real online math tutors that will help guide them through the learning process
They will have the same instructor each week, so they will be able to follow your child's progress and do the best job to help them learn.
Parents can follow along with their child's progress!
Try it for $5 here, with promo code THRIFTYNWMOM now, so be sure to sign up now if you are interested to get the $5 offer!
You might also be interested in these articles:
Summer Reading Programs – National & Western Washington Programs
SkillShare Free Classes Online | Photography, Animation, Business & More!