Costco Smartphone App – Redeem Coupons & more!
This post may contain affiliate links and I may be compensated for this post. Please read our disclosure policy here.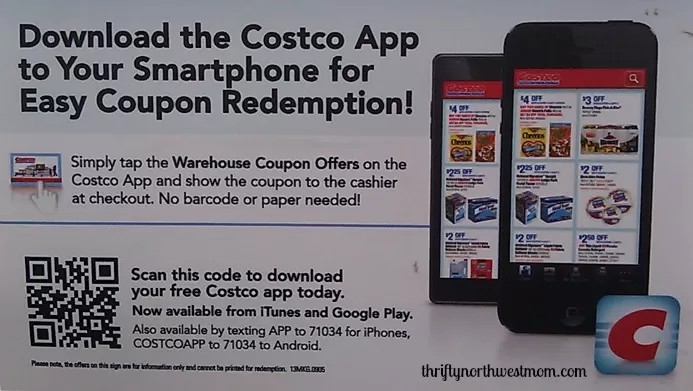 Did you know that Costco now has a smartphone app? I was in Costco the other day and saw this sign sharing about the new app, so I had to check it out right away.  It is available for iPhones or Android phones. The best part is that you can redeem Costco coupons in the warehouse using your smartphone app if you forgot yours at home!
Here's all that the Costco Smartphone App can do:
Redeem coupons in the Costco store – just show the cashier your coupon using the Costco app & they can scan it right there.  This is a great one if you share the membership with someone else who's not in your household. I share the membership with my mom, so she always gets the coupons. So, this way we can both take advantage of the coupons without her having to bring them to me.
Receive special offers & discounts – They will send you notifications when they have a hot buy or special coupon offers
Refill or check prescriptions 
Upload photos to print at Costco – how cool is this – you could upload pictures right from your phone to Costco.com & then  they'll be ready for you to pick up in store!
Have you tried the Costco app – what is your favorite feature?
You might also be interested in: