My Coupon Keeper – Review & Giveaway *Giveaway Ended!
This post may contain affiliate links and I may be compensated for this post. Please read our disclosure policy here.
*Giveaway Ended!
One of the keys to saving a significant amount of money at the grocery store is a good organizational system so that you can quickly find the coupons you need while in the grocery store.  I have had the same system for awhile  – keeping my inserts intact & filed by date & then using several accordion folders for my printables & other clipped coupons. However, I have 2 accordion folders for all my categories & it gets to be a bit of a pain to have to alternate between the two folders. I'd been debating using the binder system, but I just lack the time to be able to keep up with it.  So, I was excited to try out this new coupon organization system from My Coupon Keeper.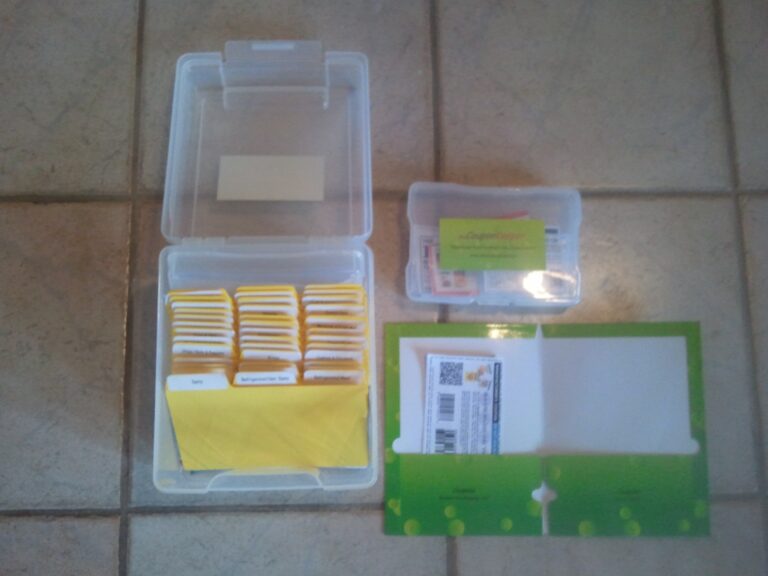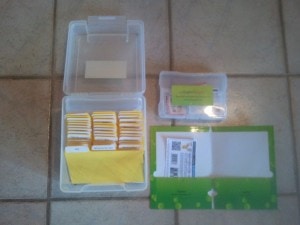 My Coupon Keeper consists of several components to help you stay organized while you're clipping your coupons & while in the store.  This is a box organization system & it comes in a clear, heavy-duty plastic box.  There are 40 heavy-duty dividers you use to keep your coupons sorted – either by category or alphabetically (or however you like to sort your coupons). They have pre-printed labels all ready for you to place on the dividers – or you can write your own categories right on the divider.  Or you can pick up some small mailing labels & change the labels if you have specific ones you'd like to use.
My Coupon Keeper system also consists of 2 extra 4×6 insert boxes.  I use these inside the box to keep my coupons standing up in place until I fill it with more coupons (working on trying to get more inserts clipped).  I also use the insert boxes as a way to store coupons that I've clipped but  haven't organized yet.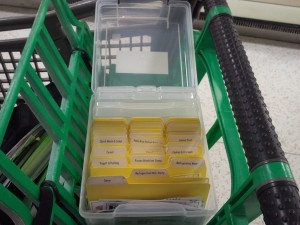 My favorite part of the My Coupon Keeper organization system has to be the little purse-size folder that comes with it.  It is the perfect size! This is a great way to store the coupons you know you will use at the store. Or if you're making a quick run & are only bringing the coupons you'll need – just stash this folder in your purse or bag with the coupons you'll need on the left side of the folder. As you find your items & the coupons to go along with them, you move your coupons from the left side to the right side. This way you know exactly which coupons you'll need at the register. This works much better than my current system of spreading the coupons out with the items in the cart where they can get all jumbled up.
I am definitely impressed with The My Coupon Keeper & will continue to use this as my new organizational system (along with a store accordion folder I use for my store ads,  coupon policies, etc). I've been using the system for several weeks & have found that it's quite easy to use.  Filing the coupons is a breeze with the box method & I've found the box fits easily in the front of the grocery cart.  I can quickly scan thru the categories to find the coupons that I need.
Discount: Free Purse-Size Shopping Folder with purchase of the complete system
My Coupon Keeper is offering a special discount for Thrifty NW Mom readers. If you purchase the complete organizational system for $34.95, use the coupon code: THRIFTYNWMOM at checkout to receive an extra FREE purse-sized shopping folder with your order.
Giveaway: My Coupon Keeper Organizational System
One lucky Thrifty NW Mom reader will win the "My Coupon Keeper" complete organizational system (retail value of 34.99), complete with the coupon box, 1 6″ x 8″ folder, 2 4″ x 6″ insert boxes, & 40 durable PVC dividers with pre-printed labels by category.
This giveaway will end on Thursday March 11th, 2011 at 9pm pst.
The winner will be drawn using "And the Winner Is" plugin and announced on the blog.  I will also email the winner.  The winner will have 48 hours to contact me, otherwise a new winner will be drawn. US residents only & you must be 18 yrs or older to enter the giveaway.
**NO Facebook or email entries will be accepted! The entries must be comments on this blog post (just scroll to the bottom of the post & the bottom of the comments & add your comment at the end). Thanks for understanding! **
Here's how to enter this giveaway::
1st Entry (required entry): Tell us how you currently organize your coupons.
Extra Entries : (make sure these are all separate comments, with a comment for each entry)
2) Subscribe to the Thrifty NW Mom feed via a reader of your choice or email (must be verified) or become a Google follower.
3) Leave a comment here saying you "like" the  Thrifty NW Mom Facebook page (on this post – not on Facebook! )
4) Leave a comment here saying you "like" the My Coupon Keeper Facebook page.
Disclosure: I was given the My Coupon Keeper system to facilitate my review of this product.  The My Coupon Keeper organizational system  also will be given to  1 winner randomly chosen.  All opinions are 100% mine. See my disclosure statement for more details.