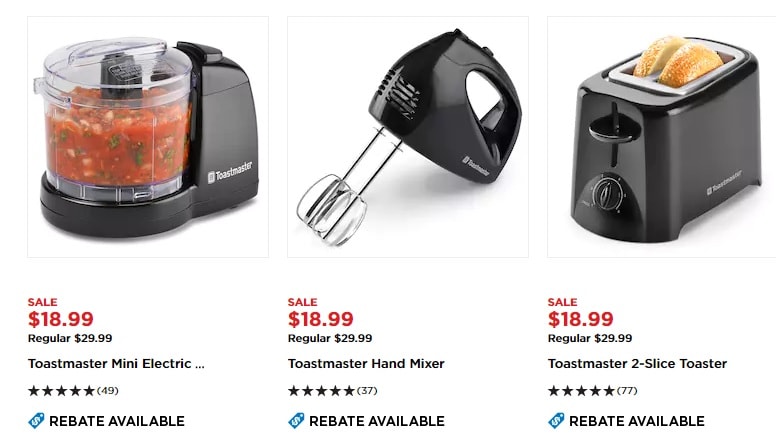 Kohl's Small Appliances Sale
Have you checked out the awesome Kohl's sale that is going on? They have some wonderful deals on Toastmaster Small Appliances. Get them for as low as $2.14 after sale and rebate offer! To get this deal, you will need to use a text coupon, and then submit for rebate (details below). Plus right now, you can earn $15 for every $50 spent (before rebate), so depending on how many appliances you buy you could save even more with Kohls cash!
Here are some of the appliances included in this sale: 
Toastmaster 2-Slice Toaster
Toastmaster 5-Cup Coffee Maker
Toastmaster Slow Cooker
Toastmaster Mini Electric Chopper
Toastmaster 15oz Mini Personal Blender
Toastmaster Electric kettle
Toastmaster Hand Mixer
Toastmaster Electric Knife
Toastmaster Immersion blender
Toastmaster 6-in skillet
Toastmaster mini waffle maker
Buy four of these Toastmaster  Small Appliances $18.99 (Reg $29.99)
Add 15% off code GIVETHANKS at checkout
Submit for (4) $14 rebate (select Rebate Available Link to get the rebate form)
Get $15 in Kohl's Cash for spending $50
Final Price: $2.14 per appliance ($8.56 total) PLUS, $15 in Kohls Cash!
Note, the rebate will come as a Kohls Prepaid Visa Card.
Choose in store pick up to save on shipping costs too, or shipping is free on orders of $75+
To see more of this Kohl's Sale, head over here!