Ideas for Multiple Purposes for Shelving using Sauder Woodworking Co. Furniture
This post may contain affiliate links and I may be compensated for this post. Please read our disclosure policy here.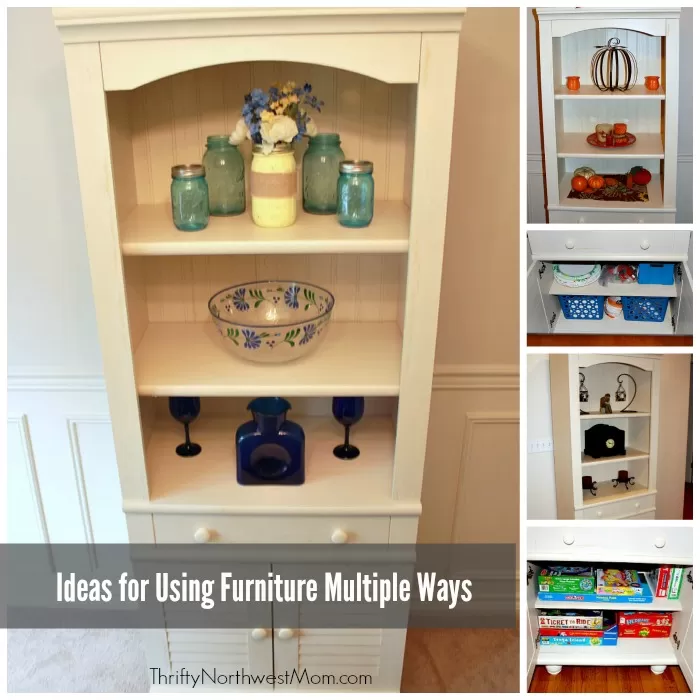 As I shared with you a few months ago, we moved into a new house this summer & have been slowly getting organized & getting the house decorated. So, that means I've been trying out some different things with decorating & moving furniture around as we still are getting things figured out with what works best in the house.
I love to find furniture pieces that serve multiple purposes & can be used in a variety of ways and in different rooms to fulfill a need that you have. Whether that need be storage in a small room to keep items organized & close at hand while still staying stylish or to display your favorite collections while providing much-needed storage for items that work best staying in that room.
That's why I love this Sauder shelving I found at Sauder.com as it seemed like the perfect piece to help me with organizing & keeping things tidier (one thing we definitely struggle with in our house), but also gives me a place to display some of my favorite pieces. I've been experimenting with the best place to use our Sauder library shelf as we figure out what styles & colors we will be using in the house & consider future painting of the walls.
Here are some ideas for you if you have similar shelving::
In a playroom – Store crafts and games in the compartments & favorite toys can be showcased on the shelves. Both of our girls could have a shelf to showcase their favorite toys, jewelry boxes, etc and one shelf to showcase favorite mementos.
In a bathroom (if there's space) – Store towels, sheets & other linens behind the doors & on the shelves you could use varying size mason jars to store things like Q-Tips, cotton swabs, makeup sponges, makeup brushes, etc. (I love these blue mason jars I used for decorating in my dining room & thought they'd be perfect for display yet functional to store bathroom items).
In a guest bedroom – Store sheets, towels, linens for your guest in the cupboards plus any other necessities like toiletries in the drawer & then put some pretty display items on the shelves to make it welcoming for them. It's nice to have all the items a guest needs right in their room so they can access it whenever they need to, especially if they're sharing a bathroom
In a Bedroom – store books & mementos on the shelves & store out of season clothing on the shelves if you need more bedroom storage. There's a ton of ideas of what you could store in the hidden shelves – media cords in baskets, paperwork to keep in your bedroom, mementos in boxes, photo boxes, etc.
Here are a few different ways I have used my Sauder Library Shelf around our house::
Display Shelf / Storage in our Entry Hall: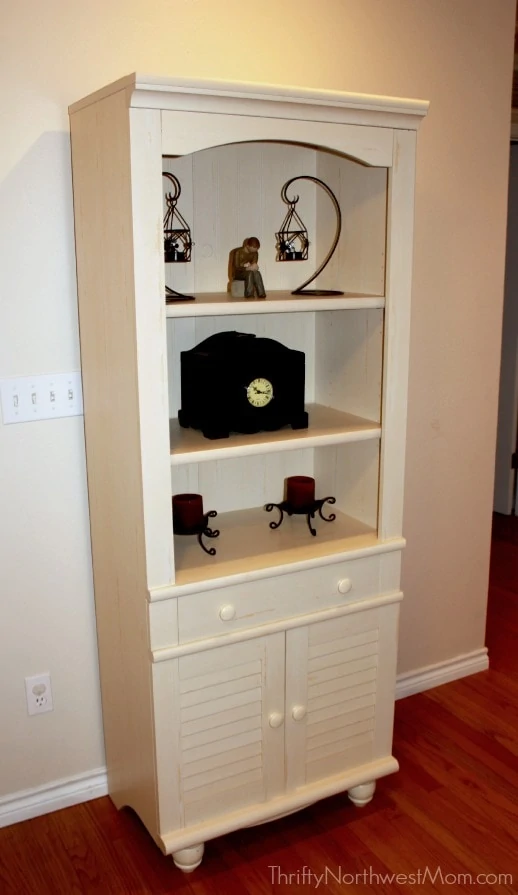 We have an open wall with some space on it in our entry hall so I thought this might be a good place to have the shelf for some added dimension & a pretty display when you walk in. It gives me the opportunity to display a Willow Tree figurine as well as some pretty wrought iron that I love. We are hoping to paint this wall but it probably won't happen till next summer as we have other rooms we want to paint before that, so I think the shelf will stand out even more once it's not against a cream background. I like having the ability to showcase some of your favorite items when people first walk into your house – plus it has the added benefit of storage for items that we want in closer proximity.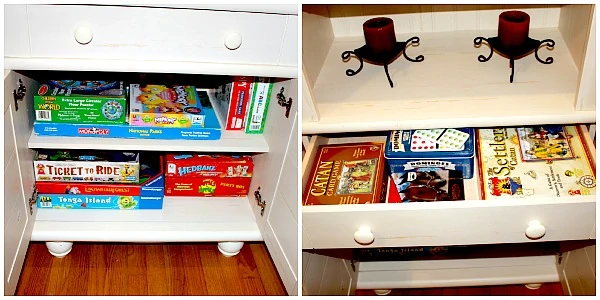 In this case, we used the hidden shelves & drawer for game storage. We love to play board games and we used to store games in our entry closet, but I've been working on trying to keep that organized to just coats, hats, scarves, etc – so this is the perfect place. We've found that we just don't play games as much when they're up on a shelf in a bedroom, so having them close at hand, but hidden behind the library doors is the perfect solution.
Display Holiday Decorations in a Room:
We ended up moving the shelf back into the dining room right now as we found it was a little too crowded in our entry hall for now & we really needed the storage closer to the kitchen. Our kitchen has an older style pantry with narrow but deep shelves that are hard to access, so it's much nicer to have more storage options close by.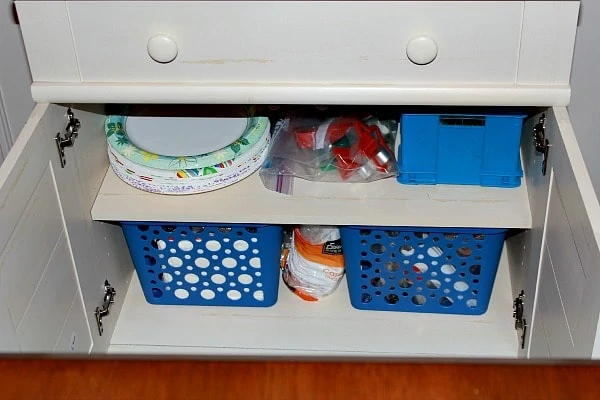 We decided to use the bottom storage shelves & drawer for paper products (napkins, paper plates, plastic silverware, etc) & other items that we may use frequently (cookie cutters – although we use this more for playdough than making sugar cookies :) ). I have some baskets from the Dollar Tree that fit perfectly on the shelves to keep things orderly but easy to find. I love to use baskets on shelves as you can contain similar items together easier for grouping & labeling & I find I can store more items that way too. Easier to use with kids, too, when you ask them to get the basket out with the napkins, plastic silverware, etc & you don't have a big mess to deal with when they're done.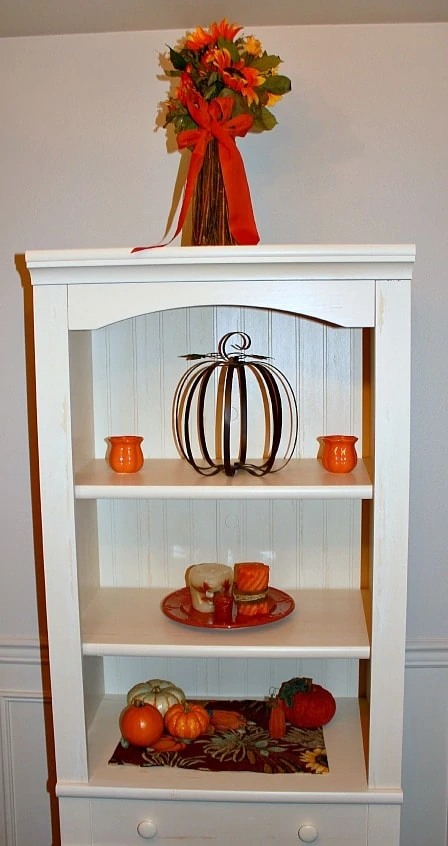 I love to decorate for the seasons and since we eat our family dinner every night in the dining room, I thought this shelf would be the perfect place to display some pretty harvest decor, to carry the theme throughout the house. Once Thanksgiving passes, then we'll move on to Christmas decor as I always have way more Christmas decor than I have places to put it.
I will be switching it up in a week and a half, though, as we have my daughter's 6th birthday party & we will be doing lots of pink for a Jewelry theme so I will definitely be using the shelf to hold some pretty pink items for display as the dining room will be the central room, where we do all our crafts, eat cake, snacks & more.
When you're considering furniture to buy – whether it's at a furniture store, online at a retailer such as Sauder.com, at a thrift store or a garage sale – you want to make sure it's not only going to be pretty but very functional, too. Whenever I buy a furniture piece, I try to come up with at least 2 different ways I can use that piece in my current home, so that if I switch furniture around or find that I have new storage needs, I know that I have a furniture piece that can grow with our family & our needs in our home for functional yet stylish pieces. I have been very impressed with our Sauder Woodworking Co. furniture piece as it's very well-built & solid yet very classy & stylish to be able to use in a number of locations. Plus the storage & display options are endless with this classic piece!
I hope this has given you some inspiration of how you can use your current furniture pieces or ideas to keep in mind when you're on the hunt for some new (or new to you) furniture! You can check out our Pinterest furniture board for some more ideas of versatile furniture pieces & the many ways you can use them.
What are your tips for using furniture in multiple ways? Do you have any pieces in your home that you've used in different ways?
This is a sponsored conversation written by me on behalf of Sauder. The opinions and text are all mine.