HOMER Learning App – Early Reading Program for Kids
This post may contain affiliate links and I may be compensated for this post. Please read our disclosure policy here.
Disclosure: This post was sponsored by HOMER. All thoughts and opinions are 100% my own.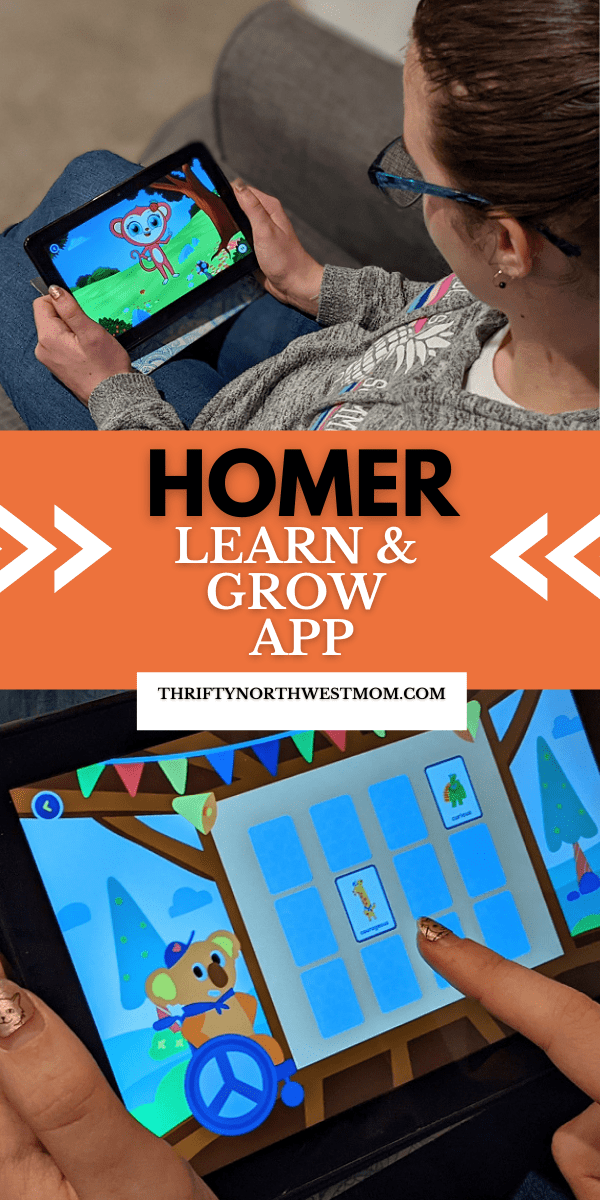 HOMER Learning App – Early Reading Program for Kids Ages 2-8
Do you have a child who is learning to read or a pre-reader who you want to practice some good pre-literacy skills with?  Using a digital program is a great way to supplement what they are learning at home and school. It's just another tool that you can use to reinforce those early literacy skills.
The HOMER Learn & Grow learning app is an app focused on ages 2 – 8, which gives them a personalized learning program for them to learn some great preliteracy & literacy skills. The information on the app will be personalized based on their age level + their learning level.  This app is based on a research based reading program to develop kids' preliteracy skllls through the use of stories, phonic lessons, songs, drawing & so many more tools.

The focus of the HOMER Learn & Grow app is on reading & preliteracy skills, but they do also cover a variety of subjects such as foundational math activities to thinking skills, creativity, social & emotional learning & more.  There are over 1000 activities built into the app with the different subjects & interests. They've found that just 15 minutes a day on a regular basis can improve a child's early reading scores by 74%.
What's even better is that this is a great tool & app that pre-readers can use independently as they use a lot of visual, colorful prompts and verbal instructions so that kids can be doing this when you are cooking dinner or working with another child, for example. Or use it while you are driving so they are getting practice with a fun learning app instead of just watching a show or movie, but it's an interactive app they will enjoy.
HOMER Learn & Grow App: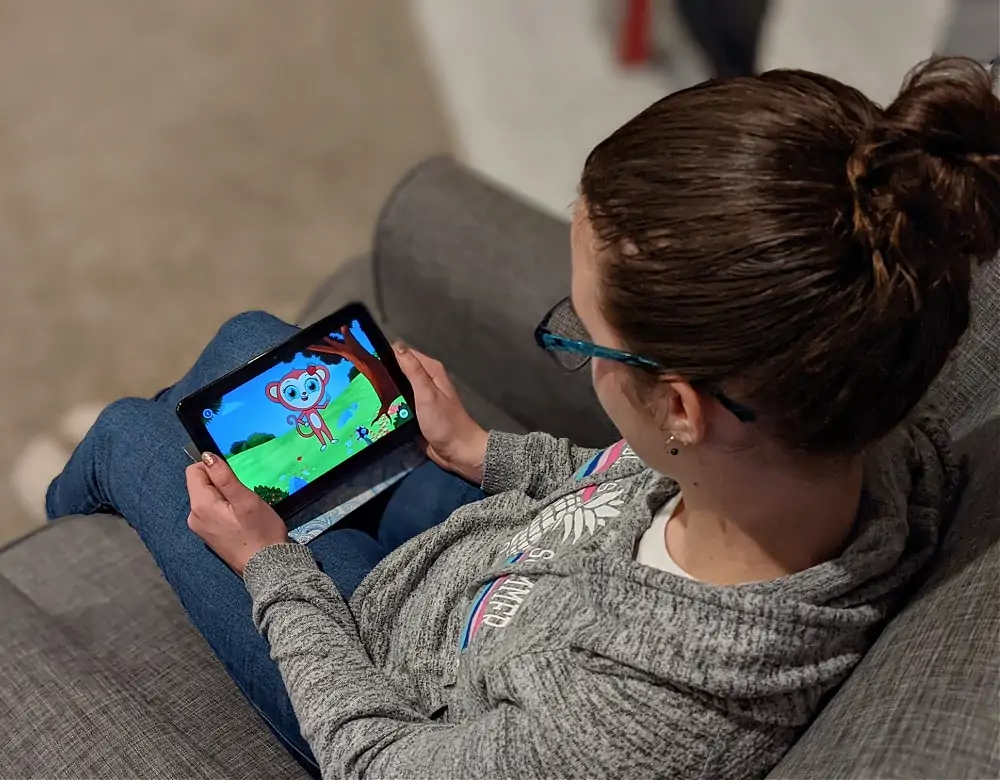 (My daughter is older than the maximum age for this app, but we wanted to show you what it looks like when you use it & try it out ourselves to explain how it all works)
What a Membership Includes::
Access to the digital app, HOMER Learn & Grow
4 customizable profiles with each membership
Access to the Activity Center with parent resources – such as printables, videos & offline resources
Cost of the HOMER Learn & Grow App:
If you'd like to try out HOMER, you can get a 30 Day FREE trial to get your child (or children) all signed up for & see what you think. So, it's a risk-free way to try out the reading program & app features & see if you think it's worthwhile to continue to help your child develop those literacy skills.
It is $9.99/ month or you can pay the annual fee of $59.99/yr, which is just $5/mo, so that's a $5/mo savings if you choose the annual plan.
How it Works: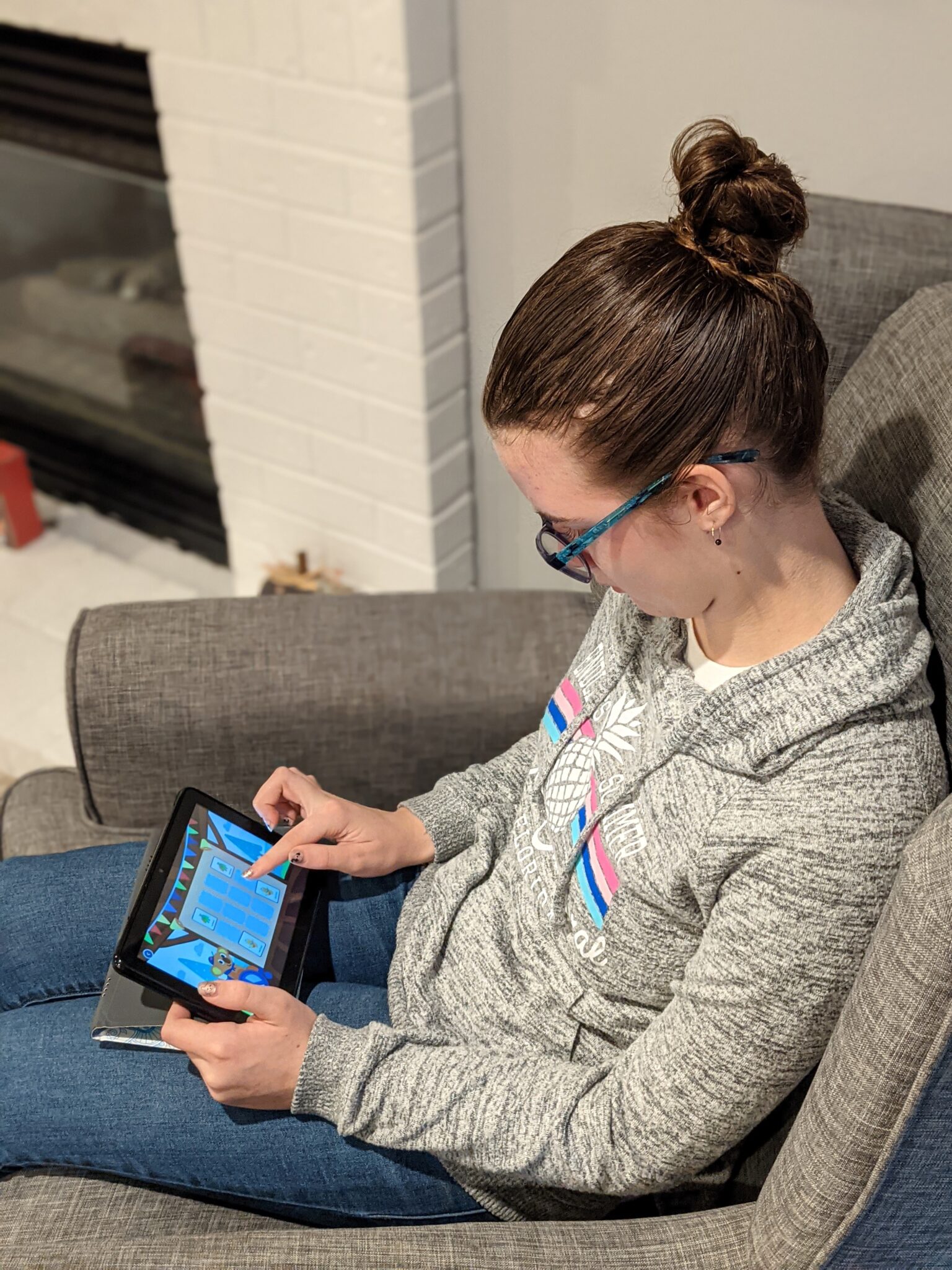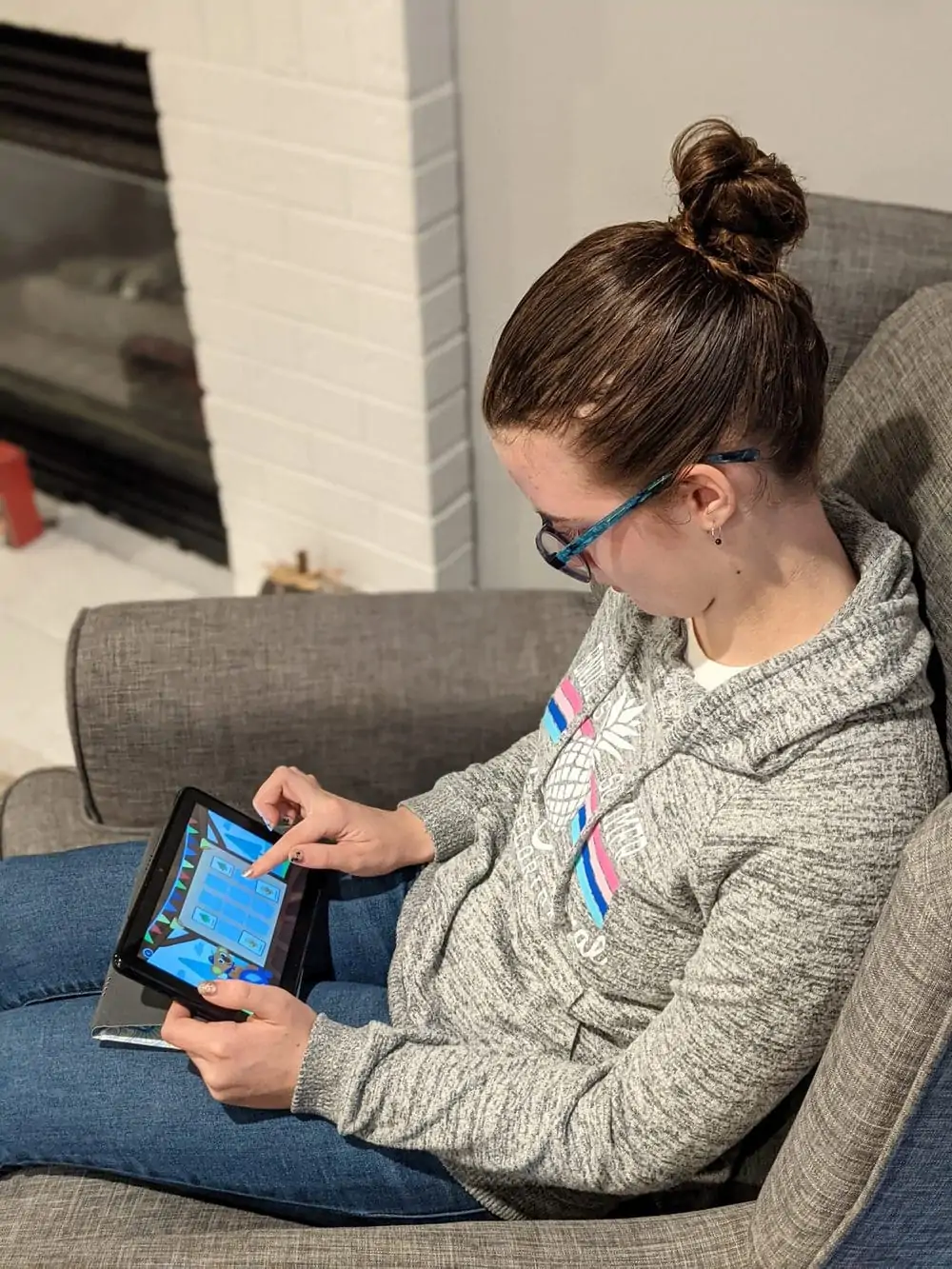 *Download the HOMER Learning app thru the iTunes or Google Play store
*Sign up for a few account for your child (or children – up to 4 children can use this app)
*You'll need to fill out information about your child –  first you will want to include their age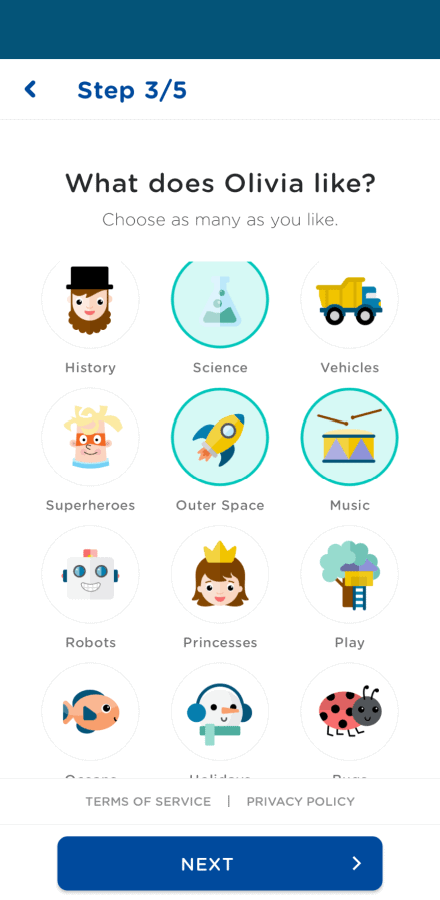 *Next, they will ask about your child's interests – they will have options such as princesses, superheroes, history, science music, animals & more. This is to help personalize the content so it's a bit more geared towards your child's interests.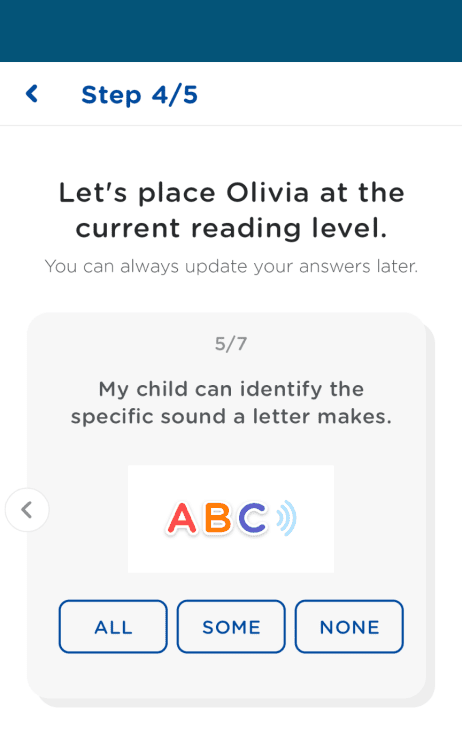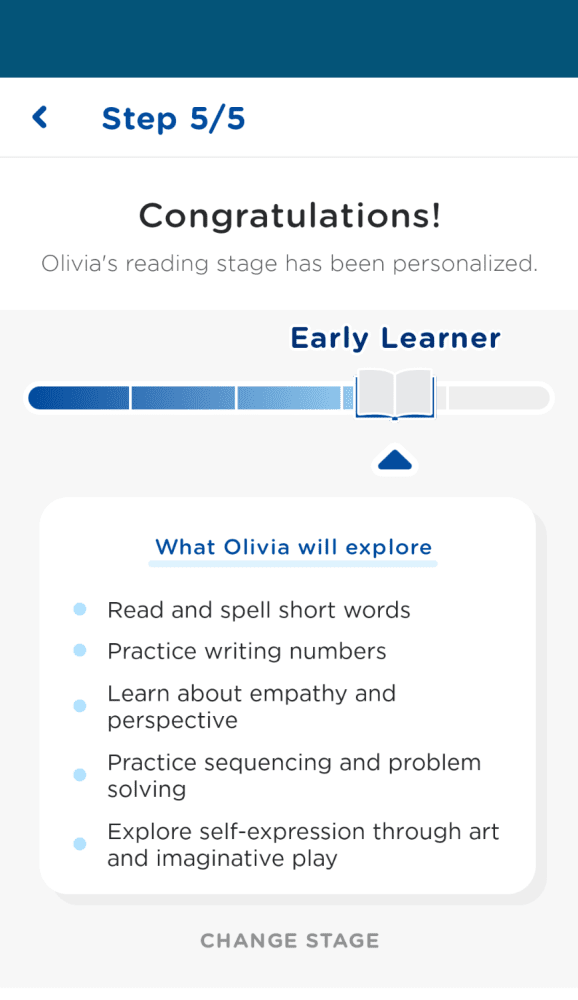 *The next step is to assess your child's reading abilities – they will ask several very simple yes/no questions to determine the level to provide the information in the app. (The early learner stage is the highest it would go for us, so this is definitely geared towards kids who are still learning to read)
*Last, you will sign up with a parent email & password. Then you're ready to hit play & explore all that the HOMER App has to offer.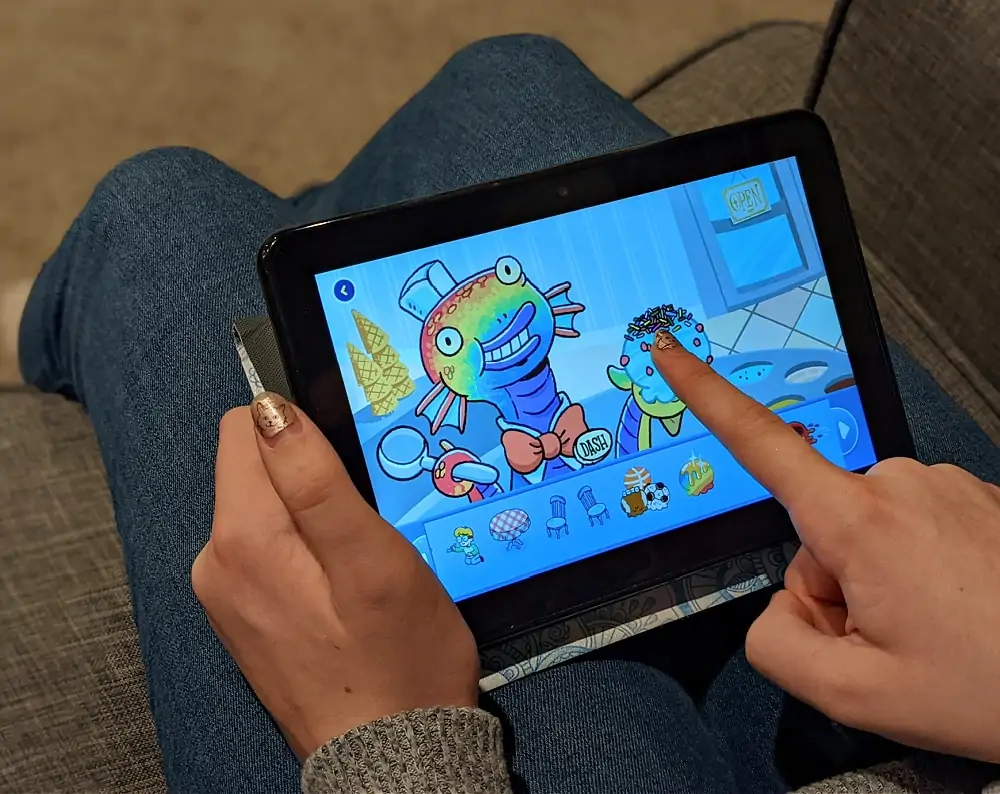 Reading – this is where they will work on a research-based literacy (& Pre-literacy) program. It will show you the Learning Path for your child as it progresses & builds on what they learn.
Stories – reading a story out loud with bright, colorful pictures & it highlights the words in the text as it reads the story out loud for the child. The stories will be geared towards your child's interests that you shared when you signed them up.
Creativity – these are drawing-based games & activities such as "Make your own story" , "Coloring" different images & much more
Math – Building with Shapes, Counting Activities, Numbers Memory Game, Tracing Numbers & more
Practice Games– Tracing letters, identifying letters, sight word scramble & much more
Songs – they have a variety of songs with videos for your child to sing along & learn the songs
Games – even though these are games, they are still learning games such as Memory Game with Feelings, Sight Word Game, Things that Go Together, Spelling games & much more.
As you can see, there are so many different & fun activities & games for kids, that the HOMER app will keep them engaged & learning at the same time! A great tool to use for kids to supplement what you are already doing at home to work on learning to read or pre-literacy skills to build their exposure to sounds, letters & numbers.
Let us know if you have used the HOMER Learn & Grow App & what you think of it!