ecoATM – Earn Cash for Recycling Old Phones, Tablets & MP3 Players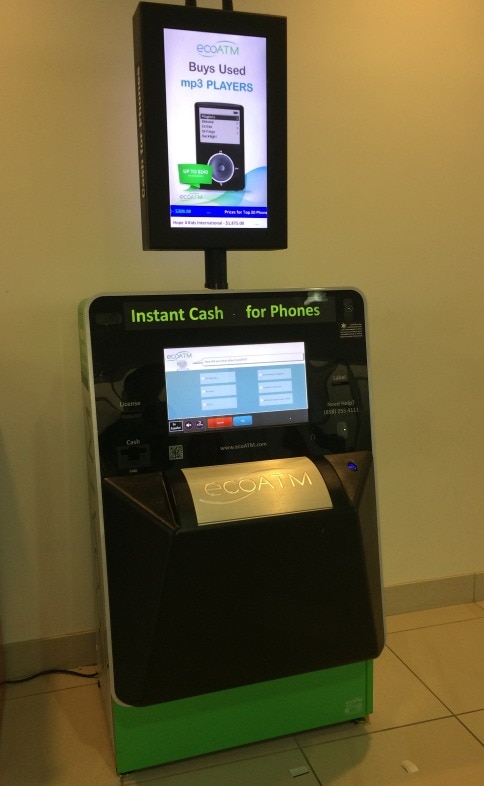 We just  moved into a new house last week so I have spent the past few weeks packing & now unpacking all of our belongings. It's amazing how much clutter & excess you can find when you start digging in drawers & at the bottom of nightstands & dressers. In fact, we found several old phones that have been collecting dust & taking up space in our home and it was time for those to go. Perfect timing as we were contacted by the folks at ecoATM to check out their automated kiosks for recycling electronic devices, so this was a great chance to learn about recycling the phones, as well as seeing if I could even earn some extra cash from these older model phones.
ecoATM is an automated kiosk found in shopping malls & select Walmart stores around the country where you can turn in your electronic devices right there at the kiosk & either recycle them if they're  older,  which will keep those devices out of landfills – or you can earn some extra cash for your phones & devices!  This means you're not only cleaning up your clutter & getting those unused devices out of your home, but you're protecting the environment & even making some extra cash at the same time. I found locations at all 3 of my closest shopping malls (my local mall even had 2 kiosks).
This is a quick & easy method of selling your device as compared to options such as Craigslist, Ebay, or online sites, if you're wanting to upgrade to a new phone – you can just go through a  5-10 minute process to turn your phone in & get cash on the spot versus having to deal with shipping, getting credit only towards a new phone, etc.  You may not get the same value as you'd get thru some of those other options, but it's worth checking out how much you'd earn to see if you'd prefer the convenience & instant cash or if you have more time & effort & want to get more money for your device by choosing another method.
ecoATM accepts the following devices:
Cell Phones
Tablets
MP3 players
ecoATM is the first automated kiosk to recycle electronic devices & as I saw this weekend when I headed to the Outlet Collection in Auburn (former Super Mall), this was a very popular kiosk because of its convenience & ease of use, plus giving you instant cash-back for your devices. The best part is that it's eco-friendly, so you're doing your part to keep those devices out of landfills & keeping the earth cleaner.  Since the first kiosk was developed 4 years ago, ecoATM has recycled more than 500,00 pounds of devices and 2 million individual devices.
If you're interested in learning more about how ecoATM works, check out this video I did to show you the basic steps for turning in your electronic device & seeing if you can earn some extra cash this summer!

What to Know:
Must be 18 years old or older to turn in a device; otherwise you'll need a parent with you.
You will need your photo ID for verification. This is to confirm you're 18, but also to help them verify your identity to reduce the number of lost or stolen phones being recycled through this kiosk. They will also use thumbprint verification & facial verification
If you're ready to recycle your phone, make sure you've cleared off your contacts & any data stored on your phone.
If you're not ready to recycle it, you can just test it out to see how much it will be worth & it will not cause any damage to your phone or data.
Phones do not need to turn on to be submitted – it is better if they can turn it on to give it more value, but it's not required
If you're debating what to do with your old phones or other devices, check out the ecoATM website to find the nearest location to you & find out how much money you can earn from your electronic device, plus keep those devices out of landfills!
Disclosure: This post is sponsored by ecoATM.   All opinions are 100% mine. See our disclosure policy  for more details.