E-Mealz Product Review & Giveaway
This post may contain affiliate links and I may be compensated for this post. Please read our disclosure policy here.
Meal planning is always recommended to help save money on your grocery bill, however, coming up with new, healthy meals can be a challenge. I had the opportunity to try a great meal planning site that can help you solve those problems.
About E-Mealz:
For $5.00 per month, subscribers download a recipe plan for the week with a matching aisle-by-aisle grocery list. The easy-to-follow recipes usually contain fewer than seven ingredients to allow for prep times of less than 30 minutes. The E-Mealz program provides a consistent and reliable approach to food budgeting by factoring the weekly cost of ingredients into each menu plan. Menus are created around a budget of $75 per week for families and $35 per week for couples.
To get recipes, tips on how to simplify your life, organize your days and plan family fun, be sure to check out the E-Mealz Blog.
My Experience with E-Mealz:
The Meal Plan Options: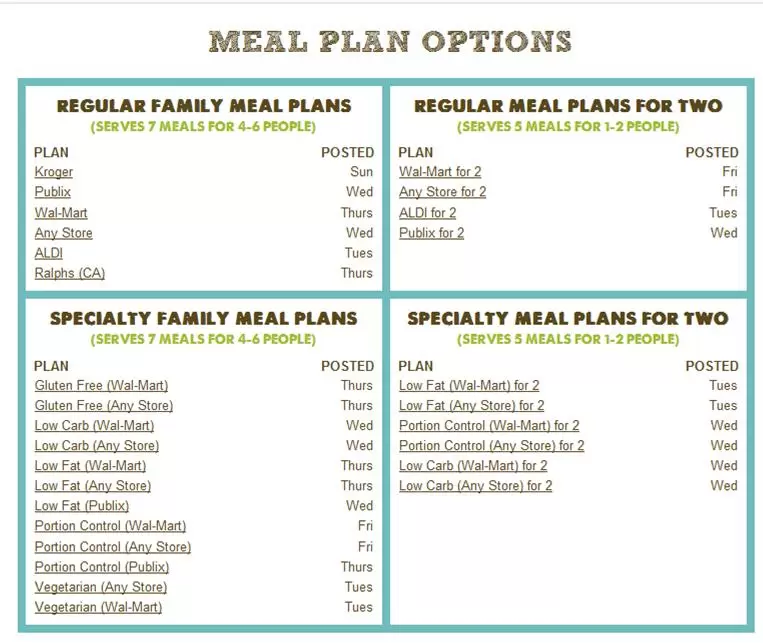 I was very excited to see the variety of meal plans offered on E-Mealz. There are plans for families and for singles/couples. There are also a variety of specialty plans available from Vegetarian to Gluten Free to Low Fat. It was great to see the specialty plans available (even though the regular plans are also healthy). You can really tailor the plans to your family's specific dietary needs.
The E-Mealz plans are also broken out for specific stores as well. If your store is not listed, you can choose the generic "any store" menu plan. The specialty plans are more limited in store options. My only complaint about the store options is that options are limited for the Pacific Northwest. Your options are pretty much any store or Wal-Mart.
The Weekly Meal Plan: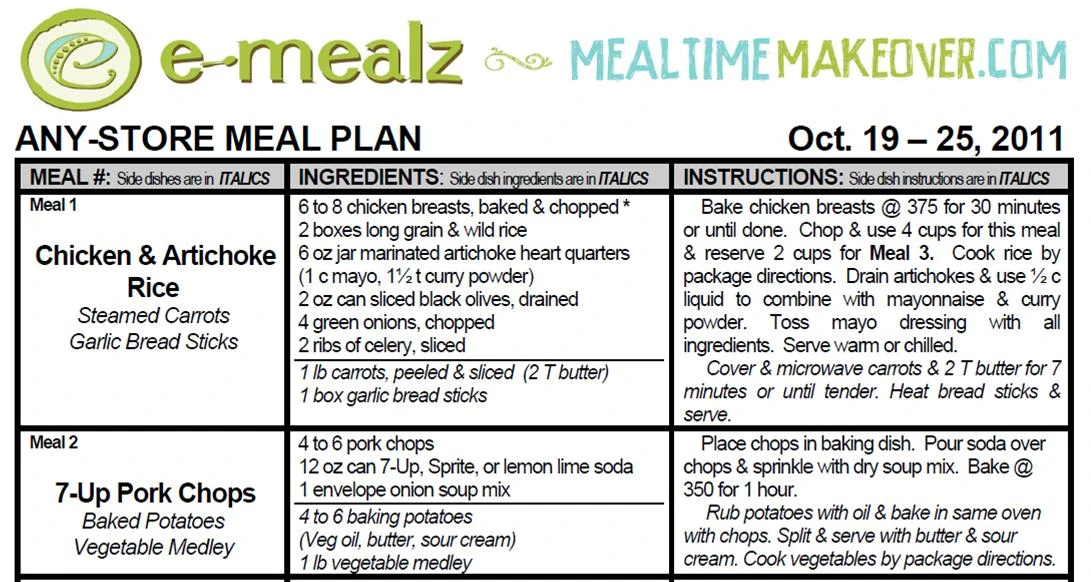 I love the format of the weekly mean plans. The plans are very easy to read and they fit nicely on the page. The weekly meal plan shows the meal with side dishes, ingredients for the entire meal and the cooking instructions. It is great! 
The Grocery List:
I also love the format of the grocery list on E-Mealz. It shows you very clearly what you need broken out by category and shows you what meal you need each ingredient for. So if you are only needing six meals one week due to a special occasion, you can very easily locate the ingredients for the omitted meal and take them off your list.
The other thing I love about the grocery list is that you can very easily identify the "staples" needed for the week so you can check quickly to make sure you have them all in your pantry and fridge. I always have to go to the store for butter or eggs or something else because I assumed that I had them but I didn't
Overall Impressions:
E-mealz a great site and definitely offers value to the consumer. The meals were a hit in my house and it made meal planning very easy. My family and I decided to commit to the program and we pulled up the meal plan and used that for the week. It was awesome! I had so much more time for my family because I wasn't trying to figure out what we were having for dinner this week.
I also appreciated the ease in cooking the meals. They were quick and easy! I also had more than enough leftovers using the family plan for my husband to have leftovers the next day for lunch. We even had my mom over a few nights for dinner and still had plenty to feed us all.
The big question….did I save money? I think actually using this plan I spent a little more money than I usually do on my weekly shopping but I am a very frugal shopper. However, to me my time is worth money! I am willing to pay a little more to have more time with my family and with this plan, I definitely had that!
Giveaway: E-Mealz 3-Month Subscription – 4 Winners
Four lucky Thrifty NW Mom readers will win a three-month E-Mealz Subscription ($15.00 value).
This giveaway will end on Wednesday, November 2nd at 9pm PST.
The winners will be drawn using "And the Winner Is" plug-in and announced on the blog. We  will also email the winners. The winners will have 48 hours to contact me. Otherwise a new winner will be drawn. US residents only & you must be 18 yrs or older to enter the giveaway.
Here's how to enter this giveaway:
1st Entry (required entry): Tell us why you would like an E-Mealz subscription and which subscription you would like
Extra Entries: (make sure these are all separate comments, with a comment for each entry)
2) Subscribe to the Thrifty NW Mom feed via a reader of your choice or email (must be verified) or become a Google follower
3) Leave a comment here saying you "like" the E-Mealz Facebook page.
4) Leave a comment here saying you follow E-Mealz on Twitter.
Disclosure: I was given a E-Mealz subscription to facilitate my review of this product. E-Mealz subscriptions will also be given to 4 winners randomly chosen. All opinions are 100% mine. See our disclosure statement for more details.