DIYfest in Parkland WA – Saturday November 7th from 10am to 3pm!
This post may contain affiliate links and I may be compensated for this post. Please read our disclosure policy here.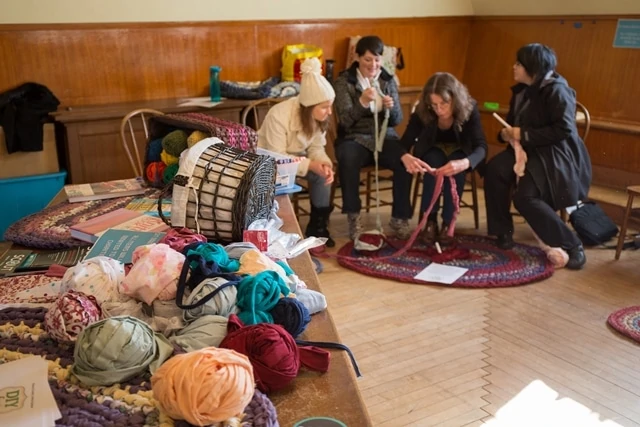 DIY'ers teaming up to assemble a rag rug
The Pierce County Library is back this year with their 2nd annual DIYfest, which will take place at Sprinker Recreation Center in Parkland/Spanaway on Saturday November 7th, 2015. The DIYFest is a fun community event to celebrate & learn more DIY skills through a number of hands-on activities throughout the day. You can learn fun & useful skills on topics such as crafting, sustainable living, cooking & home renovation. There will also be local authors, kitchen demonstrations and food trucks (we love food trucks here in the NW :))!
I'm hoping to check out the DIYFest this year as I love that the Pierce County Libraries have teamed up with Pierce County Parks to put this on.   The more things that we can all learn to do ourselves with learning new skills for DIY projects, the more we can save money by not having to hire people to do things that we can do on our own! My husband is fairly handy, so he is always trying to figure out how to do something on his own first and he'll sit & watch YouTube videos and teach himself how to do things from the videos. But, how cool it is to be able to sit & watch those demonstrations in person, so you can ask questions about something you aren't sure about & find out how to do a project in more detail.
Here is a DIY Book List that the Pierce County Library has put together as well if you're interested in learning about some new DIY topics!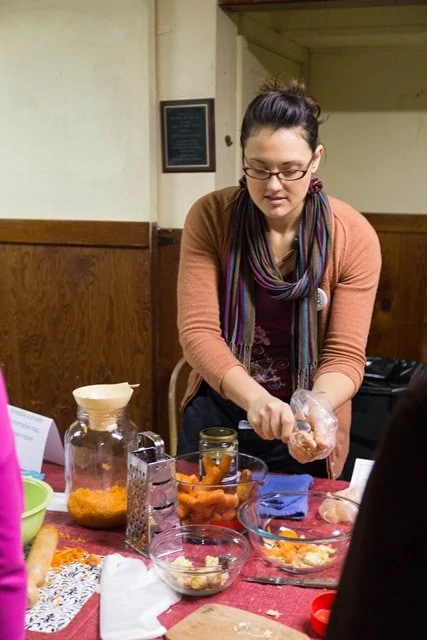 A cooking demonstration
Here are a few of the hands-on activities you can try:
Design your own grow space
Learn about no-energy hoop houses
Make ink from berries
Location: Sprinker Recreation Center, 14824 C St S in Parkland, Spanaway, WA
Date: Saturday November 7th, 2015
Time: 10am – 3pm
Price: FREE
Presented by the Pierce County Library System and sponsored by the Pierce County Parks and Recreation
A librarian demonstrating a Science to Go experiment
Here are some of the exhibitors you will find at DIYfest
Natural Rain Barrels

Center for Food Preservation Arts

Ferment All Things

Tacoma Tool Library

Crochet by Chineka

NW Regional Spinners Association

Sewing Machine Maintenance and Repair

WSU Master Gardeners

Value Village

Pierce Conservation District
What a fun idea & a great way to get some inspiration for any projects you are wanting to start yourself! Did any of you go last year – if so, what did you think? And what were your favorite demonstrations?