Disney Frozen Party Ideas – Food, Games, Favors with #Hallmark #IttyBittys Dolls & more!
This post may contain affiliate links and I may be compensated for this post. Please read our disclosure policy here.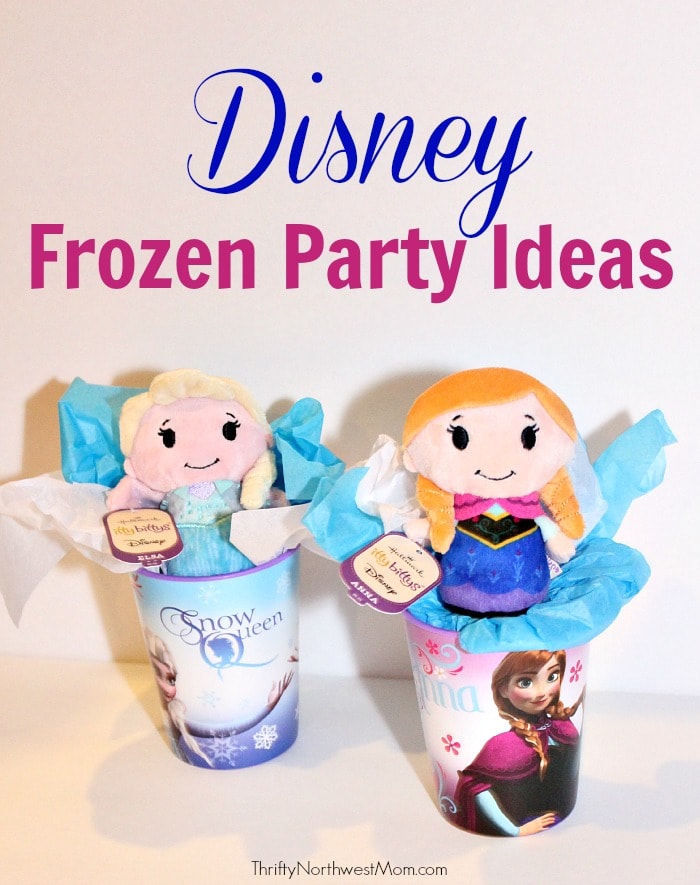 Did you hear the news that there will be a new Disney Frozen short coming out in March called Frozen Fever? It will open as a featurette (short movie) before the new Disney Cinderella movie on March 13th. I know I will have some little girls who will be over the moon to learn that there will be more adventures with Olaf, Anna, Elsa & Kristoff.  It's hard to believe that the Frozen movie came out over a year ago as anything Frozen is still all the rage with little girls everywhere!
Disney's Frozen movie popularity extends to birthday party themes too – Disney Frozen parties are still one of the most popular party ideas for little girls again this year.  We went to several Frozen birthday parties last year and got some fun ideas for throwing a Frozen party, so I thought I'd share a few of those ideas with you! Many of these ideas are very budget-friendly, too!
Frozen Party Decorations: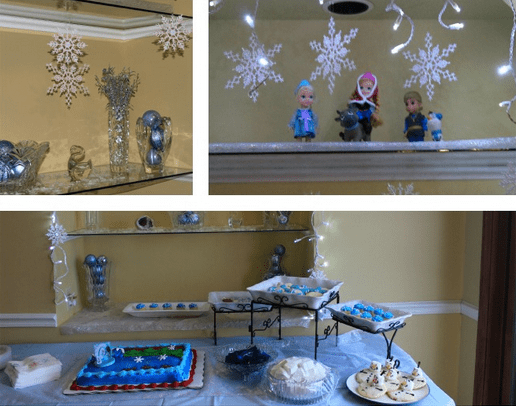 Photo Credit – Sisters Shopping on a Shoestring
Reuse your Christmas Decorations or Shop After Christmas Clearance – The Frozen theme is such a fun theme to decorate for and can be very frugal as you can reuse many of your Christmas decorations such as white Christmas lights, fake snow, blue & white ball ornaments, any & all snowflake decorations.  Wrap white lights and tulle together to create a winter wonderland effect. If you don't have tulle, just grab those white lights (whether they're regular white lights or icicle lights) and string them all around the house. Use any snowflake or snowman decorations you have including ornaments & place them all around the house, too, for a fun snowy theme!
Check out above how Sisters Shopping on a Shoestring decorated using Christmas & winter decorations for their fun Frozen party.
Frozen Party Food:
Here are some fun ideas for movie-themed food for your Disney Frozen party that are really simple & frugal::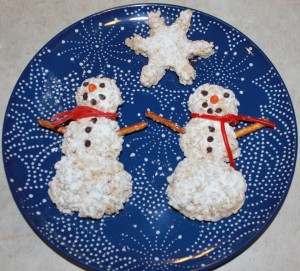 Snowman Rice Krispie Treats – Have your kids help you make Snowman Rice Krispie Treats complete with candy scarf, chocolate chip buttons & more
Make your Own Olaf – Powdered mini doughnuts, pretzel rods for arms, chocolate chips for buttons & eyes, mini carrots for nose. You can also use the doughnuts as "snowballs" too.
Frozen Hearts – White chocolate covered strawberries
Icicles – Cheese Sticks. You could also use these to draw snowmen faces onto the plastic packaging
Carrots for Sven – Mini Carrots
Ice Blocks for Kristoff & Sven – Blue Jello Jigglers cut into blocks / cubes & piled or stacked into a bowl/platter
Melted Snow – Water Bottles with a Label saying "Melted Snow"
Frozen Party Activities:
There are so many fun ideas you could come up with for a Frozen birthday party either around the theme of the movie or snowmen in general because everyone loves Olaf from the movie.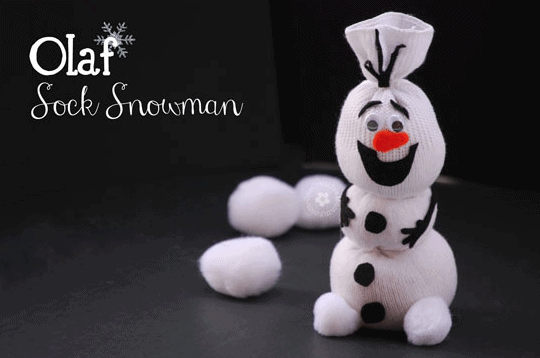 Photo Credit: One Creative  Mommy
Olaf Sock Snowman Craft – For this craft activity, you'll need a single sock, white pom poms, googly eyes, felt, rice & a few more items to put together this fun Olaf Sock Snowman. Make sure to head to One Creative Mommy for all the steps as well as a free printable for the felt pieces.
For elementary kids, this would be a fun activity to keep them busy for a little while & then be able to go home with a cute craft to remind them of the Frozen party they attended.
Build a Snowman Game: A cute idea that a friend of mine did for her daughter's Frozen party was to have a "Build a Snowman" game. This was a great frugal game as she just took toilet paper and the kids had to team up and wrap each other up to look like a snowman (very similar to bridal showers where you dress up the "bride to be" in her wedding dress of toilet paper or Halloween parties where you make a person into a "mummy").  You could time the kids to see who would finish first for older kids for a little fun competition or  just make it silly & relaxed for younger kids.
Frozen Sing Along & Dance Party –  Any little girl who has watched Frozen loves to belt out "Let it Go" at any given time – even better when they are with a bunch of their girlfriends to sing in harmony together.  Whether you have a little karaoke machine, the Frozen Soundtrack on CD, or just want to use various You Tube videos for the girls to sing and dance to, they are sure to love a silly time of singing & dancing to their favorite Frozen songs. We found that many girls would also dress up in their favorite Frozen dresses/clothes so this would make them feel like little princesses.
Frozen Party Favors: 
Itty Bitty Stuffed Animals from Hallmark – Instead of giving the kids a favor bag full of items that may only last for a few days, another option is to give each child an adorable little Disney Frozen Itty Bitty doll as a special gift to take away from the party.  These are plush, round little dolls that are the perfect size for little girls to play with in dollhouses or use with their other Frozen dolls or figurines. Plus they're nice and compact to put in a little bag or a purse for playing with at an appointment or bring along in the car or on the airplane for some Frozen playtime.
I thought it would be fun to put the Itty Bitty dolls in cute little Frozen cups – the Elsa doll in an Elsa cup and the Anna doll in an Anna cup. My girls got these cups at one of the Frozen birthday parties and love drinking out of them & they made the perfect way to display the Itty Bitty's for a party favor.
Olaf Treat Bag – Take a small ziploc and fill it with the parts of a Olaf snowman. They can then take this home as a little treat to snack on.
Here's what you'll need:
Regular & mini marshmallows
Chocolate chips for eyes, nose and buttons
Pretzel rods  for arms
Mini carrot for nose or candy corn
We'd love to hear if you have any other creative & fun ideas for Disney Frozen parties! This is a party theme that you could come up with so many fun ideas! 
More about Hallmark Itty Bitty Dolls:
Hallmark made these cute little Itty Bitty dolls as a fun idea to give to the little people in your life, whether it be at a fun birthday party or as a special Valentine's gift.  Not only do they have Disney Frozen Itty Bitty dolls (both Elsa & Anna) they also have characters from tv, movies and comics. The Itty Bitty Dolls can be found at your local Hallmark Gold Crown store, as well as at Hallmark.com.
You can also find Hallmark on Facebook, Twitter, and Instagram.
This post is sponsored by Hallmark and I was sent 2 Disney Frozen Itty Bittys for review. All opinions and content are our my own and were not provided by the company.  See our disclosure policy  for more details.