Coupon Organization – Binder System
This post may contain affiliate links and I may be compensated for this post. Please read our disclosure policy here.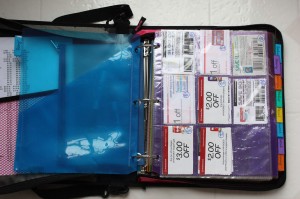 I know many of you are still fairly new to couponing, so I wanted to give you some tips on how to organize your coupons.  There are a variety of different methods & ultimately you have to find what will work best for you.  So, I will be presenting a few different options & you can try them out & decide which one is the best fit & most efficient for you.
The first method is the Binder System.  This system is really the best method for staying organized & keeping track of all of your coupons, which then will maximize your savings at the grocery & drug stores.  You can easily flip thru your coupons in the binder when you're at the store & then be able to use coupons when you find unadvertised sales or clearance deals.  However, it does take more time to set up & keep up a binder system.
My friend Dawn is a good friend from my high school days & seriously one of the most organized people I know.  She just started couponing about a year ago & has an amazing organizational system in place.  I thought she would be the perfect person to show us pictures of her binder & how she organizes it all.
Features of Dawn's Coupon Binder:
2 inch binder with a zipper all around (hers is a Case-It binder that she found at Office Max during the School Supplies clearance sales. She paid around $7-it was normally $14)
Carry strap –  so she can throw it over her shoulder
Plastic dividers with pockets – she noted that if you don't buy the ones with plastic dividers, the dividers won't stick out far enough to see past the baseball card sheets
Baseball card pages to put her coupons in – she found these at Walmart near the registers in the baseball/trading card section. They were around $5 for $50 & she bought 2 packages to store all of her coupons.
Binder categories are all arranged alphabetically in the binder
Expiration date of all the coupons on the front & circles it so she can easily flip thru & see which coupons are expiring soon
Stock-up Price List – she keeps a list in the front of a stock-up price for various products. (Check out this example of a stock-up price list from Happy Money Saver).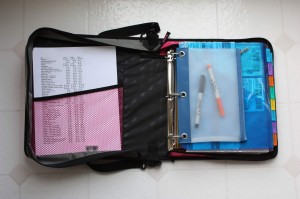 Binder Categories:
Baby
Baking
Beverages
Breakfast
Bread
Canned
Cereal
Cleaning
Condiments
Dairy
Frozen
Home Fragrance
Hygeine
Meat
Medicine
Miscellaneous
Paper
Pasta / Rice
Restaurants
Retail
Snacks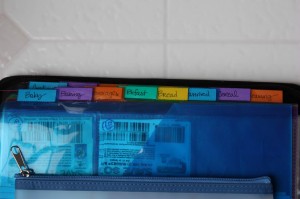 She does have a few of these categories sub-divided further:
Dairy: yogurt, cheese, other
Frozen: Pizza, Entrees, Chicken Nuggets, Veggies, Sweets, Miscellaneous
Hygiene: Toothpaste, toothbrushes, floss/whitening strips, deodorant, razors/shave gel, body wash
Paper Products: Toilet paper, paper towels, tissues, plastic bags (Ziploc), Miscellaneous (tinfoil, saran wrap, etc)
Dawn estimates that it takes her about an hour once a week (Sunday evenings) to go thru & cut out all the coupons that she thinks they will use, throw out any expired coupons, & file the new coupons away.  The biggest time investment was putting the whole binder together, but once it's together, it doesn't take her long at all to cut & file her coupons.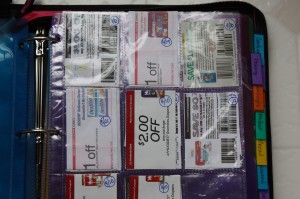 The biggest advantage to using the binder system according to Dawn:
I LOVE the binder system because when I am grocery shopping, I can lay it open on the top part of the cart & it stays that way. I can just flip through it as I go.  When there is a coupon I am going to use on my purchase,  I pull it out & put it in the front mesh pocket (where my price list is).  When I'm done shopping, I have all the coupons I'm going  to use right there together at checkout.  I seriously cannot imagine any other sort of coupon organization being nearly as efficient, at least for me.  It is so wonderful being able to see all of the coupons with just the flip of a page.
I have to say that although I did try the binder system for a few months last year, I ended up not sticking with it because it felt like too much time to cut out all the coupons & then file them away. However, I have definitely missed out on opportunities when I wished I had all the coupons with me for great clearance  finds or other deals I've found in the stores. So, I've definitely been debating going back to this method. Soon I'll be featuring the method that I currently use to organize my coupons.
Tell us – what is your favorite method for organizing your coupons?  Have you ever tried the Binder system & what did you think?