Looking for the best deals on toys available right now?  We have lots of great resources for you!  This post will provide you the best prices on toys from major retailers this season, so you can know where to get your favorite toys for rock bottom prices.
We will also sort it by prices, so if you are looking to buy a gift in a certain price category, you can easily scan what's available in that price range. This list will be updated periodically, but note that the deals can change frequently, so verify the prices before checking out!
In addition to this post, be sure to check out our page: Best Toy Deals – Lots of Great Resources!
You can scroll down to see all the deals, or jump to the specific price sections here too:
Be sure to comment below if there is a specific toy you are looking for, so we can keep an eye out for it, and add it to our list if we find a deal on it!
Best Kids Toys
Most Affordable

:
Best Kids Toys Next Best Prices
: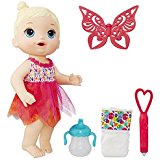 Lots of great deals on Baby Alive Dolls Today
Best Kids Toys
Mid Price Range Toys

:
Best Kids Toys
More Expensive, but Kid Faves

:
Best Kids Toys
Pricier Kid Faves

: