Bridal Magazines On Sale – Bridal Guide, Brides & Martha Stewart Weddings Bundle 73% Off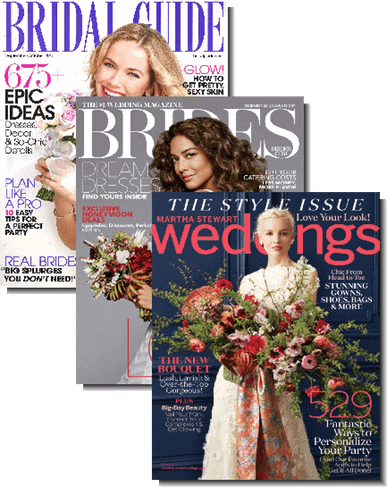 Today only, subscribe to Bridal Guide, Brides & Martha Stewart Weddings Bundle Magazine for only $11.99 per year (73% off)! You can order up to 2 years at this price! Just enter coupon code THRIFTYNWMOM
1 year subscription for $11.99 (73% off) with code THRIFTYNWMOM
2 year subscription for $23.98 (73% off) with code THRIFTYNWMOM
This offer expires at Friday 12/02/16 11:59 PM EST
More about the Magazines:
Whether you are a bride-to-be or someone close to the lucky lady, you can benefit from buying Bridal Guide magazine! This is one of the most exciting times in your life and a discount Bridal Guide subscription can make sure that you can experience the excitement without having to fret over any details. From help with planning your first bridal shower to picking your beautiful honeymoon destination, BG is there for you!
Brides magazine is a monthly periodical designed to be an in-depth bridal resource for those planning an event. With articles and photographs featuring wedding dresses, rings, cakes, place settings, receptions, honeymoons, and other bridal topics, you will love and appreciate this wonderful resource. Whether you are a bride, a consultant, or a member of a bridal party, you will enjoy reading this publication. Order a discount Brides magazine subscription today to start planning your perfect day!
Martha Stewart Weddings magazine is a publication dedicated to bride-to-be's and others who simply love wedding details. Each issue features articles and advice about all you need to plan your special day. From the queen of decor, this publication has great ideas for every detail of your day, no matter how small!