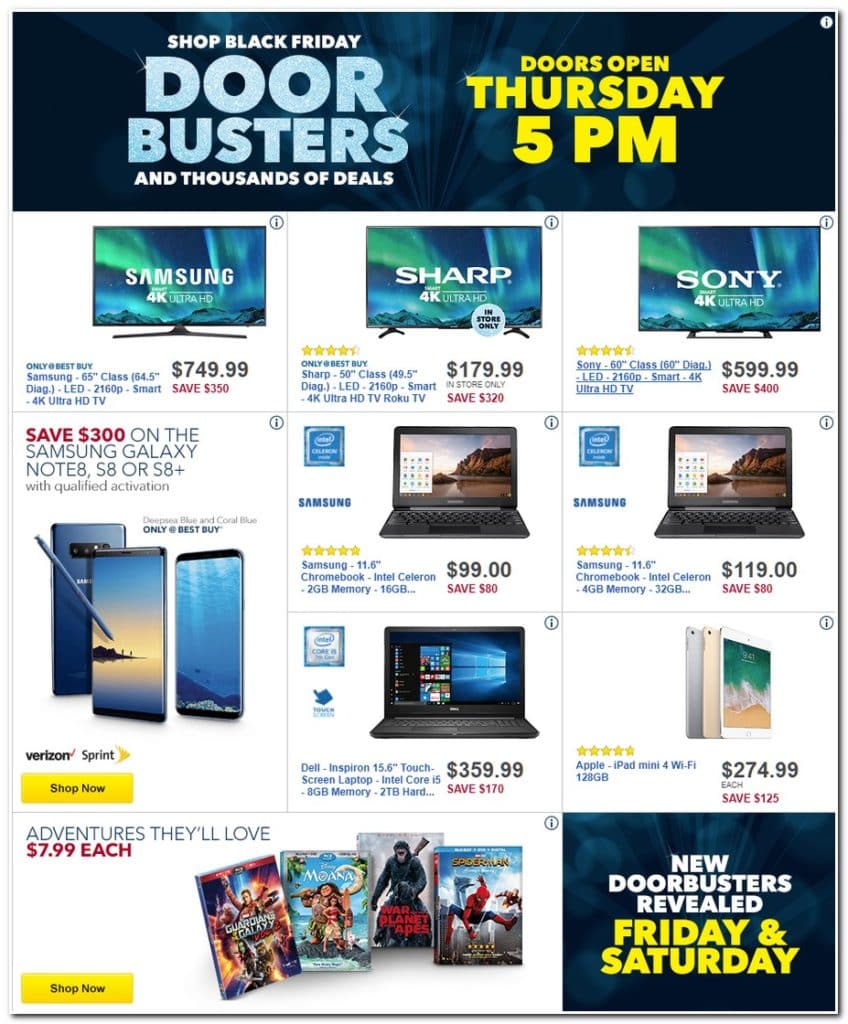 Best Buy has released their Black Friday Ad for 2017. Here you will find the best Black Friday deals at Best Buy.
Doors open at 5 pm on Nov. 23, 2017 (Thanksgiving Day) and close at 1 am on Nov. 24, 2017 (Black Friday).  Doors will reopen at 8 am on Nov. 24, 2017 (Black Friday) and will remain open until 10 pm.  You can also shop online all day on Thursday with free shipping (online shopping officially kicks off at midnight 11/23/17, which should be 9pm pst or 10pm if they are based in CST). There are a couple in-store only deals that you won't be able to get online. The ad also states that there a few doorbusters that will be revealed on Thanksgiving Day only online, so be ready to shop early!
If you'd prefer to do your shopping at home on Thanksgiving or Black Friday, make sure to check out Best Buy.com and often they will have similar deals online as well as in the stores.  Best Buy is also offering FREE Shipping on all orders on Thursday.
Don't forget to check out our Black Friday deals page where we'll keep you up to date on all the latest Black Friday deals as they become available.
Searchable Database:
We have the full ad scans below as well as a Searchable database of all the deals in the Best Buy Black Friday ad. You can use this database to search by products or by categories to see all the deals in that particular category.
Thanks to Passion for Savings for bringing us the Best Buy Black Friday Deals.
Best Buy Black Friday Deals that are Live Now: 
Here are the Top 20 Deals from the Best Buy Black Friday Ad that are live right now!
1.) The Samsung 11.6″ Chromebook is on sale for just $99.00 Today! Click Here to Buy before it sells out!
2.) Dell Inspiron 15.6″ Touchscreen Laptop with Intel Core i5 Processor only $359.99!
3.) The Apple iPad Mini 4 Wi-Fi Tablet with 128 GB of Memory is on sale for just $274.99! This is one of the best prices on a New iPad Mini I have seen!
4.) HP DeskJet 3637 Wireless All in One Printer! This is on sale for only $29.99 (Was $69.99!)
5.) Beats by Dr. Dre Beats Studio 2 Wireless Over the Ear Headphones! These headphones were sold out everywhere last year at the Black Friday price because they sold out completely during these Preview Sales, if you're looking to grab one of these deals I would grab them early!
The Beats Solo 3 Wireless Headphones are also on sale for $219 which is the Black Friday Price. You'll need to add these to your cart to see the price!
6.) The LG 43″ 4K Ultra Smart TV is priced at only $279.99! This is normally over $400, this is the Black Friday price if you buy it now!
7.) Roku Premier+ Streaming Media Player – This is on sale for only $49.99 which is Half Price! This is the Black Friday price on this model!
8.) Sharp 32″ Roku Smart TV! This is a great deal on a Smart TV and the Black Friday Price that's on sale right now!
9.Apple Watch Series 1 – $229 (reg $279) This is the Best Buy Black Friday Price and you can grab it now while these are still in stock!!!
10.) The Apple iPad 9.7″ with 32GB Of Storage is on sale for $259.99! That's the Black Friday Price on the iPad! The iPad Pro is also on sale for $150 off right now which is the Black Friday Price!
11.) If you are shopping for a MacBook, the MacBook Pro Series Laptops are marked down up to $250 off! These are always some of the best sales we see on MacBooks all year!
12.) If you've been wanting a Ring Video Doorbell this is your chance! The Ring Video Doorbell is on sale for $99.99 (Down from $179!)
13.) Bose SoundSport In Ear Headphones – $49.99 – This is the Black Friday Price, it's also the lowest price we saw all last year. This item sold out super fast so don't miss it!
14.) FujiFilm Instax Mini 9 Camera – $49.99 This is available in the Smokey Purple at this price today + You get a FREE 10 Count of Color Film!
15.) The Swagtron Self Balancing Scooter is marked down to just $199.99! This is the Black Friday price and this sold out fast the other day at Target!
16.) Best Buy has the Lowest Out of Pocket Price on a Keurig. The Keurig K50 Coffeemaker is on sale for $59.99 down from $120!!!
17.) The Chefman Express Air Fryer is on sale for $39.99! This is the lowest I've seen on a good Quality Air Fryer! This is a $60 savings!!!
18.) If you have been wanting an Instant Pot you can grab it for $79.99 today in the Black Friday Sale.
19.) You can also check out the NEW Crockpot 6 Qt. Pressure Cooker! This is priced at only $49.99 (Was $100!)
20.) The Ninja Coffee Bar Brewer is almost 50% off Today! You can get the Ninja Coffee Bar Brewer for only $99.99 – This is down from $199!
Best BuyAd Scans for Black Friday + Searchable List of Deals::
We have a special feature for some of the most popular stores featuring both the full ad scans,  as well as a searchable list of all the deals you will find at Black Friday at Best Buy.
You can see the full list of deals or you can search in the search bar to find what you are looking for specifically or narrow it down to see all items in certain categories. This will make it very helpful if you are looking for a particular product or if you want to compare prices on items, such as looking at the prices on electronics, kitchen appliances, etc.
Save