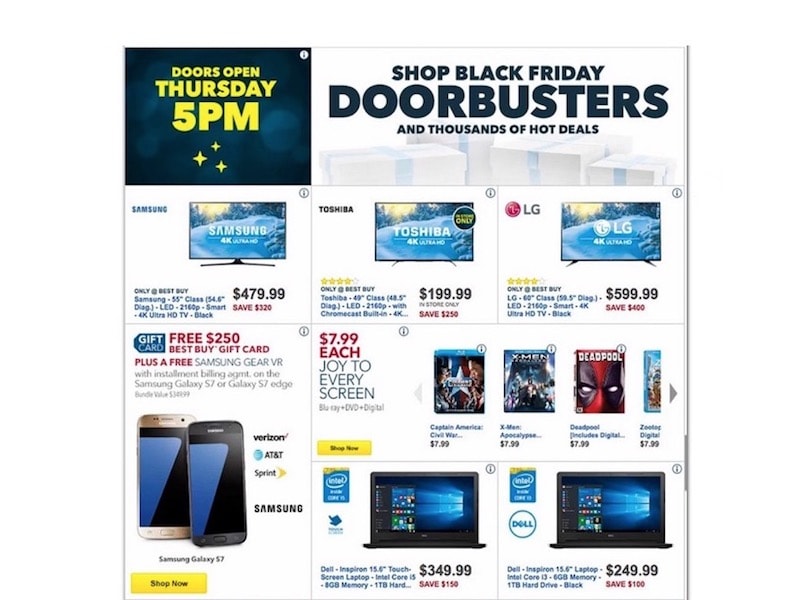 Update: Best Buy Black Friday Deals are now LIVE!! Head to BestBuy.com to see the Black Friday deals online!
**************
Best Buy has released their Black Friday Ad for 2016. Here you will find the best Black Friday deals at Best Buy.
Doors open at 5 pm on Nov. 24, 2016 (Thanksgiving Day) and close at 1 am on Nov. 25, 2016 (Black Friday).  Doors will reopen at 8 am on Nov. 25, 2016 (Black Friday) and will remain open until 10 pm.  You can also shop online all day on Thursday with free shipping. There are a couple in-store only deals that you won't be able to get online. The ad also states that there a few doorbusters that will be revealed on Thanksgiving Day only online, so be ready to shop early!
If you'd prefer to do your shopping at home on Thanksgiving or Black Friday, make sure to check out Best Buy.com and often they will have similar deals online as well as in the stores.  Best Buy is also offering FREE Shipping on all orders on Thursday.
Don't forget to check out our Black Friday deals page where we'll keep you up to date on all the latest Black Friday deals as they become available.
Searchable Database:
We have the full ad scans below as well as a Searchable database of all the deals in the Best Buy Black Friday ad. You can use this database to search by products or by categories to see all the deals in that particular category.
Thanks to Coupons for Our Family for bringing us the Best Buy Black Friday Deals.
Best Buy Thanksgiving Day Only Deals
Doorbusters will be available in-store and online from Thursday, November 24 from 5 pm until Friday, November 25th at 1 am.  Quantities are limited.
Doorbuster Deals
Doorbuster Deals: Thursday
Doorbuster Deals: Friday (In Store Only)
Call of Duty: Black Ops III – Gold Edition – Playstation 4 – $34.99
Dark Souls III – Playstation 4 – $19.99
Fallout 4 – Xbox One – $19.99
Mortal Kombat XL – Playstation 4 – $19.99
Overwatch Origins Edition – Xbox One – $34.99
ReCore with Bonus Controller Skin – Xbox One – $19.99
Sony Dualshock 4 Wireless Controllers – $39.99
Sony Gold Wireless Stereo Headset for Playstation 4 and PlayStation 3 – Black – $59.99
Star Wars Battlefront (PS4) – $19.99
Titanfall 2 – Xbox One – $34.99
Tom Clancy's Rainbow Six Siege – Xbox One – $19.99
Best BuyAd Scans for Black Friday + Searchable List of Deals::
We have a special feature for some of the most popular stores featuring both the full ad scans,  as well as a searchable list of all the deals you will find at Black Friday at Best Buy.
You can see the full list of deals or you can search in the search bar to find what you are looking for specifically or narrow it down to see all items in certain categories. This will make it very helpful if you are looking for a particular product or if you want to compare prices on items, such as looking at the prices on electronics, kitchen appliances, etc.
Save