Amtrak Discounts – 50% Off – Portland to Seattle Just $18 & More!

Amtrak Discounts – 50% Off Tickets
If you're wanting a train adventure to slow the pace of your travel down or just for a new adventure & way to see the countryside, Amtrak is having a special offer going on now which makes for some great Amtrak discounts. From now thru November 18, 2021, Amtrak is offering 50% off fares – but you have to book by tomorrow (9/9). Fares are $50 and under, with some routes starting at just $15 a ticket (Not available on all trains, including the Auto Train & restrictions do apply). Travel must happen between now and November 18, 2021.
Sample one way tickets from Portland to Seattle are just $18 for example!
What is it like to ride the train:
If you have ever wondered about train travel overnight, check out Sia's experience with her family taking the Amtrak train to northwest Montana. It sounds like such a unique way to travel & experience the countryside.
Sample Route Prices for this Sale:
A sample route for the trip Sias family took above (Seattle To Whitefish MT), with this Amtrak discounts is $49/ea way in Coach seating (so just $49 per person)! Or Portland, OR to Seattle, Wa for $18/ea way. Those are fantastic prices for travel if you are looking for a budget friendly alternative. Another route from Seattle that I have always enjoyed is Seattle to Vancouver. It is beautiful if you can travel when you might hit some snow.
This sale is as good (maybe better) as the popular BOGO free train tickets and an excellent way to try out train travel to see if it is a good fit for you. Some folks love it, and others don't so this is the perfect time to find out which camp you fall into – with these discounted rates.
To Get this Offer: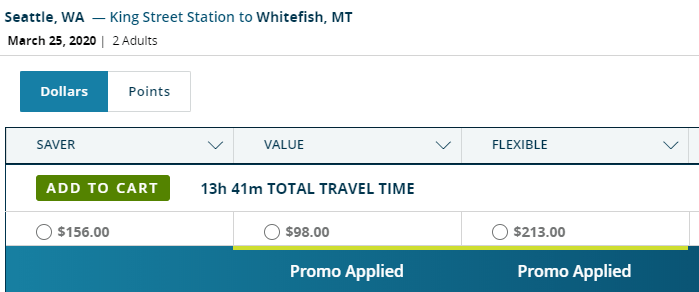 Head to their Fall Train Ticket Sale Page here.
Enter where you want to travel from, and where you want to travel too.
Enter the dates you want to travel (make sure they are in the promotional period November 18)
Select number of passengers, and the select Find Fares
Under the options that pop up, look for "Promo Applied" (it should be in green, and these are the eligible fares for the promotion – like you see in the image above).
If you do not see that pop up, you will need to try other dates until you find one.
Fine Print:
This offer is valid for 50% off Acela Business Class and coach fares.
Valid for sale and purchase September 1-9, 2021
Valid for travel September 8 through November 18, 2021
Advanced reservations required at least 3 days prior to travel
The offer is valid for all service except Auto Train, Keystone Service and Pennsylvanian locally between Philadelphia and Pittsburgh (including through traffic) and 7000-8999 Thruway service.
The discounted one-way fares are available for adult passengers, no additional discounts apply.
This offer is valid for Acela Business class and coach only; no upgrades to sleepers, First Class or non-Acela Busines Class are permitted.
Once purchased, sales are not refundable, but exchanges are permitted prior to scheduled departure. A 25% cancellation fee may apply.
Fares are subject to availability and may not be available on all trains at all times.
This offer is not combinable with any other discount offer.
Fares, routes and schedules are subject to change without notice.
Once travel has begun no changes to the itinerary are permitted.
Other restrictions may apply.
Amtrak, Auto Train, Pennsylvanian and Keystone are registered service marks of the National Railroad Passenger Corporation.