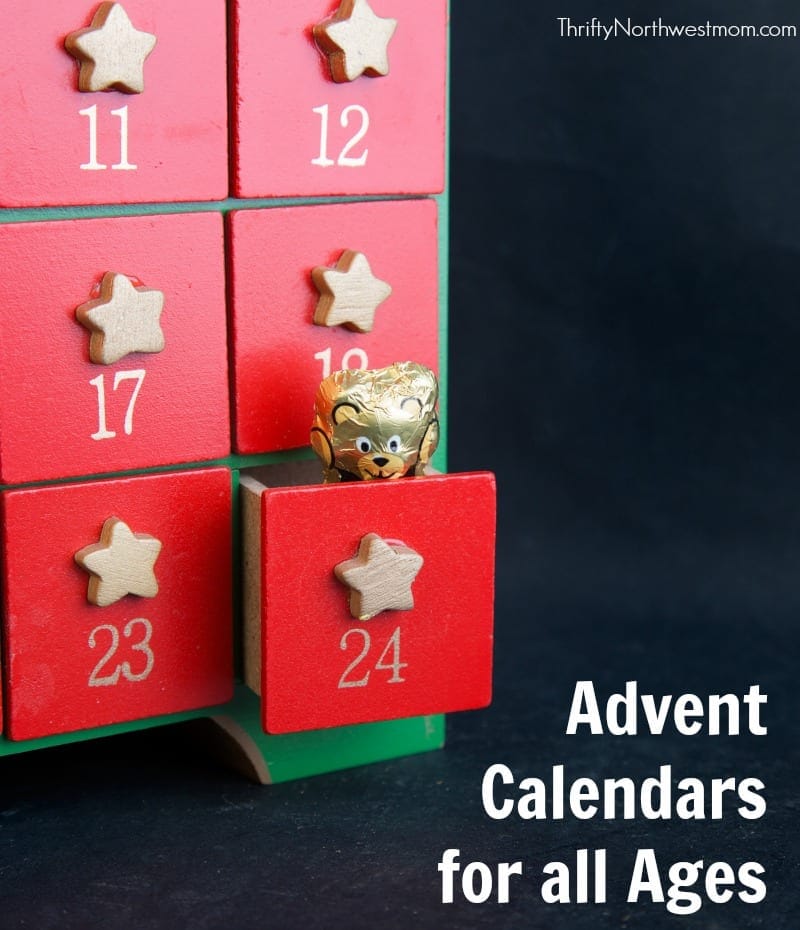 December is just a few months away, so we wanted to make sure that you were all set if you are doing an Advent Calendar for a countdown to Christmas with your kids! We have gone through and found all the best deals on a variety of different Advent calendars for you to choose from and then you'll be totally prepared and ready to go for the month of December.
Here are a few more fun Countdown to Christmas Activities as a family::
Celebrating the 25 Days of Christmas with Christmas Advent Activities
Christmas Countdown of Activities for the 25 Days of Christmas
Roundup of Advent Calendars::
Advent Calendars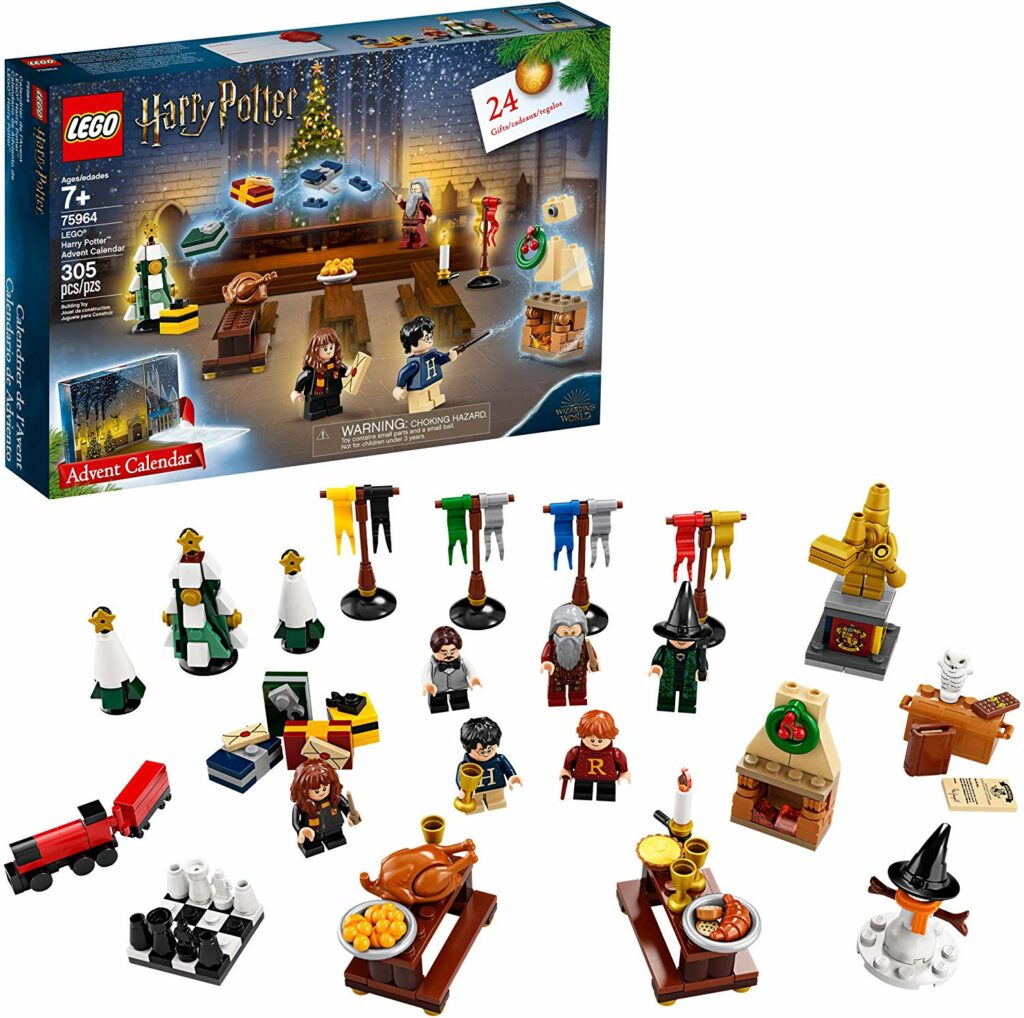 Harry Potter Funko Advent Calendar and Harry Potter Lego Advent Calendar on sale.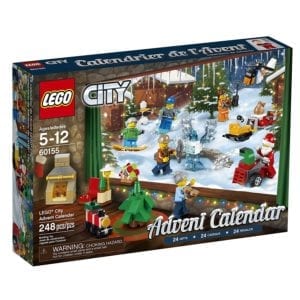 Includes 5 LEGO® mini figures (including Santa!) and a husky dog figure
Features 24 different items including vehicles, seasonal items, and mini figures
Includes a chicken leg, 2 ice elements, 2 cupcakes, and 4 cookies
Open a 'door' each day to reveal the day's present

Collect all the mini figures to add to your collections or sets

Recommended ages 5 – 12 years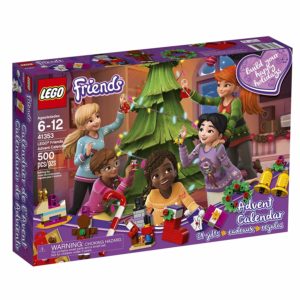 LEGO Friends Advent Calendar  (500 Piece)
Build and collect 24 festive LEGO Friends gifts in the run-up to Christmas
This creative toy includes a Santa mini-doll figure plus 4 animal figures
Features 24 gifts, including a Christmas tree, candy cane, gingerbread man and a surprise to represent each of the 5 friends from Heartlake City.
Open a new compartment each day and count down to Christmas with buildable gifts!
Visit LEGO.com/friends to unlock more surprises on 25th December!
Recommended ages 6 – 12 years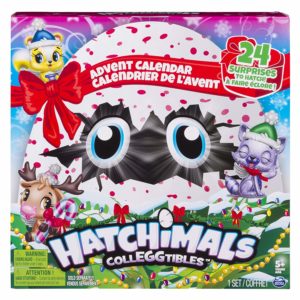 Hatchimals CollEGGtibles – Advent Calendar with Exclusive Characters & Paper Craft Accessories
50+ surprises to discover: open up a tiny door each day to discover paper craft decorations, small presents, stickers, and accessories for your Hatchimals!
Exclusive characters and nests: this Advent calendar has exclusive characters both in-egg and out-of-egg! your new festive Cuties even come with attachable accessories! keep them cozy in the sparkly nests, exclusive to this calendar!
Includes: 10 Hatchimals collectible, 12 accessories, 5 paper crafts, 4 tiny presents, 4 sticker sheets, 5 bows, 5 nests
Recommended ages 4 and up
This festive calendar comes with 14 ornament-size figures and 11 accessories inspired by Illumination and Universal Picture's new animated film, Dr. Seuss' The Grinch. Look out for the exclusive Baby Grinch Figure!
The set comes with: 14 figures and 11 accessories inspired by The Grinch movie

Recommended for Ages 3 and up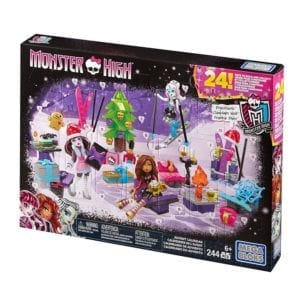 Mega Bloks Monster High Advent Calendar (244 Piece)
Holiday advent calendar with 24 unique, monster-fied surprises for building a new toy each day

Three buildable mini fashion figures including Frankie Stein, Clawdeen Wolf, and Draculaura, with style accessories

Combine with other Mega Bloks Monster High playsets

Build your own freaky fabulous world!

A great gift for any Monster High fan!

Recommended ages 6 – 10 years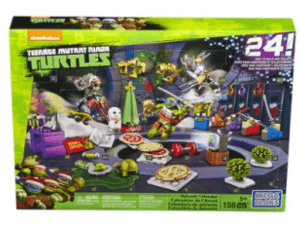 Mega Bloks Teenage Mutant Ninja Turtles Advent Calendar (158 Piece) 
Celebrate the holidays in true Turtle style

Have your own Turtle-themed Advent Calendar

Add a little ninja-ness to your winter festivities when you open a new buildable, Turtles-themed surprise for every day of the holiday season

With 24 surprises to build, the Turtles' Advent Calendar features four buildable, micro action figures with accessories, including one Turtle that you can equip to look like any of the four brothers

Connect with other Mega Bloks Teenage Mutant Ninja Turtles sets and build the Turtles' world from the sewers up

Recommended ages 5 – 9 years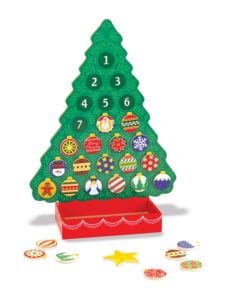 Melissa and Doug Wooden Advent Calendar 
Magnetic advent calendar.

Includes magnetic wooden tree, 24 magnetic ornaments, and 1 shining star for the top of the tree.

Attached wooden ornament box keeps all the pieces together.

Holiday poem on the back encourages family communication and a festive "read-aloud" ritual.

A hands-on way for kids to get into the Christmas spirit.

Recommended ages 4 – 10 years
O Christmas Tree Treasure Box Advent Calendar (Countdown to Christmas) 
This is a bit different as it is a box with drawers for every day counting down to Christmas, but you have to fill this with treasures you find (maybe heading to the dollar store or adding in candy, coins, stickers, etc)

24 Drawers to Open, 1 Each Day of Advent

Place a Treat in Each Drawer (not included)

Turn Around the Drawer Each Day to Create a New Image

Calendar measures 12″x10 1/4″x1 3/4″, Drawers measure approximately 2″x1 3/4″x1 3/4″

IMPROVED DRAWERS IN 2015 FOR EASIER REMOVAL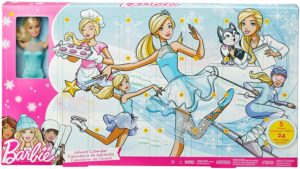 Barbie Careers Advent Calendar
This Barbie doll advent calendar will inspire all year long with 24 days of gifts — with Barbie doll on day one followed by 23 career-themed clothing items and accessories!
Be a ballerina, baker, ice skater, pet doctor, and skier
Recommended ages 7 – 10 years
Play-Doh play lets kids take the lid off their imaginations and explore their creativity

Can packs and basic tool sets offer all kinds of open-ended play

Playsets come in many different themes and offer lots of creative role play

Get creative with this Play-Doh holiday countdown calendar

24 secret doors hide a different surprise for each day of the season

Set includes 5 Play-Doh cans featuring 2 Sparkle cans to let your season shine

Includes 24 surprises, playmat, and 5 cans of Play-Doh Brand Modeling Compound

Recommended ages 3 and up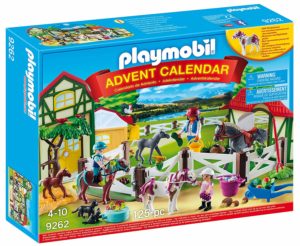 PLAYMOBIL Advent Calendar – Horse Farm
Spend a day with the horses!
Contains twenty-four surprise items for each day leading up to Christmas
Includes backdrop, three figures, one horse, two foals, two ponies, Cats, wheelbarrow, fencing, tree, hay, hedgehogs, bucket, and tons of other accessories
Recommended for ages 4 to 10 years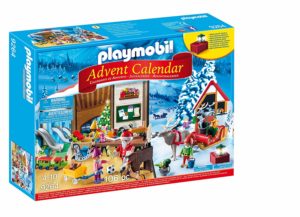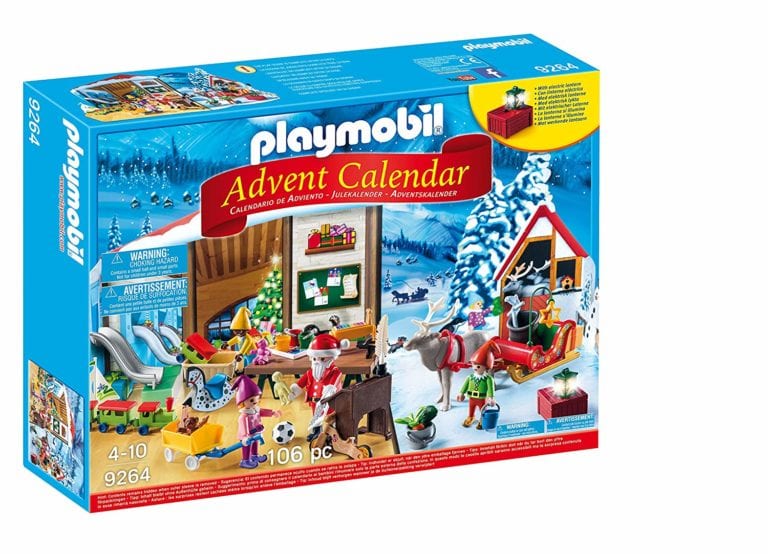 PLAYMOBIL Advent Calendar – Santa's Workshop
The Advent calendar "Santa's Workshop," with lots of exciting presents, contains twenty-four surprise items for each day leading up to Christmas
Includes backdrop, four figures, sleigh, workbench, reindeer, slide, bike, tons of toys, and plenty of other accessories
Recommended ages 36 months – 15 years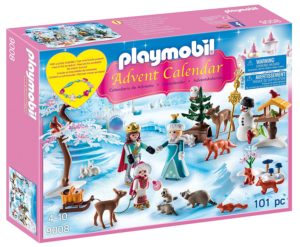 PLAYMOBIL Advent Calendar – Royal Ice Skating Trip
The Advent calendar "royal ice skating trip" contains twenty-four surprise items for each day leading up to Christmas
As an added bonus, behind one of the doors is a gorgeous bracelet, perfectly sized for kids to wear!
Includes backdrop, two adult figures, one child figure, snowman, sleigh, deer, foxes, squirrels, owl, snow-covered tree, life-size bracelet, and many other accessories
Recommended ages 4 – 10 years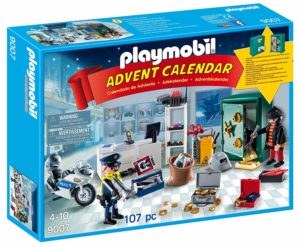 PLAYMOBIL Advent Calendar – Jewel Thief Police Operation
The Advent calendar "jewel thief police operation" with lots of glittering trinkets contains twenty-four surprise items for each day leading up to Christmas
For an extra surprise, the included safe can be used a piggy bank!
Includes backdrop, two figures, jewelry case, police motorcycle, gold bars, money, handcuffs, wanted poster, functioning safe, and tons of other accessories
Recommended ages 4 – 10 years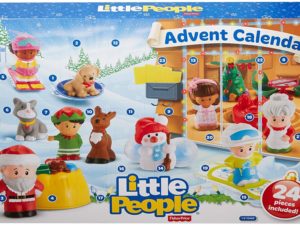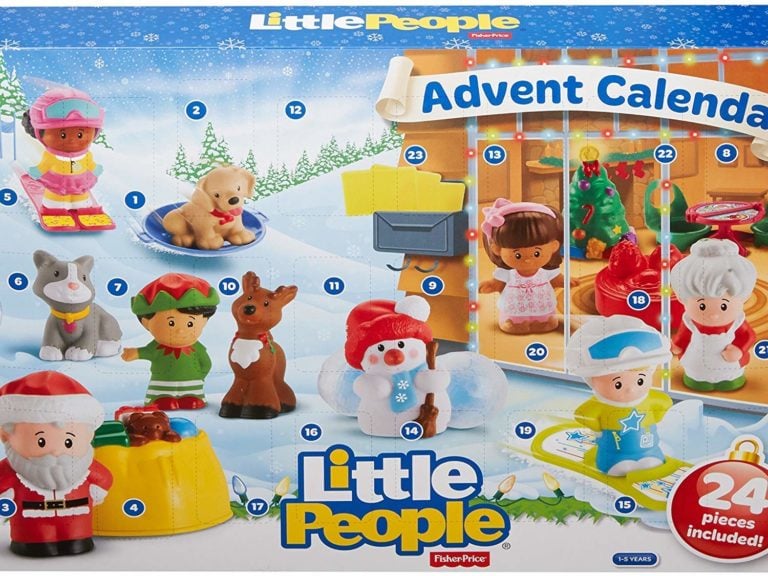 Fisher Price Little People Advent Calendar
Open a door every day to find something new for holiday play!

Start on December 1st and end on December 24th

Advent Calendar includes 24 Little People friends & holiday-themed accessories

Watch the excitement build each day as Christmas gets closer!

A great way to introduce numbers & counting, too!

Recommended ages 12 months – 5 years
Countdown to Christmas in Barbie style with this advent calendar!

The set includes a festive dress for Barbie doll decorated with hearts (and in Barbie signature pink, of course!)

Daily deliveries for the doll include shoes, statement necklaces, cuffs and bangles and earrings; purses and clutches; and fun extras

Girls can use the accessories to dress up the included fashion or to mix and match with existing looks (sold separately)

Two special treats for the girl include a pink "gem" bracelet adorned with a Barbie silo head and an adorable ring

Recommended ages 36 months – 10 years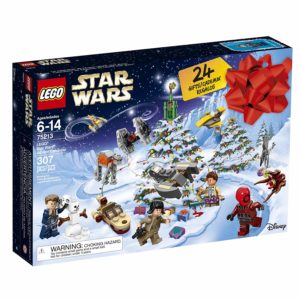 Lego Star Wars Calendar (307 Piece) 
Open a door every day to reveal 24 different LEGO Star Wars themed gifts

Lego Star Wars Advent calendar features 5 mini figures and 3 figures
Models include a landspeeder, The Arrowhead, Republic Fighter Tank, Naboo Starfighter, Twin-Pod Cloud Car, General Grievous' Starfighter, Blaster Cannon, Delta-7 Jedi Starfighter, Imperial Troop Transport, TIE Fighter, AT-ACT, Zeta Class Cargo Shuttle and an Imperial Speeder Bike
Characters include Rose, Rowan, General Merrick, Battle Droid, Death Trooper, Rathtar, Guavian Security Soldier and an IG-88 droid
Weapons include a blaster pistol, 3 blaster rifles, 2 blasters and a Lightsaber
Also includes a festive-themed moisture vaporator and a snowman, plus extra ammo studs
Collect all the gifts and play out your own desert and ice-planet adventures on the included foldout playmat
Recommended ages 6 – 14 years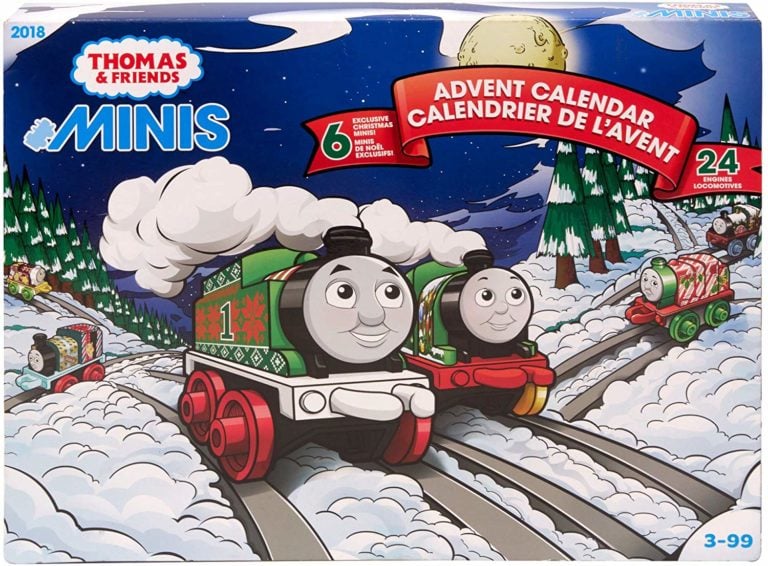 Thomas & Friends Minis Fisher-Price Advent Calendar
Includes 24 MINIS engines each with its own special design

Includes 6 Special Edition MINIS trains in Christmas-themed designs

Advent Calendar-style packaging with doors that open to reveal "gifts"

Recommended ages 36 months – 7 years
Save
Save
Save
Save