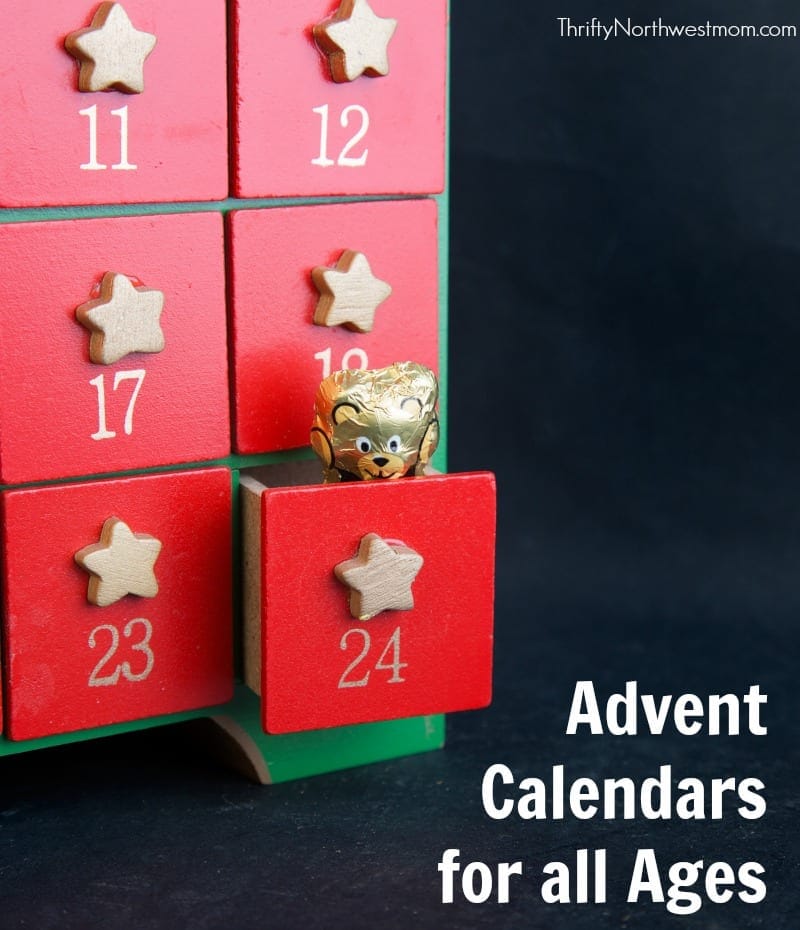 December is just a few months away, so we wanted to make sure that you were all set if you are doing an Advent Calendar for a countdown to Christmas with your kids! We have gone through and found a variety of different Advent calendars for you to choose from, so you'll be totally prepared and ready to go for the month of December.
Here are a few more fun Countdown to Christmas Activities as a family::
Celebrating the 25 Days of Christmas with Christmas Advent Activities
Christmas Countdown of Activities for the 25 Days of Christmas
Advent Calendar Gift Guide for kids::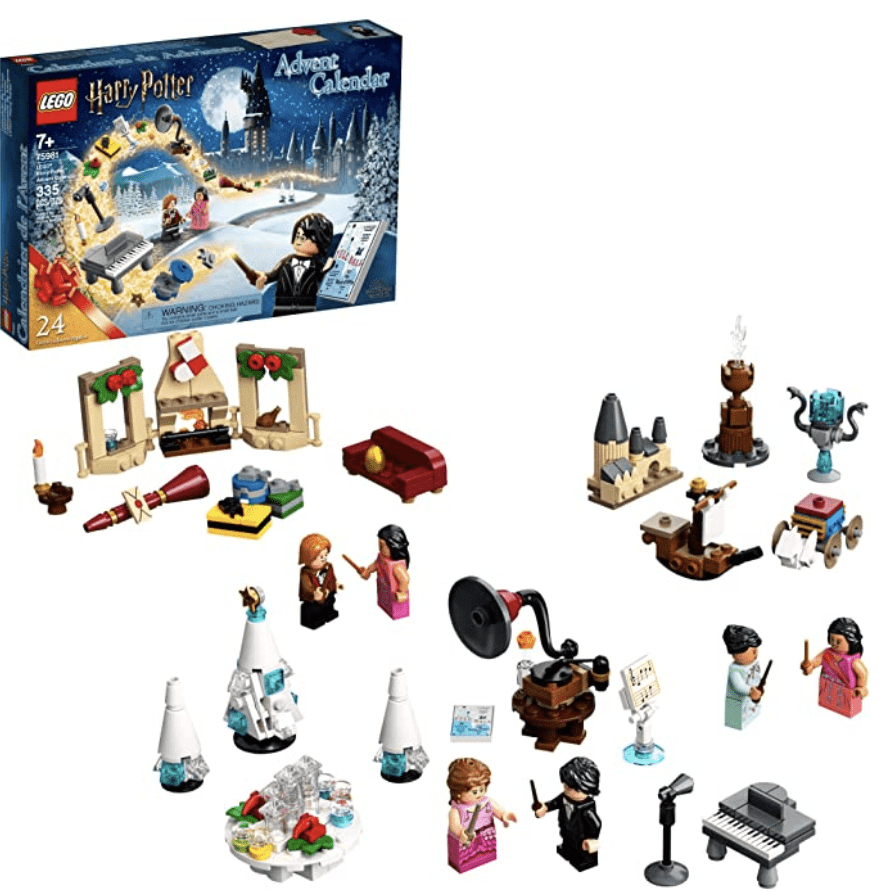 Harry Potter Lego Advent Calendar 
This Harry Potter Lego Advent Calendar has a different Harry Potter toy behind each of the 24 doors to add to your child's Lego collection. You'll find everything from Hermione Granger, Cho Chang, Ron Weasley, Beauxbaton's carriage & much more to recreate Hogwarts holiday scenes. They are different every year, so your child can collect them all for different holiday-themed Harry Potter lego items.
The Lego City Advent Calendar is perfect for kids ages 5 & up with a variety of Lego City & Lego City Adventures TV series minifigures. There are some great Christmas scenes, such as Santa's sleigh, a Christmas tree, a city play mat with snow-cleared roads & more.
You can also find a Star Wars Lego Advent Calendar version and a Harry Potter Lego Advent Calendar too!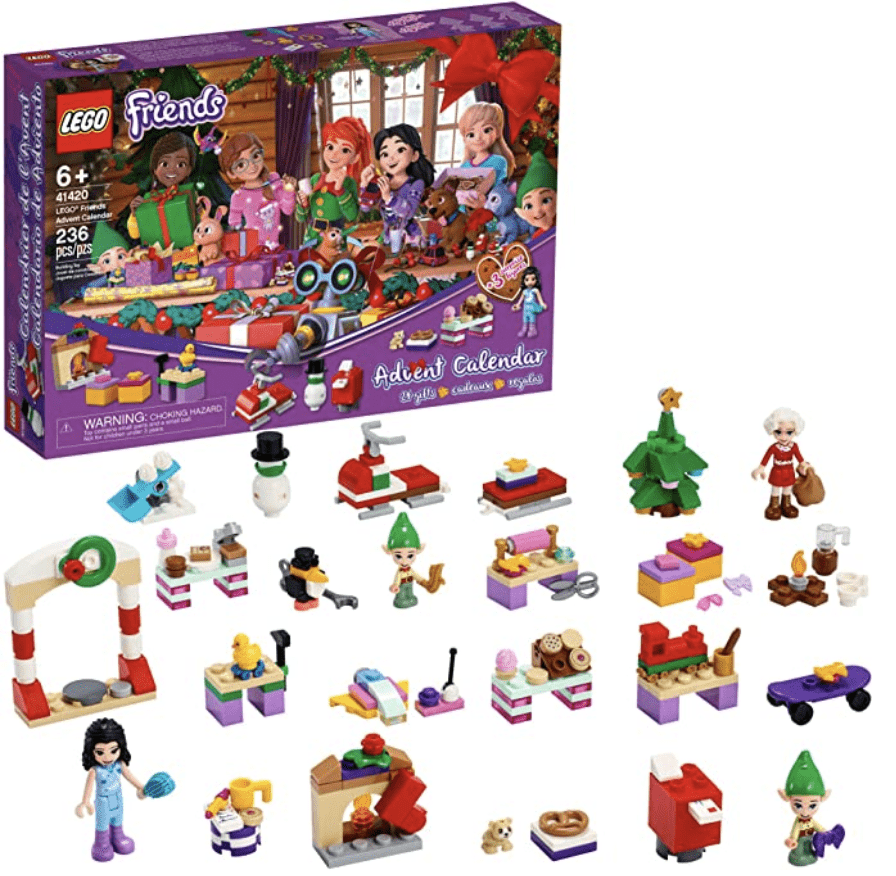 The Lego Friends Advent Calendar has 236 pieces & comes with a Lego Friends Emma, Mrs Claus & 2 elf mini-doll figures, a toy penguin & more. You can use these to create a winter wonderland, Santa's workshop & Lego Friends Emma's room.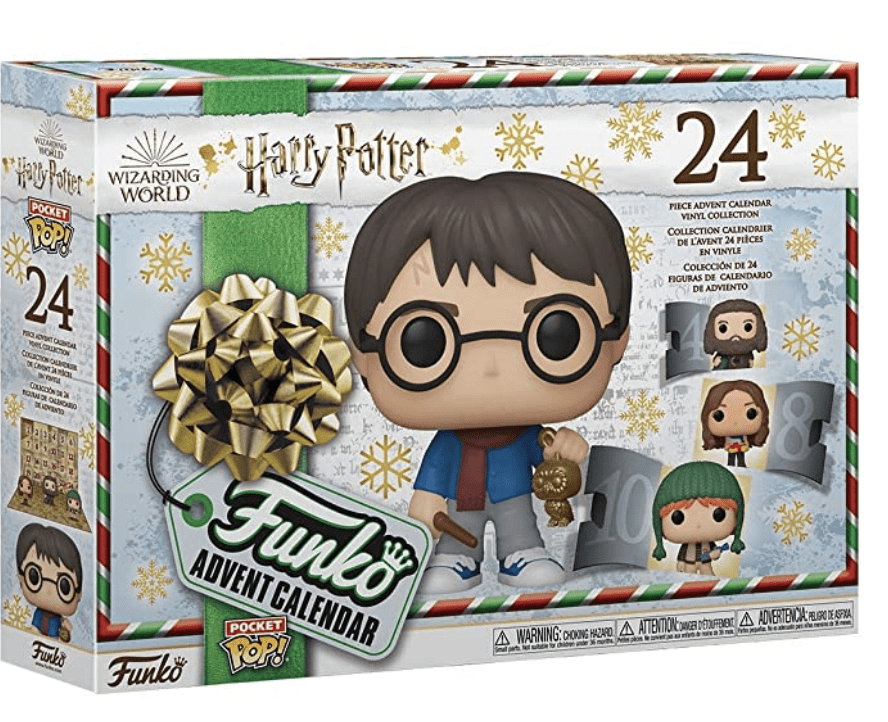 Harry Potter Funko Advent Calendar: 2020
The Harry Potter Funko Advent Calendar will be available on 10/15/20 (it's available for pre-order now) & it's 24 unique Harry Potter themed pocket Pop! figures. You can find your favorite Harry Potter characters, such as Harry Potter, Hermione Granger, Ron Weasley & more, with holiday-themed outfits & props.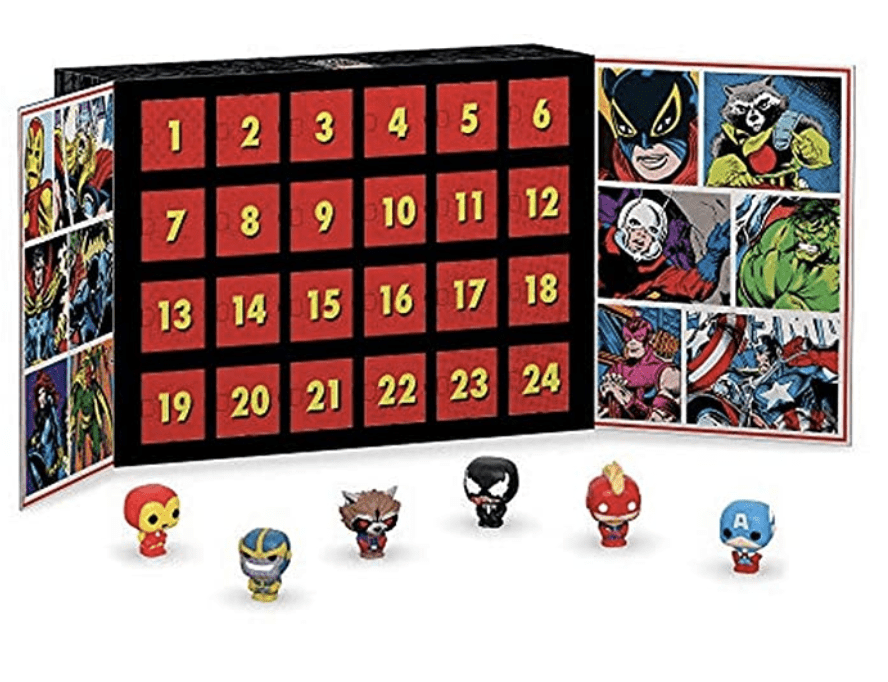 Marvel Funko Pop Advent Calendar 80th Anniversary
This would be such a fun advent calendar for tweens & teens, especially, as Marvel is so popular with this age group. This is the 80th anniversary edition of this Funko Pop collection with 24 pieces. There are Pop figures of all of the favorite Marvel characters for them to keep or trade with siblings or friends. We found this on Amazon & Gamestop – however, the price was significantly higher (at the time of posting) on Amazon, so I would check both to compare thru our links.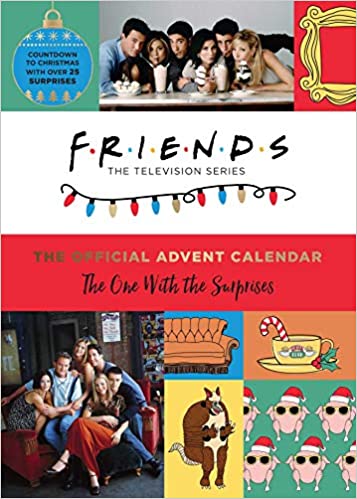 Friends Advent Calendar – this is one of their best sellers this year!
Friends is back! Make each holiday season the one with over 40 keepsakes with the ALL-NEW Friends: The Official Advent Calendar.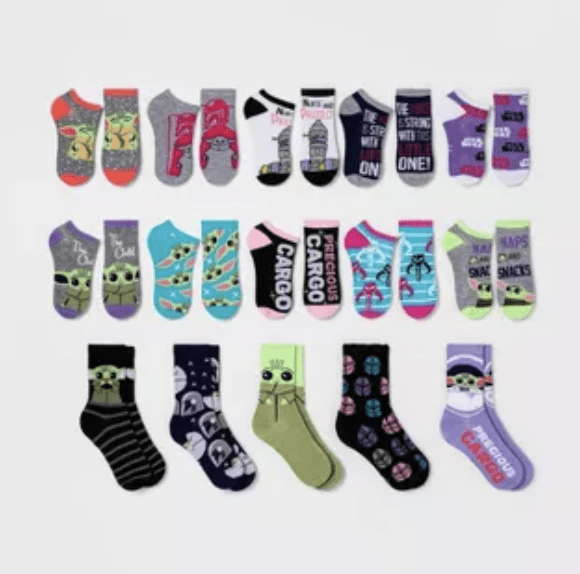 Women's Star Wars the Mandalorian 15 Days of Socks Advent Calendar
There are many different varieties of sock advent calendars at Target – we bought several of these for our girls last year & they loved them! They have several kids versions, but the majority of them are women's sizes.  The women's size is not too large, though, so I'd say those could definitely work for upper elementary age kids up to teens, too. I thought this was so fun that they even have a Star Wars Mandalorian version for this year.
Here are a few of the other options for sock advent calendars:
Boys' Marvel Avengers
Girls' (& Women's) Disney Princess
Women's Unicorn
Women's Harry Potter
Women's Nightmare before Christmas
And much more…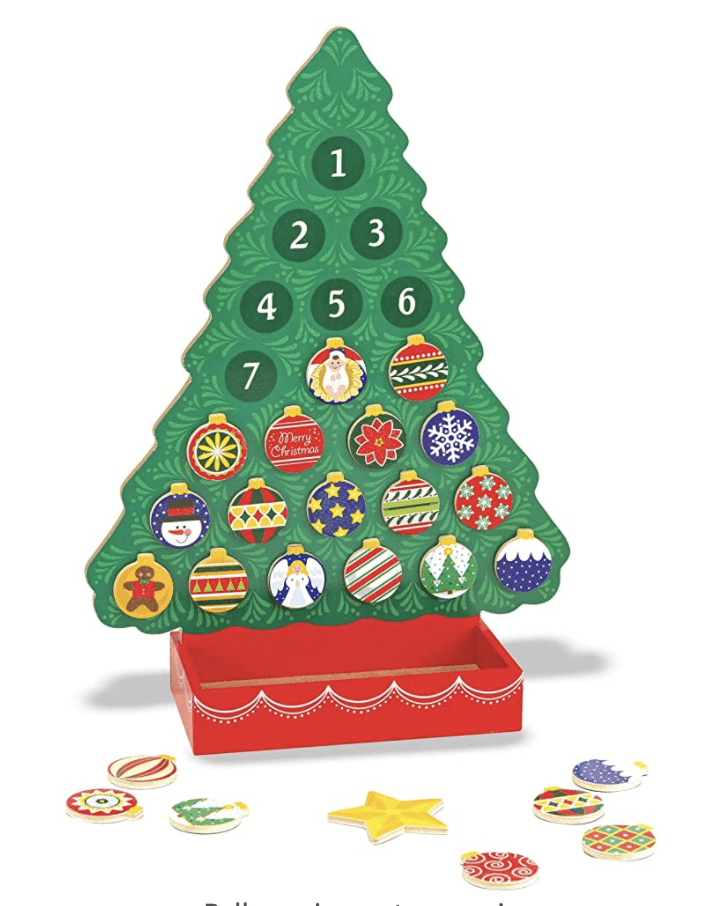 Melissa and Doug Wooden Advent Calendar 
Melissa & Doug items are so well -built & sturdy, so this magnetic wooden advent calendar would be a great addition to your Christmas decorations for year after year. It includes 24 magnetic ornaments, a shining star for the top of the tree & a holiday poem on the back for the family to read-aloud together. There is an attached wooden ornament box to keep all of the pieces together, too.
O Christmas Tree Treasure Box Advent Calendar (Countdown to Christmas) 
This is a bit different as it is a box with drawers for every day counting down to Christmas, so you can fill this with treasures you find (maybe heading to the dollar store or adding in candy, coins, stickers, etc)

Disney Storybook Collection Advent Calendar 
We love to countdown to Christmas by reading a Christmas story every night, so I love this advent calendar option as it does all the work for you. You will get 24 books all wrapped for Christmas for your child to unwrap one book each day to read together with Disney & Pixar stories. If you'd like more ideas of Christmas books to countdown to Christmas, check out our Christmas Book countdown.
There are other Christmas book advent calendars available too such as a Marvel Storybook Collection & a Frozen Storybook Collection too!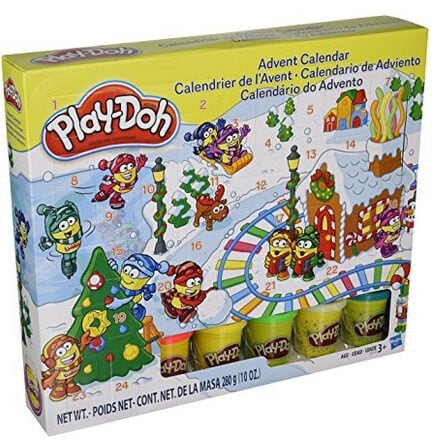 This Play-Doh Advent Calendar would be a fun one for kids who love to get creative & give them an activity to do each day with a new can of play-doh or different accessories. There are 24 secret doors which includes 5 Play-Doh cans (including 2 Sparkle cans), a playmat & other accessories/tools/surprises.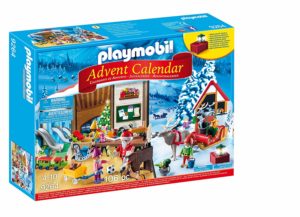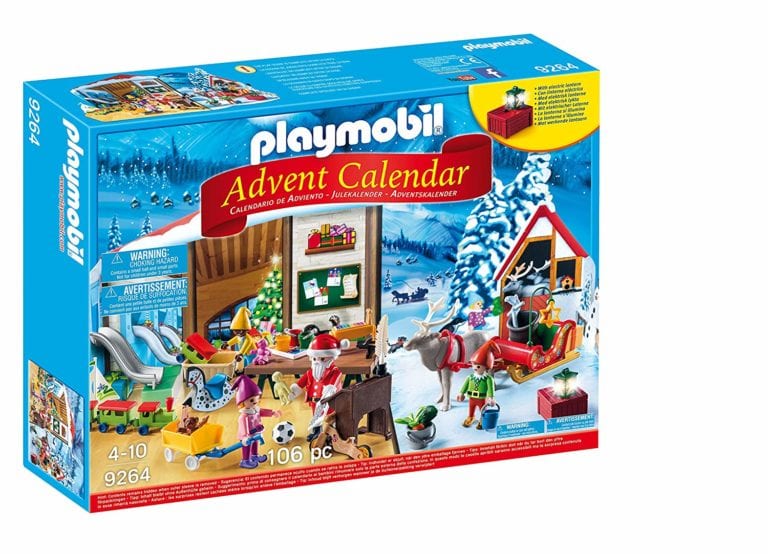 PLAYMOBIL Advent Calendar – Santa's Workshop
Playmobil toys were always a hit with my girls and they loved to add to their collection, so this would definitely be something I think that many kids would love. This is a Santa's Workshop advent calendar with 24 surprise items. It includes a backdrop, four figures, sleigh, workbench, reindeer, tons of toys & more.  Find more Playmobil Advent Calendars available too – they have so many different themes such as construction, farm, pirates, Christmas ball & more!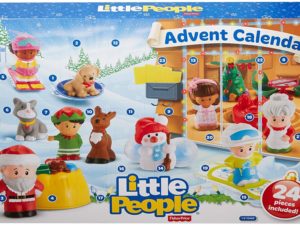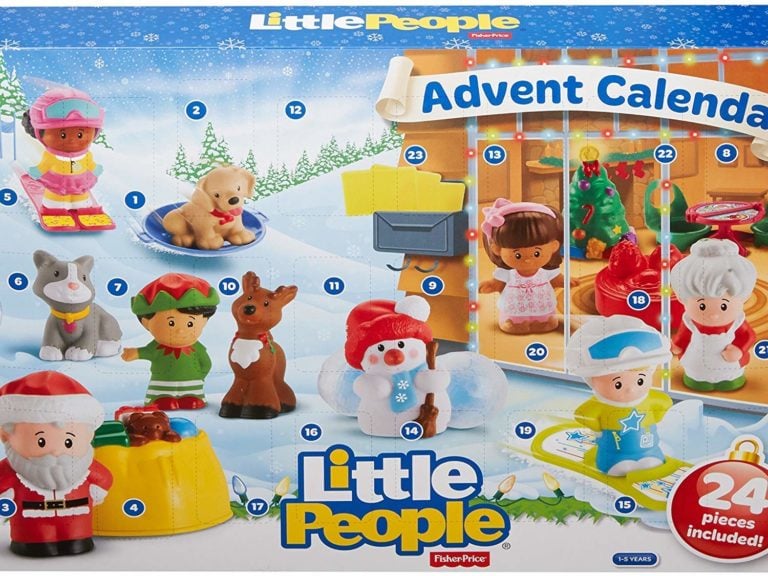 Fisher Price Little People Advent Calendar
This one is more pricey than the other ones, but that's because it includes 24 Little People friends & holiday themed accessories to add to your collection. Kids will love these Little People Christmas themed toys such as Santa, Mrs Claus, reindeer, snowmen & more!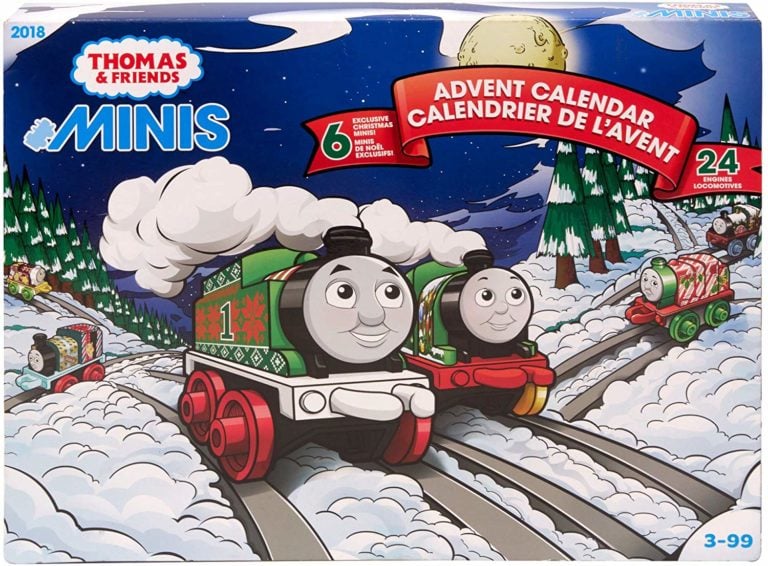 Thomas & Friends Minis Fisher-Price Advent Calendar
If you have a little train lover, this advent calendar is perfect for them with Thomas the Train. It includes 24 MINIS engines with their own special design & 6 special edition MINIS trains in Christmas themed designs.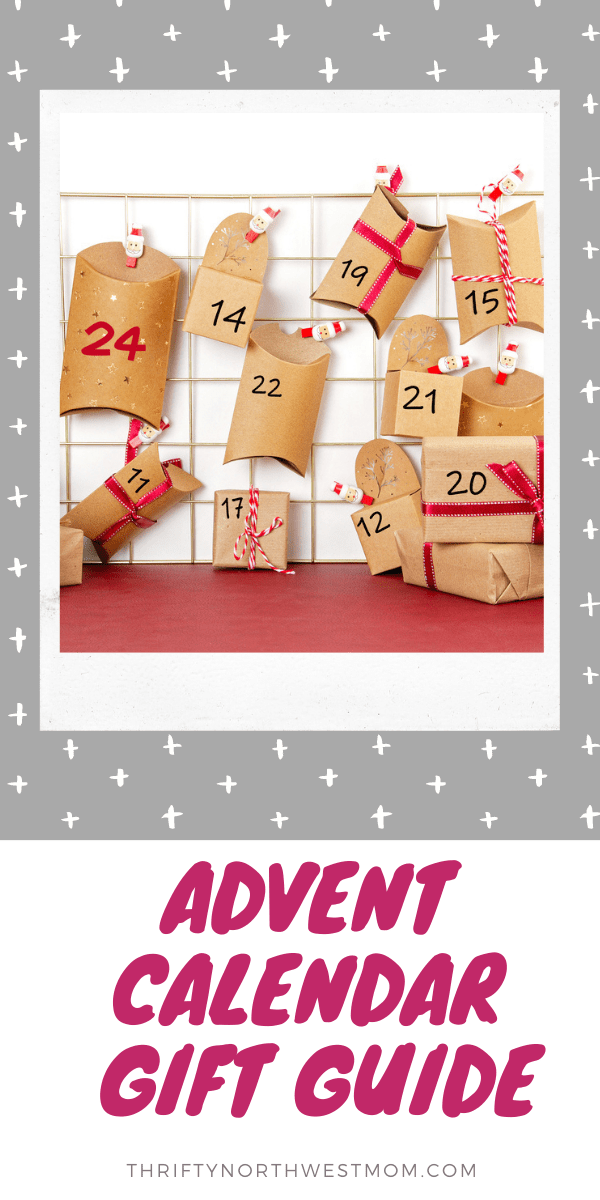 Save
Save
Save
Save