$40 worth of products at The Body Shop for just $20!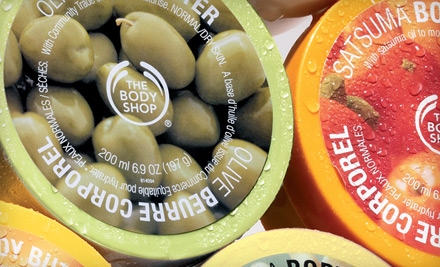 Groupon has a *hot* new deal available for Monday.  Since it's already Monday on the East Coast, the deal has already gone live in many cities. You can get $40 worth of bath & beauty products for just $20 at The Body Shop today only at Groupon.  This is valid for in-store only (not online).  You can buy up to 2 per person.  This is definitely going to be a deal that will sell out fast as it says "Limited quantity available", so I'd take advantage of it now!
Here are some more specifics about the Body Shop Groupon:
Expires February 25, 2011 (perfect for giving as a Christmas gift)
You must use the entire $40 amount in 1 visit (no cash back); limit 1 per visit
You may use your "Love your Body Club" discount card
This is valid on sale items; however not valid on gift cards or other offers/coupons
You can find this deal by going to Groupon & searching for "Hampton Roads" under the tab "Visit More Cities".  Even though it is available for Hampton Roads (or other East Coast cities), this will be available to use at ANY Body Shop store. Update: It looks like several cities have already sold out as they have a limited number of gift cards for each city – so if this location is sold out, then look for another location – it should be a national deal!
Here's how to take advantage of this deal:
If you've new or never bought a  Groupon to Hampton Roads before, create an account (or log in) & then click on "Visit More Cities" (on the top of the page) & select "Hampton Roads". You can then purchase the deal.
If you're already signed up for Groupon, sign into your account , click on "Visit More Cities" & select "Hampton Roads".  Then purchase this deal.
*Update: This is a national deal – so if the Hampton Roads Groupon sells out- then choose another city to buy the deal! It doesn't matter where you buy the Groupon, it can be used at any nationwide Body Shop location.