3 Ingredient Oreo Truffles Recipe – Simple & Delicious!
This post may contain affiliate links and I may be compensated for this post. Please read our disclosure policy here.

No Bake – 3 Ingredient Oreo Truffles Recipe – Simple & Delicious!
I love truffles, but they can be a bit complicated to make, and expensive to buy. This 3-ingredient Oreo Truffle can come to your rescue, if you want something simple to make, to curb that truffle craving, but without all the work (or cost) associated with making more traditional candies. This is also a fun recipe to make with kids (because it is so simple), as well as one to make and gift to neighbors and friends too. It is also a great dish to bring to a party, or celebration, that is sure to be a hit with the crowd.
Oreo cream cheese truffles are creamy, rich in flavor and great for all occasions. Some people refer to them as Oreo balls, as essentially that is what you are making, but either way they are always a hit!
Ingredients Needed for this 3 Ingredient Oreo Truffles Recipe
There is not much you will need to make these Oreo cookie truffles, so not only do they taste great and are easy to make, but they should also be easy on the budget. Here are the ingredients you will need to make these easy Oreo truffles:
36 Oreos
8 oz cream cheese, room temperature
I bag of melting candies (these are the easiest to use),
or you can use 12 oz. semi sweet chocolate chips + 1 tbsp coconut or vegetable
Optional – Sprinkles for the top of your truffles.
How to Make Oreo Truffles
This recipe for recipe for Oreo truffles is so simple, it is almost hard to believe.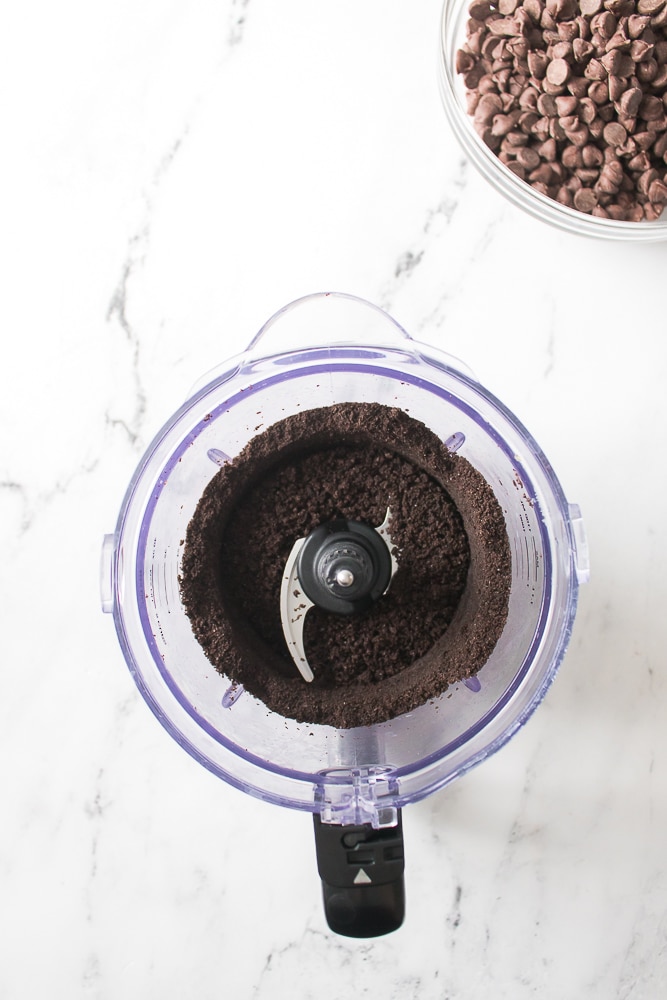 In a food processor or blender, pulse oreos into a fine crumb.
Next, add in the cream cheese and blend until combined.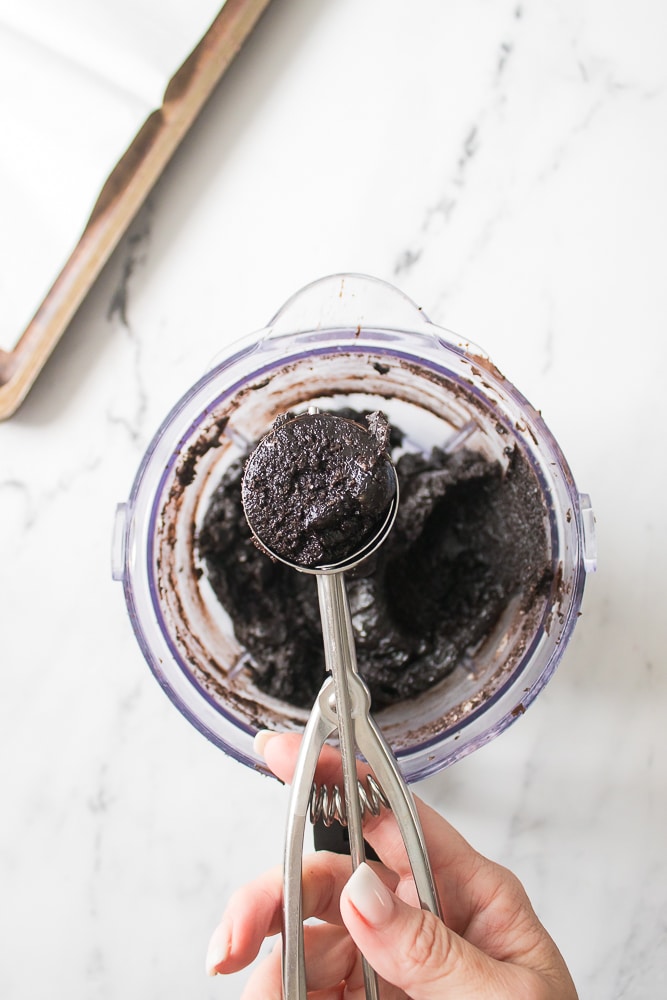 Using a cookie scoop, place dough onto a baking sheet lined with parchment paper so the
truffles don't stick to the pan. Repeat until all the dough is gone. I like to use the small size here, so you have bite sized truffles.

Place in the freezer to harden for 10-15 minutes.
Once the dough has hardened, roll into round balls.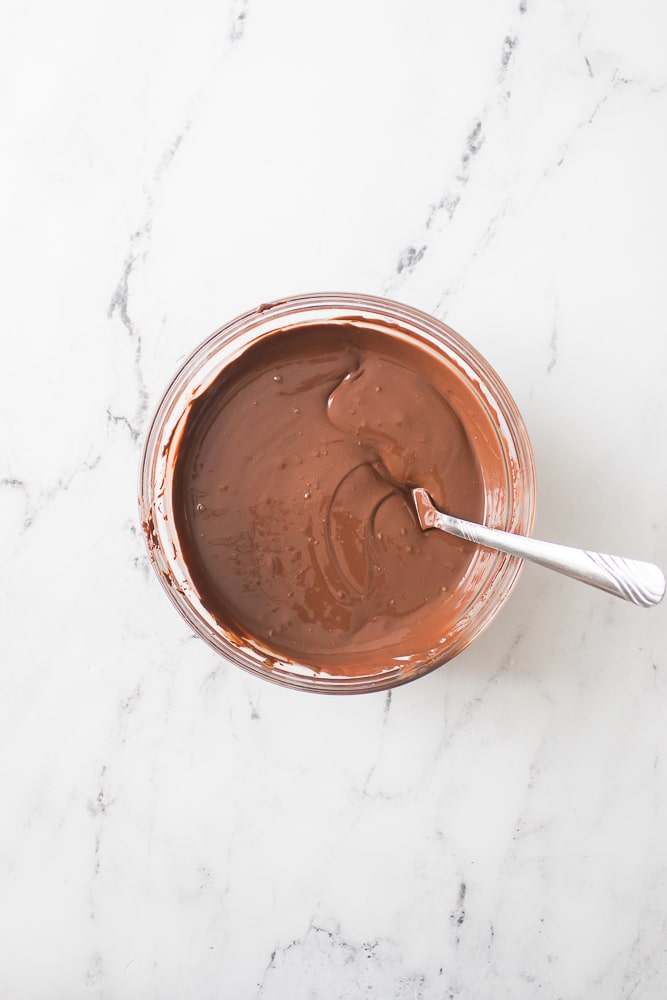 In the microwave melt chocolate chips in :30 second increments until melted.
Add in coconut or vegetable oil to help thin out the chocolate.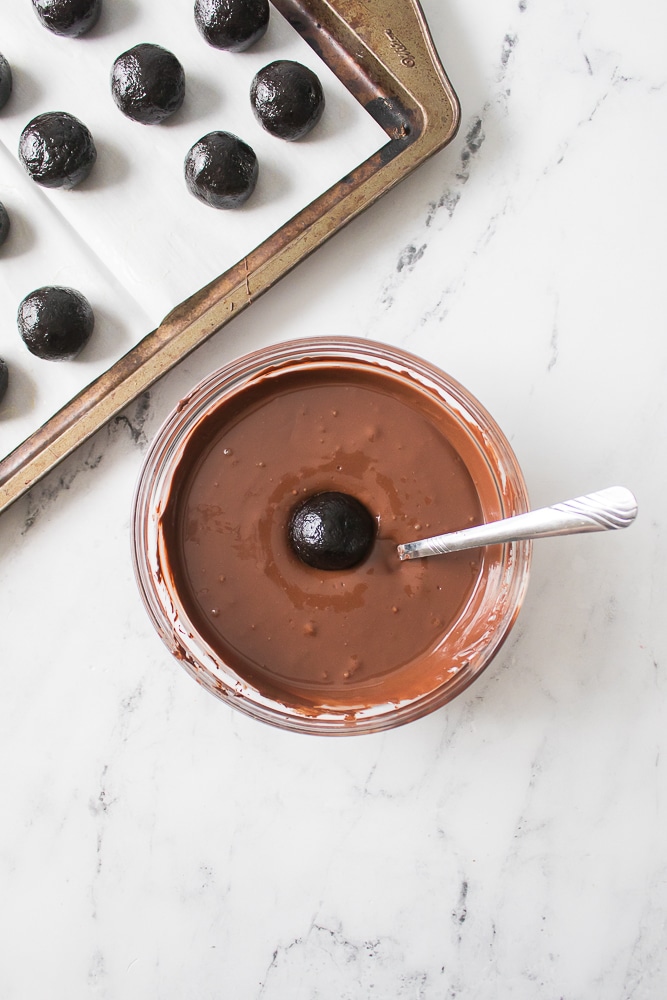 Dip each ball into the melted chocolate with a fork. Remove any excess chocolate from the rim
of the bowl.
Place back onto the baking sheet and repeat until all the truffles are covered in chocolate.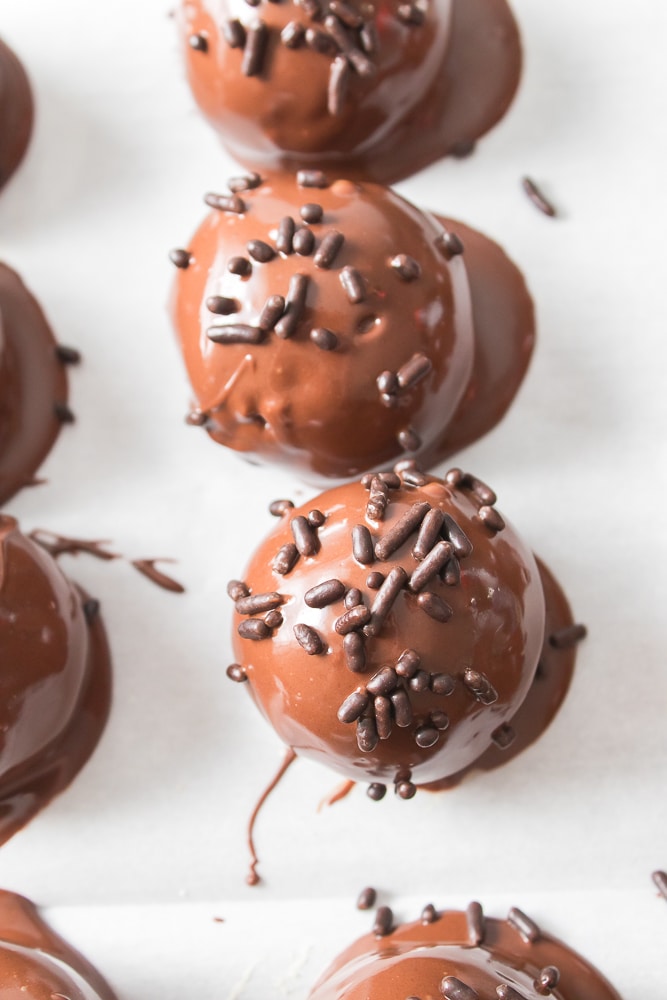 You can top the Oreo Truffle balls with sprinkles, nuts, drizzle with chocolate or top with crumbled Oreos at this time.
Allow chocolate to harden or place back into the freezer for 10-15 minutes.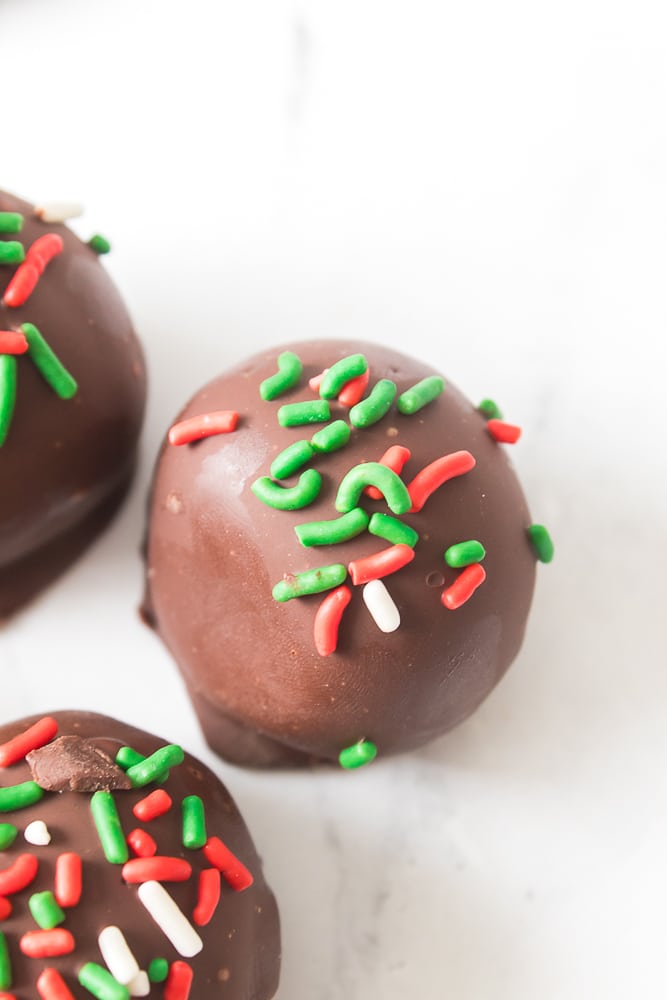 Cookie truffles are so fun to make, as they take most of the work out of the process, and you can really customize it to your tastes.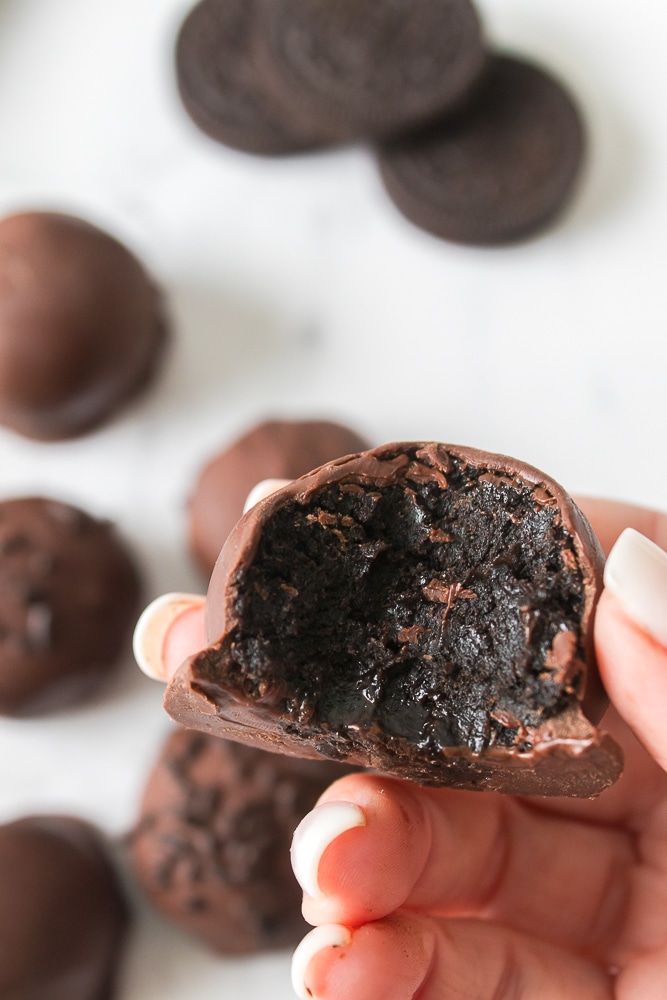 They are similar to an Oreo Cake Pop, only you will be serving them up as truffles verses on a stick at cake balls. We are making Chocolate Balls with this recipe, but you could alternatively use the Golden Vanilla Oreo Cookies if you wanted more of a Vanilla recipe.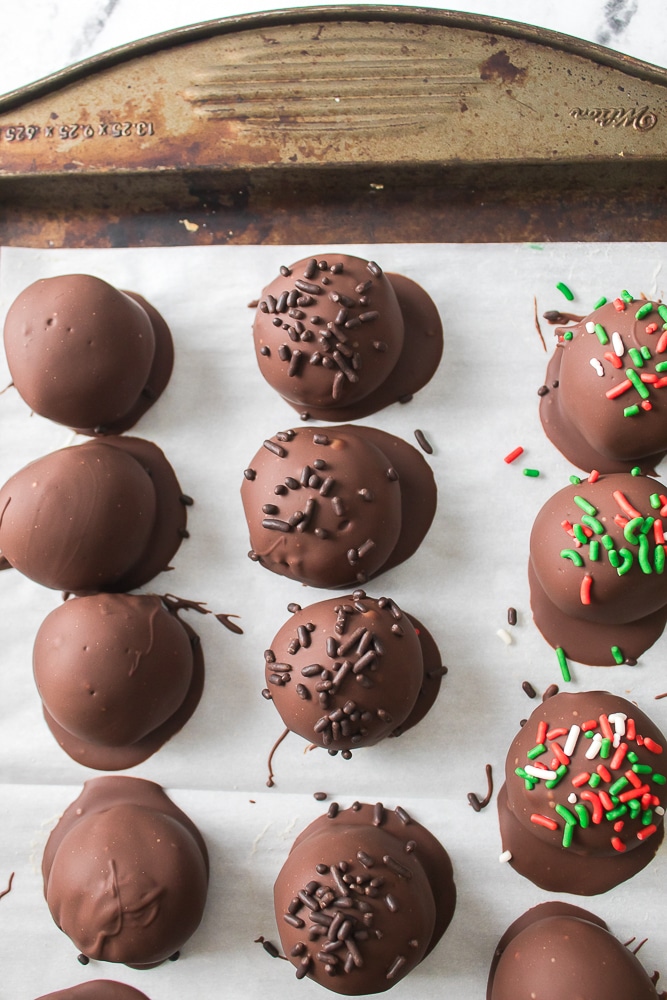 Print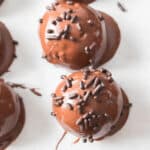 3 Ingredient Oreo Truffles Recipe – Simple & Delicious!
---
Description
These three ingredient Oreo Cookie Truffles are about as easy as it gets to make a fun and delicious candy dessert.
---
36

Oreos

8 oz

cream cheese, room temperature
I bag of melting candies (these are the easiest to use),
or you can use 12 oz. semi sweet chocolate chips + 1 tbsp coconut or vegetable
---
Recipe Card powered by