Teatro ZinZanni's Big Top RockDiscount Tickets – 50% Off! Plus Circus Cabaret Adult Show Discounts too!
This post may contain affiliate links and I may be compensated for this post. Please read our disclosure policy here.

Teatro ZinZanni's Big Top Rock Discount Tickets – 50% Off
Goldstar, one of our favorite sites for discount tickets for entertainment tickets, is offering discount tickets for Teatro ZinZanni's Big Top Rock: Rock This Way show.  These tickets are priced at $11.75 (Reg $23.50) – $14.25 (reg $28.50) – a 50% discount.  This is the family show that all ages will love.
These tickets tend to go fast (there's already one sold out show so check it out soon if you're interested)
Here's more information about the show:
Testing, testing, 1-2-3! Get ready for a morning full of sound checks, set lists, cirque and kiddie mosh pits. Teatro ZinZanni's Rock This Way rock 'n' roll circus show for families is your chance to dance it out, shake it off, and let loose. This show's not just for kids. With a rock repertoire of timeless hits from the '80s and beyond, Seattle rocker chick Jen Ayers will make sure mommy's alright and daddy's alright, too. She'll be backed by Teatro ZinZanni band The Moon Units, not to mention a troupe of out-of-this-world circus performers.
Dates of the Shows::
Saturday April 9th at 11am
Sunday April 10th at 11am
Saturday April 16th at 11am
Sunday April 17th at 11am
Saturday April 30th at 11am
Teatro ZinZanni Circus Cabaret Show: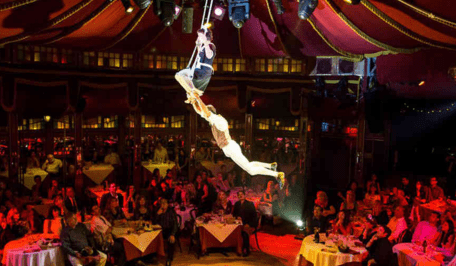 If you'd prefer to go to the nighttime Teatro ZinZanni Circus Cabaret show, Goldstar also has discount tickets left for one more showtime. It is for the Circus Cabaret Spectacular & 5 course meal. The regular price is $110.50 but the discount tickets will be $69.50 + fees.
Here's more info about the show/dinner theater:
Described as "the Kit Kat Klub on acid," Teatro ZinZanni is part circus, part theater and allmagic. Buckle up for a three-hour whirlwind of international cirque, comedy and cabaret artists as you feast on a five-course meal in the intimate environs of Teatro ZinZanni's cabaret-style theater. Each show revolves around a different theme — and each show is more thrilling than the next. Teatro ZinZanni's latest concoction Be Italian! brings together a dazzling mix of divas, showgirls and rocker chicks as one New Jersey family attempts to revamp their departed Papa's famous Italian restaurant. With beverages from a full bar available for purchase, this dinner show experience is one that will make your spirits soar.
More Discount Entertainment & Family Fun Options::
Find more discount entertainment tickets from Goldstar!
And don't forget to check out our list of FREE & Frugal Events & Activities around the Northwest each week!