All Target Bathing Suits- 50% off! Swimsuits As Low As $5 Per Piece!
Target Bathing Suits On Sale! BOGO Free + Up To 50% off Swimwear!
Summer is here and the Target Swimsuit Sales have been hot this year. If you will be needing a swimsuit, you may want to check out this sale on Target Bathing Suits. Each year, Target usually offers a Target Bathing Suits – Buy One Get One FREE sale and it is generally my favorite time to shop swimsuits at Target! Right now they have a 50% off swimsuit sale, which is just as good – but just gives you more flexibility in your shopping options, and I am shopping it for my teens. We often find so many great deals in the BOGO free sale – so we are definitely checking this sale out, and you should too if you are looking for a deal on swimwear for the summer. This is a super time to buy a swim suit if you are in need of one, as we only paid $12.50 per piece yesterday, but found them for as low as $5 per separate!
Find the Target swim suits on sale here, with up to an extra 50% off savings (we are seeing the same kinds of deals on suits that we did  in the BOGO free sale too).
And my teens said they were some of their favorite suits too.
It is a great time to look for womens suits during this swim suit sale.

2 piece Target Women's Bathing Suits start at as low as $10 per piece – which means they would drop down to as low as just $5 per piece after the BOGO free savings!
Plus sized suits start at as low as $15 per piece.
Many one piece swimsuits for women start at $30, so will drop down to just $15 when you buy 2.
Some of my favorites include: 
I love these ruffle bottoms, they are so flattering and will drop to just $9. I have a pair and so do others I know (different shapes and sizes), and they seem to be a comfortable fit on many if you are looking for something along these lines. There are quite a few different styles and colors to choose from too. 
This all black one piece drops to just $15 – great price for a full one piece suit.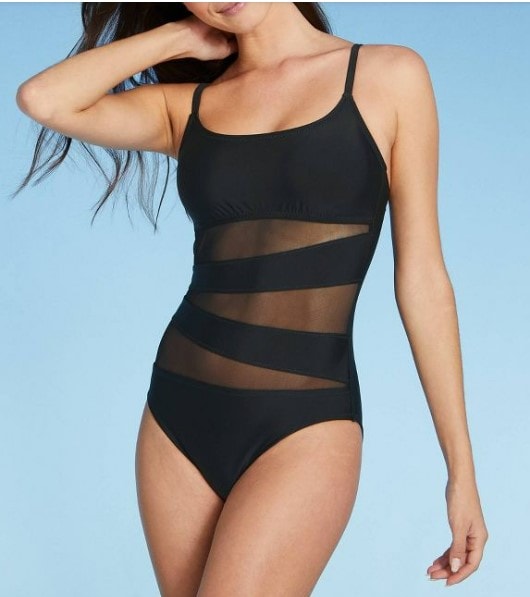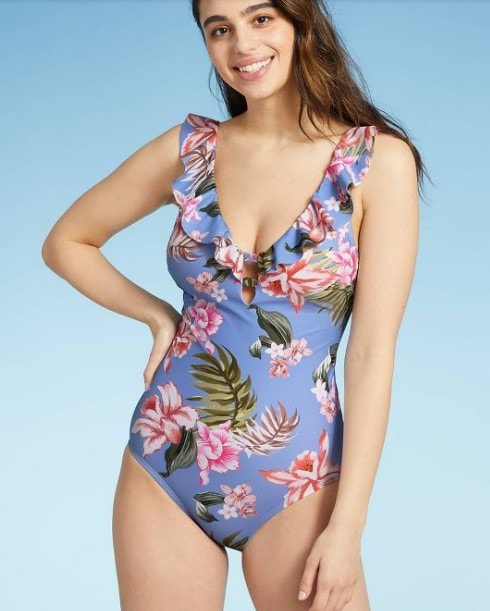 Lots of deals on one pieces. These two show above would come to just over $20 each.
Super deals on two piece womens swimsuits at Target in the Buy One Get One Free sale here.(they are currently running a 50% off sale)
You can see more deals at Target.com.