Dinner & A Movie Gift Basket Idea – How to Personalize Your Gift Card Giving!
This post may contain affiliate links and I may be compensated for this post. Please read our disclosure policy here.

#SaveMoneyGiveBetter2017
My mom has 11 grandchildren, and as soon as they hit the tween ages and older, they all want gift cards for Christmas. She loves the convenience of giving gift cards, but wanted some ideas on how to personalize them on a budget. We got to brainstorming some fun ideas.  One idea that we had, that could be a great fit for many folks you might be shopping for as well, was our spin on the "Dinner and a Movie" gift basket. My favorite thing about this gift basket, is that we were able to grab it all in one store (Walmart) so it was quick and easy to put together and it is very affordable (compared to gift baskets you buy that are already put together).
Another thing that I love about this one is that you could make it for a couples date night gift (add some mistletoe to the basket), a family gift, or teens would love it too (its pizza and a movie after all!). You can also personalize it to the taste of the person, couple or family you are buying it for. It would even work great as a teacher's gift! In fact, I think that is who I am going to gift the one we made to –  one of my girls teachers. I grabbed all of the ingredients for the gift basket for under $15, and then added a gift card to it to make it really special.
It is especially budget friendly if you use it as a family gift. One thing I have started to do as people's family's grow is to buy family gifts rather than individual gifts. This works great because,  let's say you have a sister with a husband and 2 kids. Rather then buying 4 separate gifts (which can add up fast), you can make this fun family gift for all of them to enjoy. They will love it and your Christmas shopping budget will too.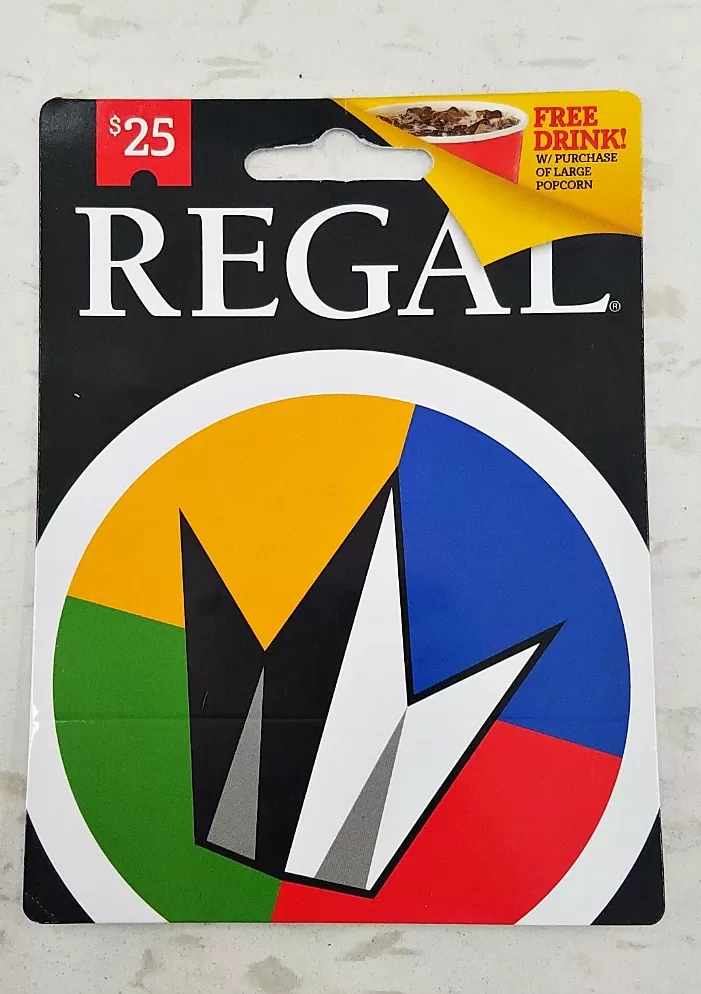 We centered our "Dinner and Movie" gift around the Regal Cinemas $25 Gift Card.  Since I am going to use my basket for a teacher gift, the $25 gift card put me right in the range I like to spend. If you're doing a family gift, you could buy two of these, to make sure they have enough to take everyone to the movies.
The next thing I did was cut a ticket shape out of some red construction paper to theme the gift. This was so simple. I started by cutting a rectangle that was the size I wanted to show off the "Ticket". Then I simply took a rounded object (I used a lid from an apple juice bottle) and traced a semi-circle in the middle of one side of the rectangle, and then at the same place on the other side. I then cut it all out, and rounded off the corners. I printed out a popcorn holder and dinner and a movie words and glued them on. Then I added the Regal Gift Card, so the recipient would see that easily. That is the part of the gift they will probably get the most excited about!
We put this round of Pizza ingredients together for around $10 at Walmart, to make pepperoni pizzas. The only thing the recipient will need to add is cheese, otherwise, they have everything they need to make personalized pizzas. You could probably do it for even less if you wanted to just do a single family sized pizza, but we opted for 4 personal sized pizzas so everyone can make their own. I know in my household, a couple of the kids prefer cheese pizzas, so this way everyone gets what they want.
Our pizza ingredients included:
A pizza pan
A pizza cutter
4 personal sized pizza crusts
Pizza sauce
Parmesan cheese
Pepperoni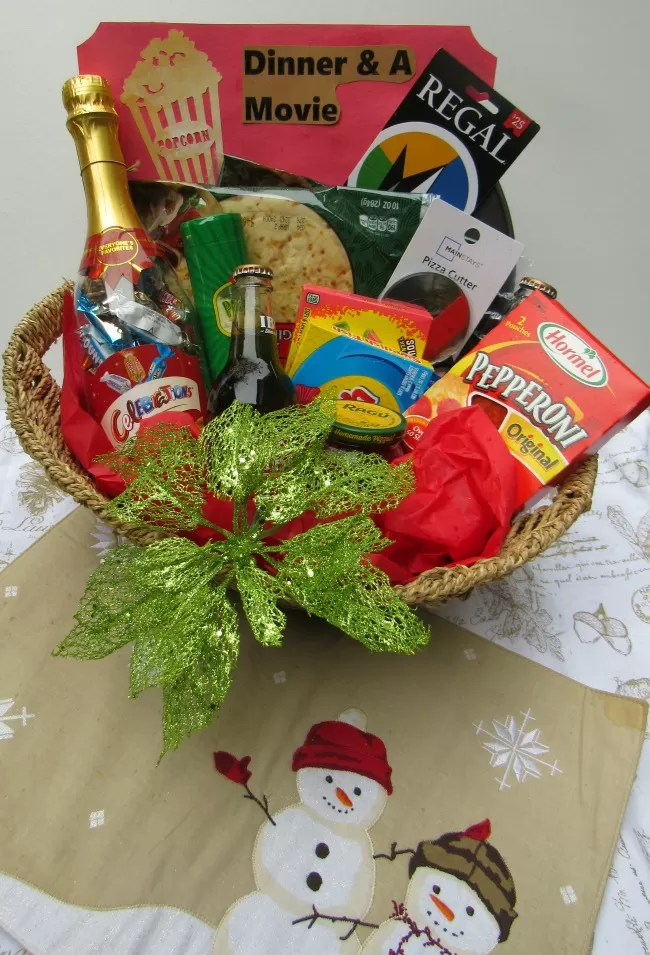 We bought a few extra treats (like cream soda and some candy) to go with their dinner (or take into the movies with them), and added those things to the basket. This basket will make 4 personal sized pizza and have treats and drinks for 4 people. When all was said and done, we got the ingredients for the basket for under $15!
We arranged it all in a small basket. Crumple some red and green tissue paper to fill the bottom of the basket and that will allow you to arrange everything in a way that really shows it all off. I even picked up a green ornament for $.98 at Walmart to make the basket really festive for the holidays. It just clips on the front.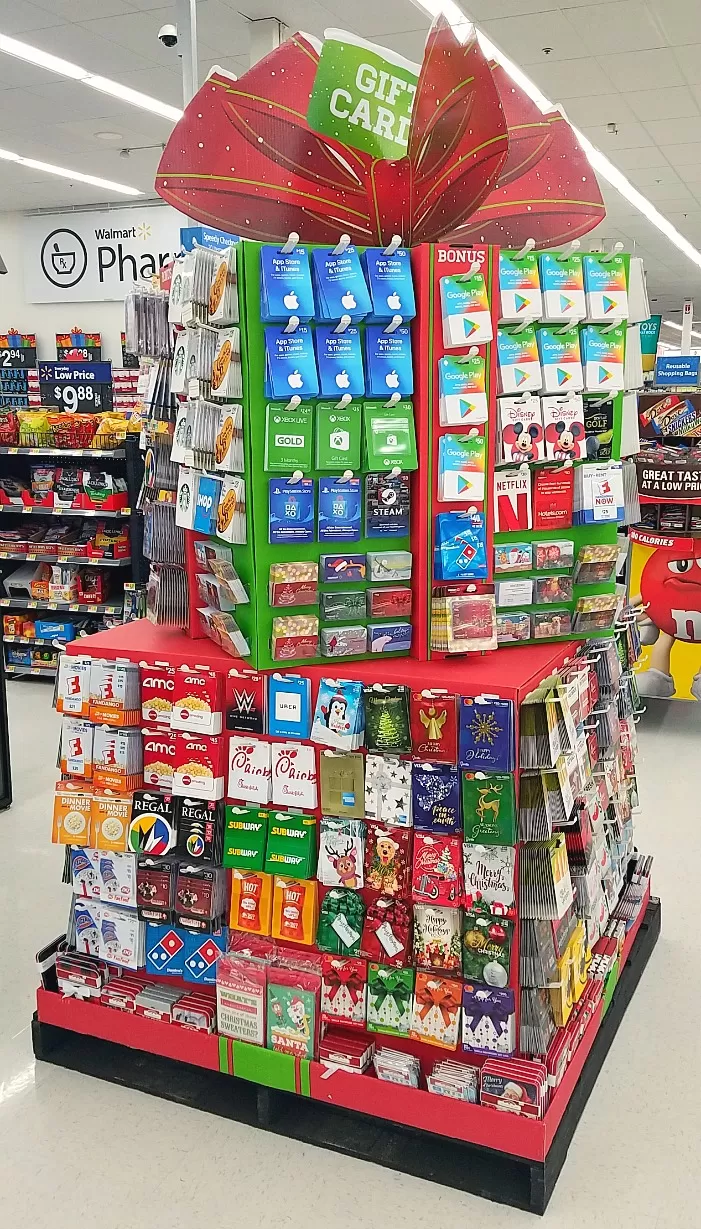 Gift Card Kiosk at my local Walmart – look for the section labeled "Bonus"
In addition to packaging them in a fun and personal way, I also love some of the deals currently available to make your money stretch further with gift card purchases. There are many bonus offers that will give you freebies (extra gift cards or other deals) with your gift card purchases currently. We have highlighted some current offers below from Walmart, to help you save the most! Plus, you can get all the supplies you need for your gift card packages too, making it very convenient as well.
Here are some highlights from great Gift Card deals currently available at Walmart too:
Make sure to look for the Gift Card displays that look like a package & have a "Bonus" gift card section where they will have these discounts or freebies as part of the gift card.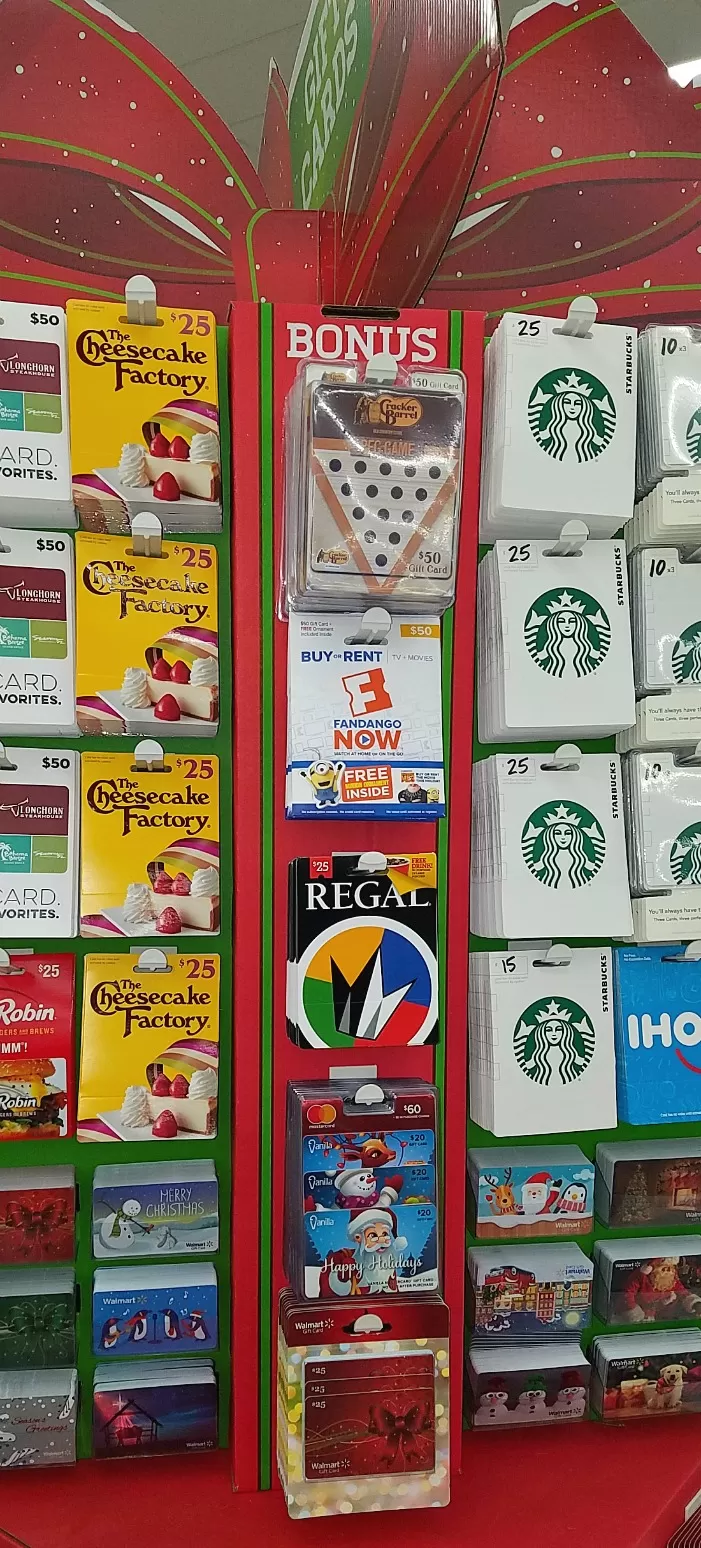 Regal Cinemas – $25 Gift Card
(Free Drink w/ Purchase of a Large Popcorn)
Make a Dinner and Movie Night basket for your recipient (shown above).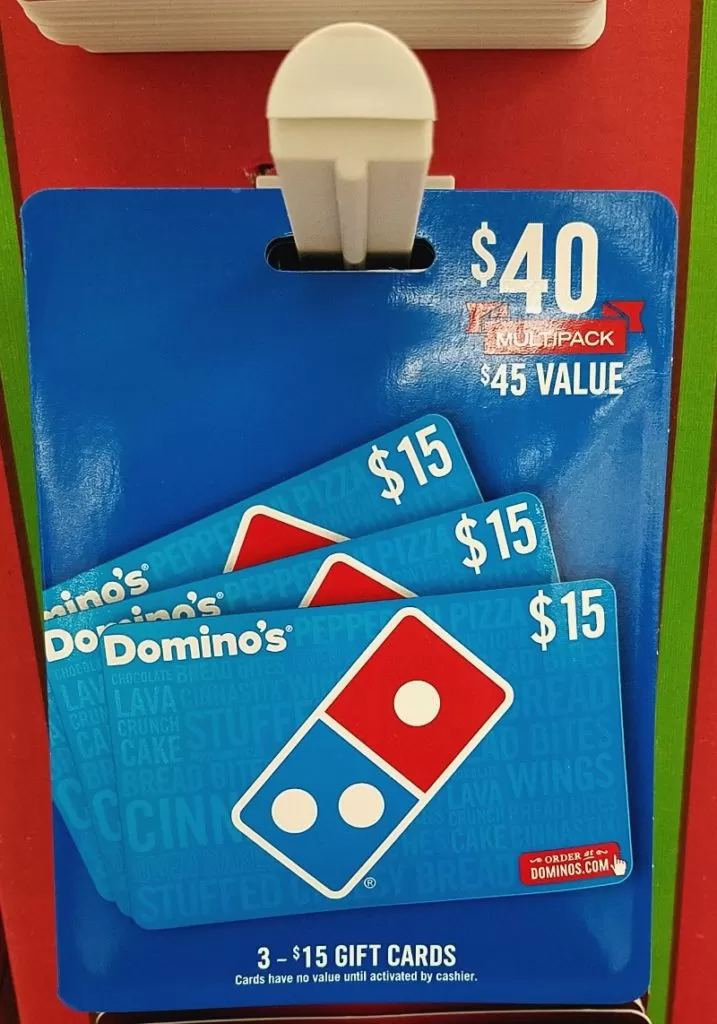 Domino's Pizza – $40 Multi-Pack
(Buy $40 Gift Card, Get $5)
This one would be fun to grab a pizza board and pizza cutter and attach the gift card to those!
Fandango NOW – $50 Gift Card
(Free Minion Ornament)
You could gift this one in the free ornament, or do something like we have done above with the Regal gift card.
Apple iTunes – $40 Multi-Pack
($4 off November 1 – December 31)
You could buy a pack of ear buds (you can generally find this for under $5 at Walmart) and wrap card and ear buds in a small box.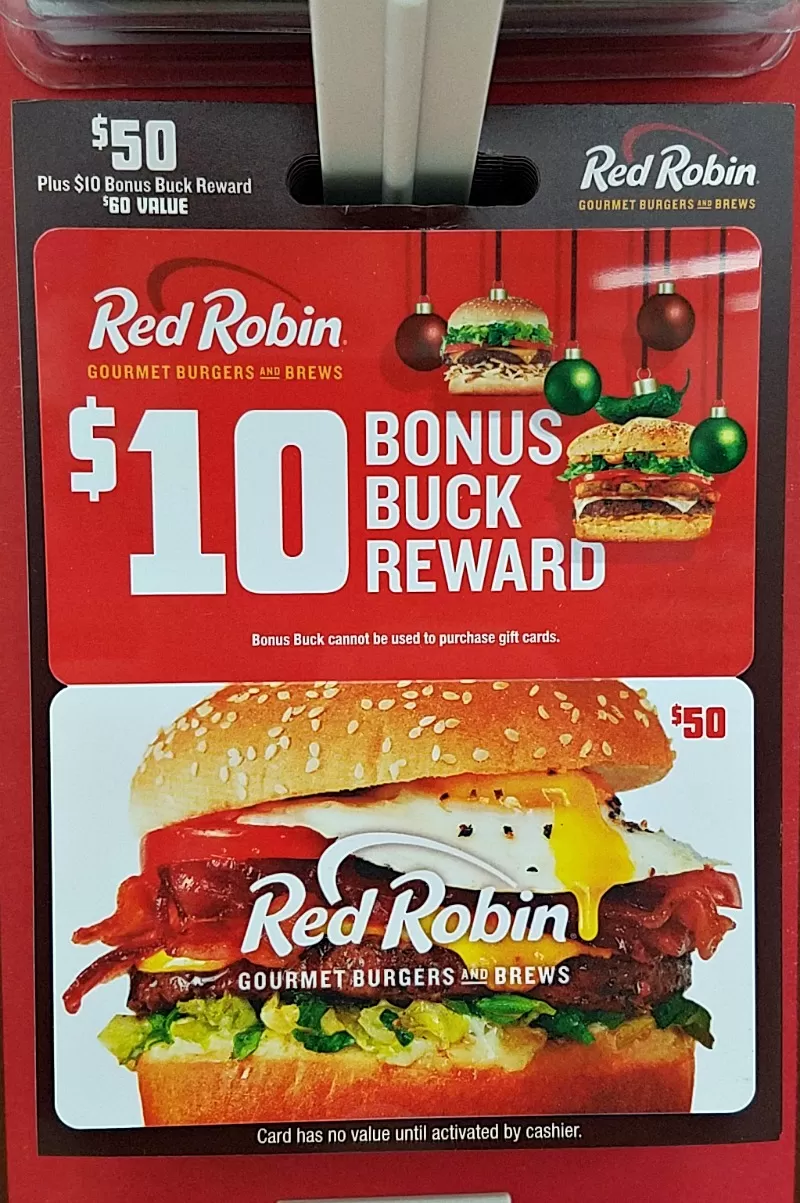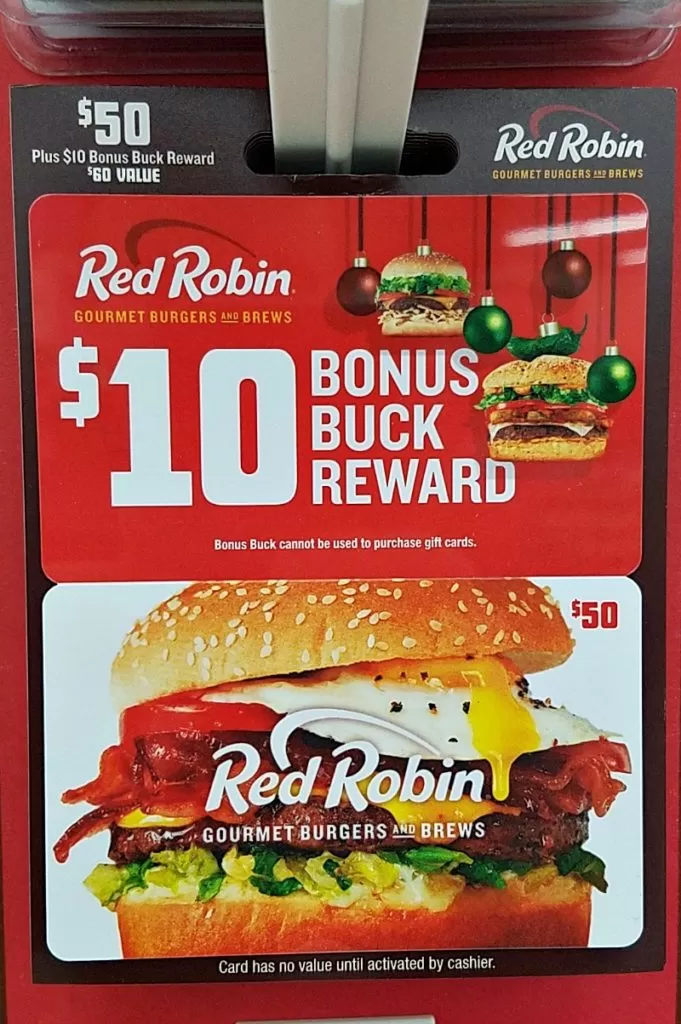 Red Robin – $50 Multi-Pack
($10 Bonus Buck Reward)
You could do a dinner and movie basket, but in a way that is opposite from what we did above. You could purchase a current DVD, put it in a basket with a fun seasonal blanket and some popcorn or treats in a basket, and then the dinner card. They can go out to dinner and then come home and enjoy the movie on the couch!
Spa Week – $30 Gift Card
($5 Bonus Card)
A Spa Week gift card would be fun to put on top of a bathrobe (and even some slippers) and then add the card on top in a box and wrap that up!
Cracker Barrel – $50 Gift Card
(Free Peg Game Included)
You could do something similar to what we mention for the Red Robin card above.
Google Play – All Denominations
(Get Up to a $50 Bonus in Star Wars: Galaxy
of Heroes – October 1 – December 31)
This one would be fun to package with a special play list of your recommended songs or movies or apps for the person you are giving it to. Print the list out on some great looking paper and they will appreciate the time you have taken to personalize the gift for them.
Vanilla Mastercard Gift Card –
$60 Multi-Pack
Can be used anywhere Mastercard is accepted.
(More than $6 off Purchase Charge & Exclusive
Holiday Designs.)
The Mastercard gifts are popular with anyone. It's like giving money – they can buy whatever they want. I like to personalize them for the person I am giving them to, though. For example, if I am giving them to a teen who drives, I might grab a key chain wallet at Walmart (saw them for $4.97) and put the card in there with a note about wanting to make sure they always had gas money on them!
More ideas on how to make a gift card a little extra special: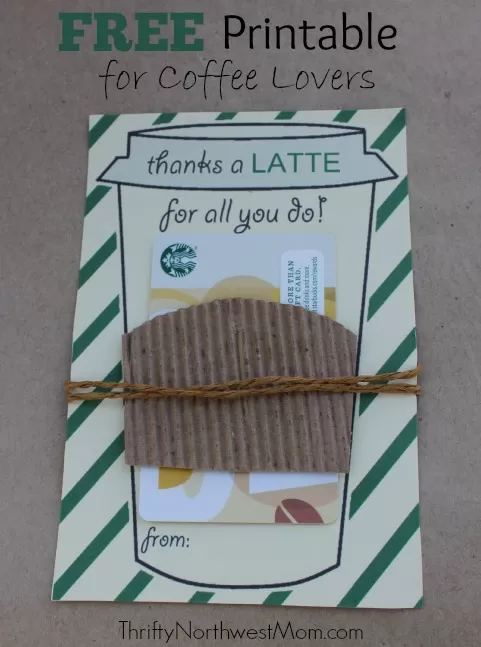 If you know someone who loves coffee, you can print out this free "Thanks a Latte" card and use it to gift them a Vanilla Mastercard (so they can use it anywhere to get coffee) or whatever their favorite coffee shop is.
Disclosure: This post is sponsored by iComm. All opinions are 100% my own. See our disclosure policy for more details.