Point Defiance Zoo and Northwest Trek Discounted Membership – $210 for Deluxe Household Membership!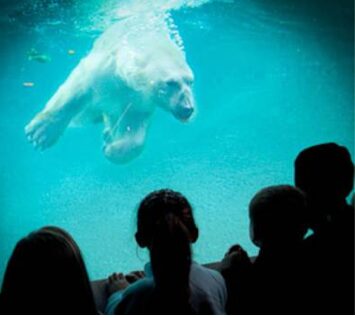 Right now, you can get membership to the Point Defiance Zoo and/or Northwest Trek for a discount of 16% off to get a Deluxe Household Membership for just $210 (reg $250).  It is extremely rare to find discounts on membership & this is the same Deluxe Household Combo deal that is typically offered at Cyber Monday, but I just found it offered on Groupon today!! Woohoo! I know we had a lot of folks asking about this discounted membership!
Here's all the details::
Pay $210 for one deluxe household membership (this is a $250 value) to both Northwest Trek AND Point Defiance Zoo & Aquarium. If you are a current member & need to renew, they will give you a 10% discount (I just got the flyer in the mail today, but this is a better deal at 16% off)
The membership is valid for admission to Point Defiance Zoo & Northwest Trek for::
Two named adults
Their dependents, 18 years old and younger
Up to three guests each visit
We  had a membership to the zoo & NW Trek this past year thanks to a family Christmas gift last year and I can tell you that it was probably the best gift we received! We had been able to take friends and family to the zoo and NW Trek and it was a big money-saver. If you plan on going several times during the year with your family, the membership is definitely the best deal as the ticket prices add up quickly for each trip. If you have a family of 5, you would pay for the membership in just 2 visits, so definitely something to think about! You'll also get 50% off admission to Zoolights at Christmastime.
One of our favorite events for members is a special members-only nights, too, where you can get behind the scenes tours of the zoo, which is very cool to see where the animals are kept in the back & they have a lot of staff on hand to give information & keeper talks & more.
We have also found that the membership comes in handy for when you're traveling as you can get discounted or even FREE admission to other zoos and museums. We went to a children's museum which had a small zoo last summer in Ohio and we got FREE admission through their reciprocal agreement with participating locations. We've also gotten into the Columbus Zoo in Ohio for a reduced rate. And this past spring, we got discounted admission to the Oregon Zoo. So, there are really so many advantages to getting the membership.
Benefits of Membership:
Unlimited admission for a full year
Discounts on education and camp programs for zoo members; discounts on camp programs, photo and keeper tours at Northwest Trek
Earlier bird registration on Zoo Summer Camps
10% discount in the gift shop
50% discount on Zoolights admission with zoo membership
Copies of magazines, Zoo Points for zoo membership and Trek Tracks for membership at Northwest Trek
E-newsletters about exciting events and news at the zoo and wildlife park
Invitation to Point Defiance Zoo & Aquarium's member appreciation celebration for zoo members