Kohl's: $10 off $25 Purchase Coupon (In Store) + 15% Off Coupon Code (In Store & Online)!
This post may contain affiliate links and I may be compensated for this post. Please read our disclosure policy here.
There's a few promotions going on at Kohl's this week. All are perfect for back to school shopping! You can shop online or in store and get great deals!
In Store:
There's a $10 off $25 Kohl's Kid's Apparel purchase coupon available to print out. This coupon is valid through August 18th, on Kid's apparel. Here's how to get this coupon.
Go to Kohl's Facebook page.
Click on the "Get Offer" tab.
Your coupon will be sent to your e-mail linked to your Facebook page.
Print out your coupon and take it to Kohl's to get $10 off $25.
Plus, you can also print out a 15% off everything pass. Simply click on the image as shown below. Hit "Print Your Pass". But the best part is that you can combine both of these coupons and save big time! Just note that the 15% off will be deducted after the $10 off $25 purchase coupon. But, you should be able to find some pretty good deals with both of those coupons!

Online:
If you'd like to shop online at Kohl's, you can use the coupon code LEMONADE at checkout to save an extra 15% off your total. This also includes clearance prices. Shipping charges start at $5.95. Get FREE shipping on orders $75 or more.

Girl's T-Shirts $5.60 = $4.76 after 15% Coupon Code LEMONADE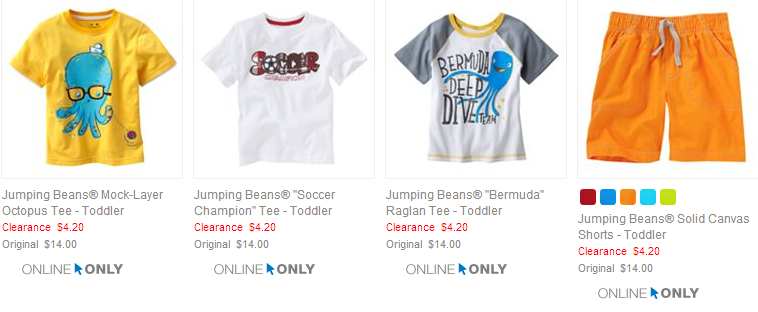 Boys Clothes starting at $4.20 = $3.57 after 15% Coupon Code LEMONADE

Sandals starting at $8.00 = $6.80 after 15% Coupon Code LEMONADE
Through August 14th, for every $50 spent, you'll earn $10 Kohl's Cash.