KitchenAid Classic Plus 4.5 Qt Stand Mixer – As low as $148.84 Shipped after Rebate!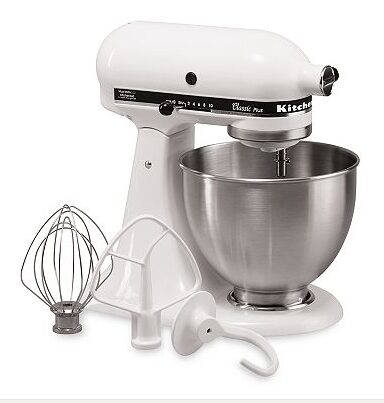 As we mentioned yesterday, Kohl's is having a 20% off Friends and Family sale thru November 18th. With the Friends and Family coupon combined with a sale and a rebate offer available today and tomorrow only  makes for an awesome sale on a Kitchen Aid Stand Mixer. After sale, coupon and rebate, you can get a Kitchen Aid Classic Plus 4.5 Qt Stand Mixer with accessories for as low as $148.84 shipped! This price beats the Target Black Friday of $199.99 and is $50 cheaper!! Wow! This may not be around long, so make sure to take advantage of it soon! And you do have to buy it by tomorrow in order to use the mail in rebate, which is only good thru Saturday Nov 17th.
Here's how it works:
Head to Kohls.com and add the KitchenAid Classic Plus 4.5 qt Stand Mixer . It is on sale for $229.99, but with the Kohl's sale, the price will drop to $206.99 when you put it in your shopping cart.
At checkout, enter the coupon code: FFNOV20P to get 20% off with the Friends and Family discount. This will drop your price to $168.84 + tax shipped to your door.
Then fill out a  $20 mail-in rebate form with your receipt. This is a Kohl's rebate & only valid on November 16th & 17th. This rebate information must be postmarked by December 17th, 2012.
Your final price after rebate will be $148.84 shipped! This is almost $50 cheaper than the Black Friday price at Target.
Thanks Look Before Spending!