How to Use Trover for Vacation or Day Trip Planning or to Share Favorite Photos from Your Travels
This post may contain affiliate links and I may be compensated for this post. Please read our disclosure policy here.
Sharing our favorite photos of our travels on Trover – this is a viewpoint of Lake Louise in Banff National Park, Alberta, CA
We are in the middle of summer right now & it's the perfect time to get out & explore the area you live in with fun day trips around the area – or maybe you're doing some last-minute planning for your vacation this summer & you want to find some out of the way beautiful locations that you may not find in all the guidebooks or when googling your trip as you'll be directed to the top tourist attractions. Those are always fun to check out, but we also love to find those hidden gems that you'd miss unless you had a tip from a local or someone who had been there.
In the age of social media, I have taken to using social media to help plan our trips to get more ideas of where "locals" might go to find those hidden destinations. One way I've done this is to use Instagram and to search hashtags for the locations, but unfortunately you also can get so much random, unrelated information that you have to sift through when using Instagram to search locations. I also love to use Trip Advisor for traveler's tips for locations, but you rarely will find photos to go along with those tips.
I have since discovered Trover, which is a social media website and app, specifically geared towards travel. It is similar to Pinterest and Instagram in that it is filled with beautiful pictures in a grid format , but all of the pictures are travel-related whether it be finding locations right around your home to explore or beautiful, far-off destinations to add to your travel bucket-list. (And believe me, my bucket list has been expanding as I explore Trover and all the amazing destinations that are featured).
The pictures are geo-targeted, so that it starts off by showing you the photos and locations that are nearest your home (you can even see how many miles away it is). This makes it a great way to discover off the beaten destinations for a hike close to home or a day trip idea. You can also search for specific locations if you know you are going somewhere on vacation and see all the photos that will come up for that area.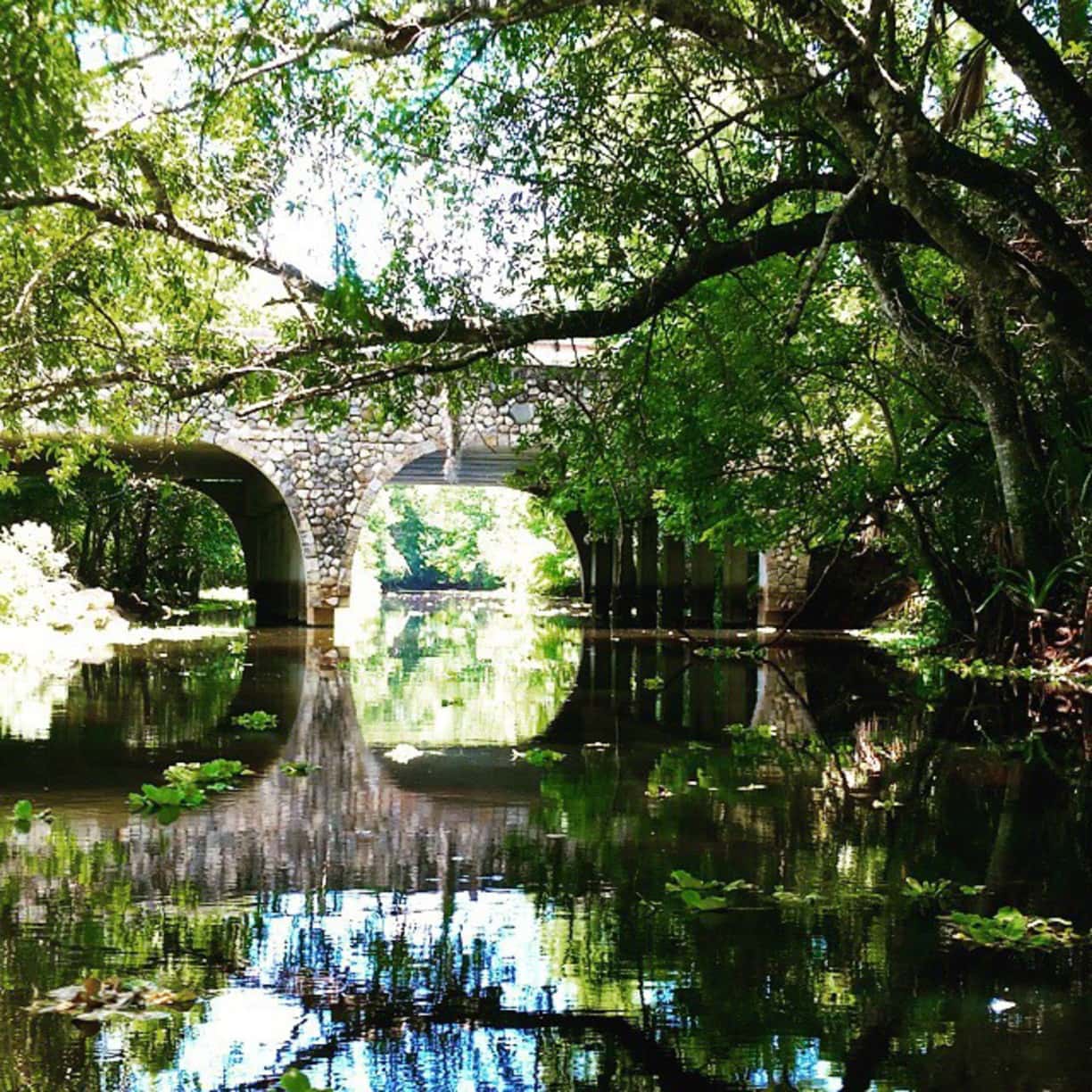 The Loxahatchee River in Florida -a beautiful canoe ride about 2 hours from Orlando
Not only will you find gorgeous pictures for the destinations you want to visit, but people are encouraged to also share tips about those locations – how to find that perfect picture-taking spot, any tips for visiting and other information you'd want to know. So, this is where I feel like it's such a good resource for travelers to have not only the beautiful photos to see if it's a location you want to visit, but also some important information about the location. So often I will come across a beautiful location on Pinterest, but then there won't be any specific information about how to find that exact spot, so I will have to search & google it to find out where they got that view. But Trover also includes a map, so you can pinpoint exactly where that picture was taken.
What I am loving about Trover is that it's inspiring me to go on more adventures, especially around the Northwest. With the pictures geo-targeted to your location, you may not even realize there are some amazing destinations close to your home – it really does make you want to explore more in your own backyard!
How to Use Trover:
As I mentioned, you can use Trover as an app or on their website. It is available for both iOS and Android in the iTunes store & Google Play store. You can also sign up directly on Trover.com for an account.
Share your Own "Discoveries" on Trover: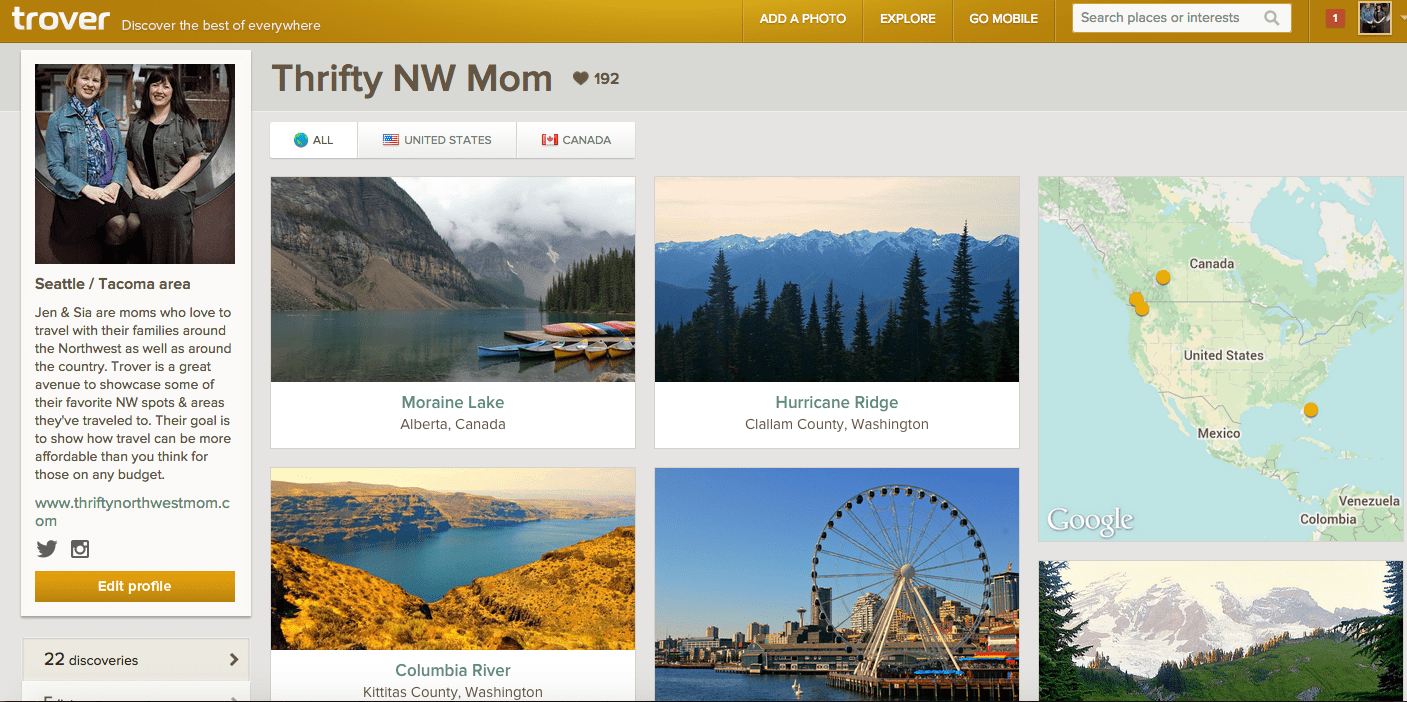 You can then start sharing your own "discoveries" – these are your own pictures from your travels with details about the location & also sharing it's location on the map. And you can start searching the site for new discoveries for places you want to visit. Check out our Thrifty NW Mom home page on Trover, where Sia & I are showcasing some of our favorite travel photos from around the Northwest & around the world. I love that they have a map at the top too, to show the locations of the photos we've shared. When you click on each discovery, you can then click on the map icon & it will show you the location on a map, so you can make sure you go to the right place. (Just make sure you tag your discovery correctly when you are adding it to Trover)
Search Locations for Day Trips or Vacations: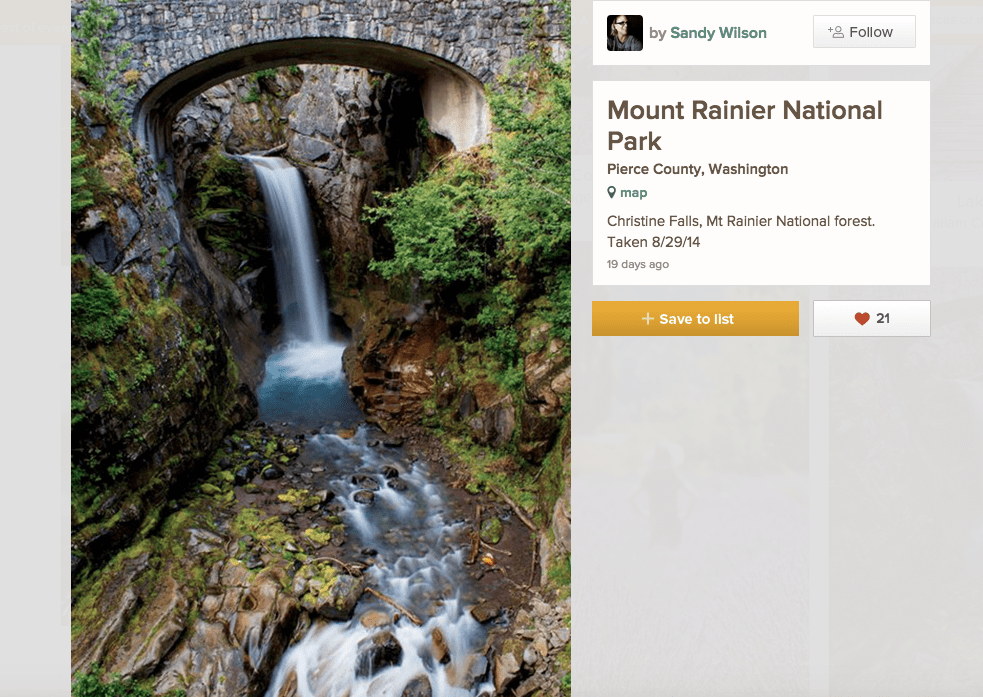 I found this beautiful waterfall in Mt Rainier – just a short drive away to add to our list of places to visit on our next trip up to the mountain
If you're looking for specific locations, you can search those locations on Trover in the top search box and it will tell you the distance you are from those locations and you can also look directly at the map to see where it's located to help you plan out your trip. I love that you can do this from the road, too, with the app, if you ended up at a new location, you can quickly search to see if there are any cool places to check out while you're traveling through that area.
Get Inspired from Others' Trips:
If you are just wanting to get inspired for your next trip, it is really fun to check out all the gorgeous photos from different locations that people are sharing. Trover is organized really well to find ideas. You can check out the Explore button at the top & this has pictures broken down by category with Trover highlighting the best of the best photos for different locations.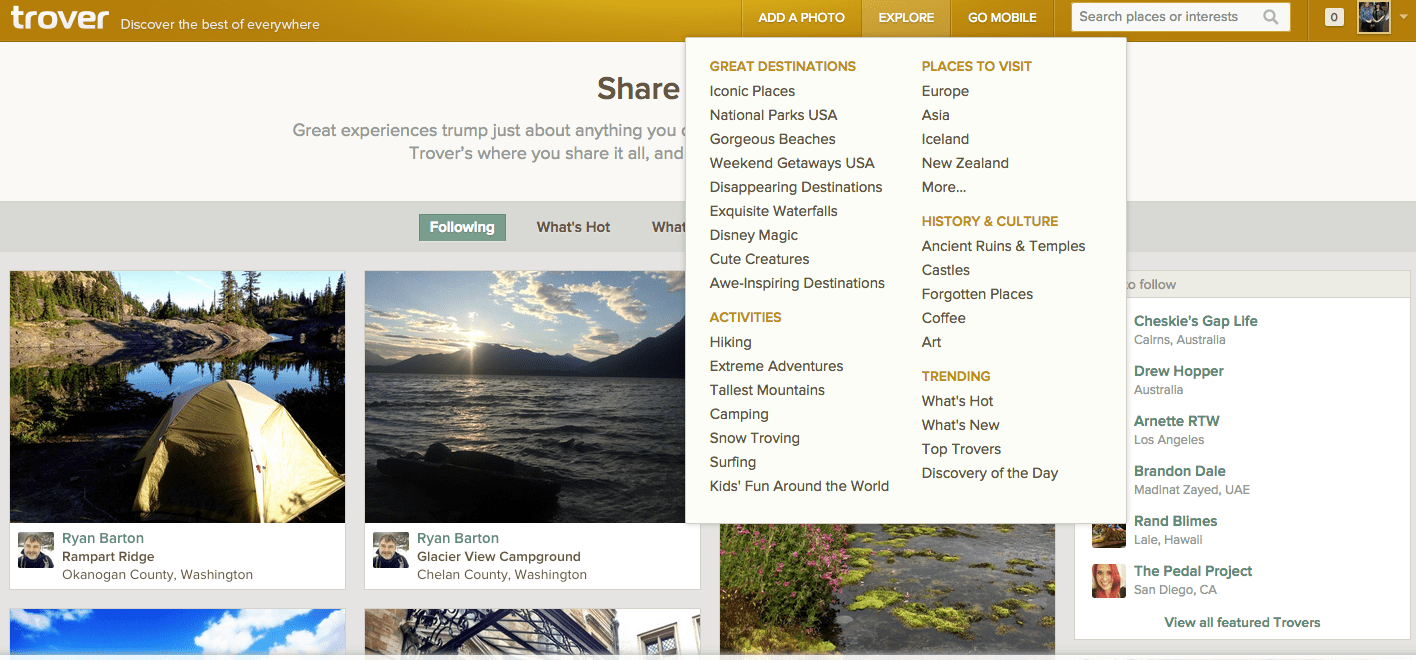 Here are the categories:
Great Destinations
Activities
Places to Visit
History & Culture
Trending
These are just a few of the many categories of photos you can find on Trover. I love the Trending category the most – the What's Hot list as it has the best pictures of the day, starting with those locations closest to you & then branching out to further destinations away from you.
Trover Home Page:
You'll also want to make sure to follow folks that you find that you like their photos, their style & the destinations they share as the home page of Trover is very similar to how Pinterest was laid out before they changed to the "Smart Feed".  They will show you the most recent photos from the people you follow, so if you find Trover folks who are sharing from a particular area that you love, make sure to follow them to see what they post as they travel around those destinations.
Make Lists & Follow Lists: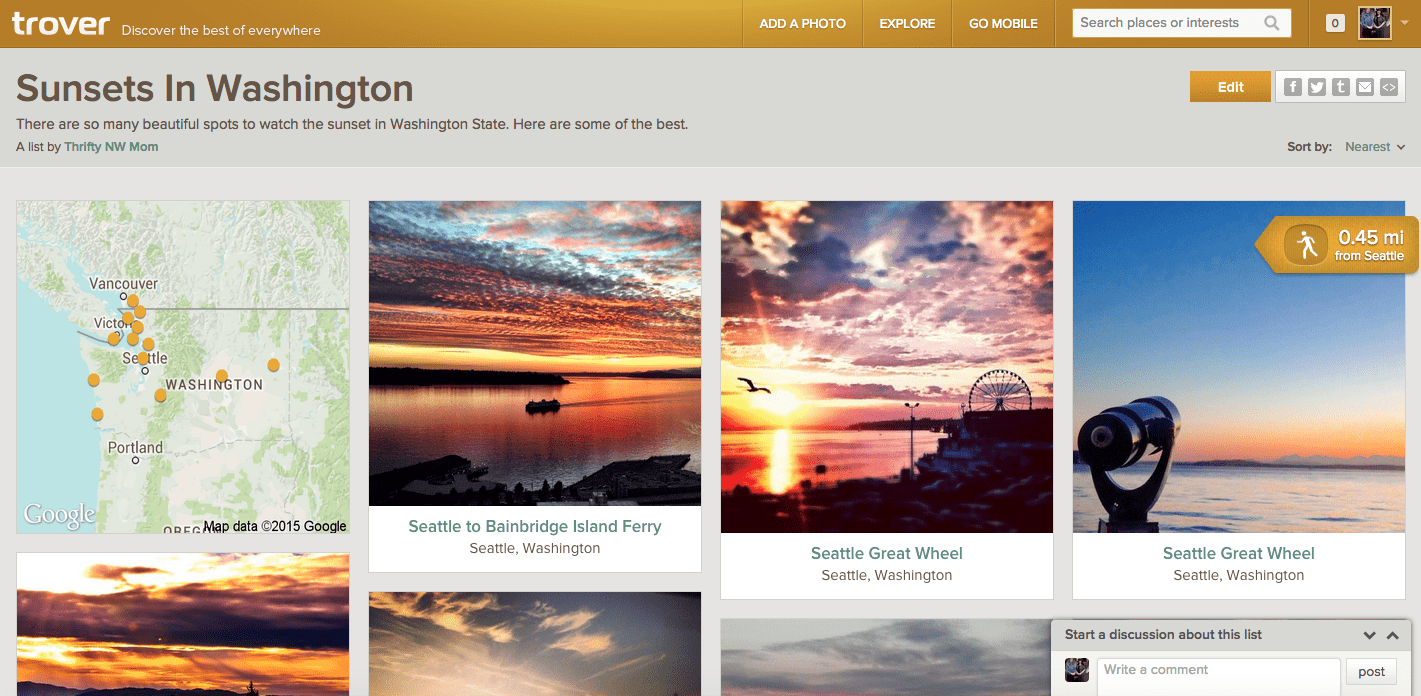 Trover has a great option similar to Pinterest in that you can make your own lists with all your favorite photos for particular destinations  or you can  follow lists that others have already created.
Check out the list we created showcasingWashington sunsets (we have some pretty amazing sunsets here in the NW!) – some gorgeous sunset pictures we found around Trover, including a few of our own.
Trover Contests::
#Waterlust Photo Challenge – Win $1500 – Ends 7/20: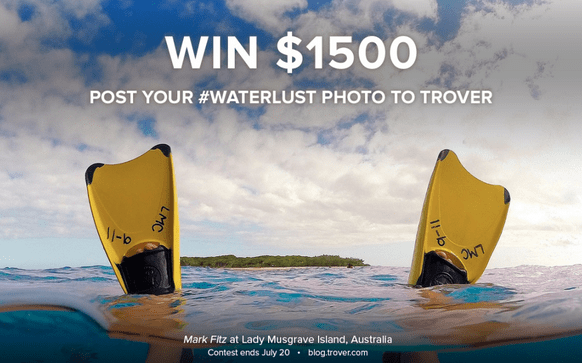 Trover is frequently offering contests on their site to showcase the amazing talent  of those who use Trover & they have just started a new contest where they will be giving away $1500 as part of their #Waterlust photo challenge. Since it's summertime & everyone is out enjoying the lakes, rivers, & beaches, they want to see your favorite water pictures. If they choose your picture, you will win $1500. Head on over to the Trover blog to find out all the details and start entering some of your best water photos for a chance to win $1500. The deadline to enter is July 20th, 2015, so make sure to enter soon as there are only a few days to enter!
Trover Monthly $500 Travel Scholarship:
Each month, Trover gives a $500 travel scholarship to someone on Trover who inspires them to new adventures with their photography. Learn more about the travel scholarship – this could be a great way to continue your adventures!
Follow Us on Trover:
Sia and I are sharing our favorite travel photographs we've taken on Trover – make sure to come on over & follow us on Trover  once you've set up your account. We'll share some popular Northwest spots as well as hidden gems that we've found with our families, and you'll also see some of our travels beyond the Northwest, too, to inspire you on adventures you are planning.