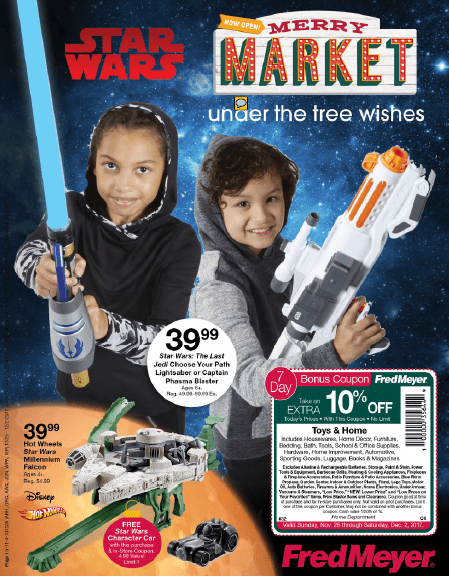 Fred Meyer Holiday Toy Wish Book 2017
Fred Meyer is running some great toy sales if you are looking for deals on toys for Christmas! They have released their 2017 Holiday Toy Wish Book, and there are some good deals on some of this years most wished for toys. Not only do they have some of this years most popular toys on sale, but right now there is an extra 10% off Toys & Home bonus coupon that can be used with all the toy sales to save even more.  Be sure to look for the items that are marked as Price Blasters, as these will most likely be some of the best deals.
Plus, do not forget to sign up for the Fred Meyer rewards program, because then you can earn gas discounts and get rebate checks from your holiday shopping too!
That is one reason why I love these Fred Meyer toy sales – they offer so many ways to save. I have found over the years that some of the very best deals I have found on barbies and other popular toys have been during these Fred Meyer Toy sales.
You can check out everything included in the Fred Meyer Toy Wish Book 2017 here (put in your zip code, and then it should show under your stores weekly ad list)  and you will also be able to get the extra 10% off bonus coupon in the book as well.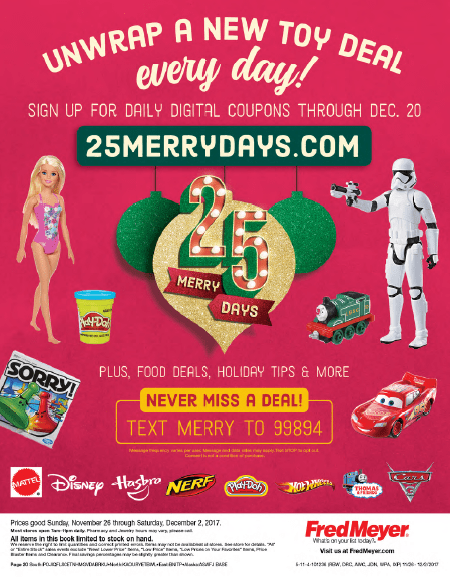 In addition to all the ways to save on toys at Fred Meyer that we mention above, they will also be offering special digital coupons each day, through December 20th!
To get these extra savings simply text MERRY to 39894.
These are awesome ways to save, because you can stack these digital coupons with the 10% off coupon above (and earn gas and rebate rewards too), so you will not want to miss out on these daily digital coupons. Be sure to sign up now.
Here are some highlights of some of our favorite deals in this years Fred Meyer Holiday Toy Wish Book: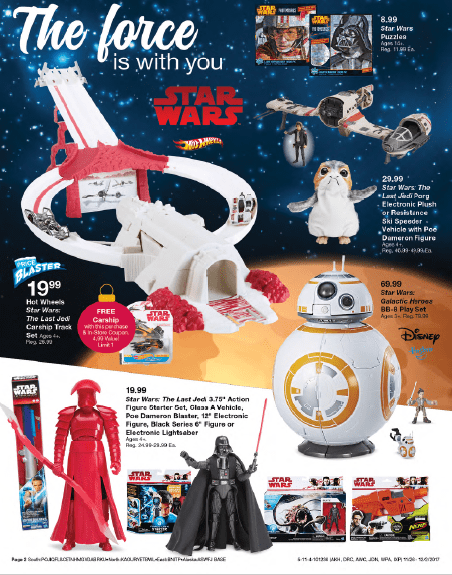 Here are some ideas for deals on Star Wars toys. 
The Last Jedi Choose Your Path Lightsaber is $39.99 on sale (Reg. $49.99)
Use 10% off coupon and pay $36!
Star Wars Galactic Heros BB Play Set $69.99 (reg. $79.99)
Use 10% off coupon and pay $63!
We went into our local Fred Meyer store, and found lots of Star Wars toys to choose from for this holiday season, if you have a Star Wars fan you are shopping for.
Here are some ideas on Lego toy deals with these savings:
Ninjago Green Ninja Mech Dragon is $39.99 on sale (Reg. $49.99)
Super Heroes Captain America Jet Pursuit, or Spider Man ATM Heist Battle – $15.99 (reg. $19.99)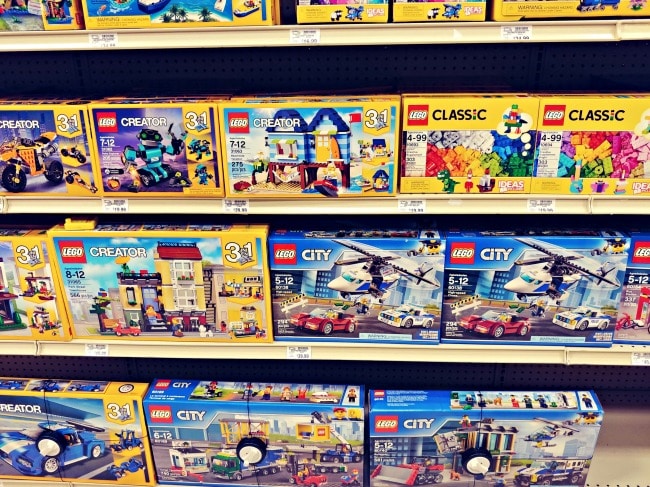 My local Fred Meyer always has an entire row stocked full of Lego toys. This included Lego City, Star Wars Legos, MegaBloks and more.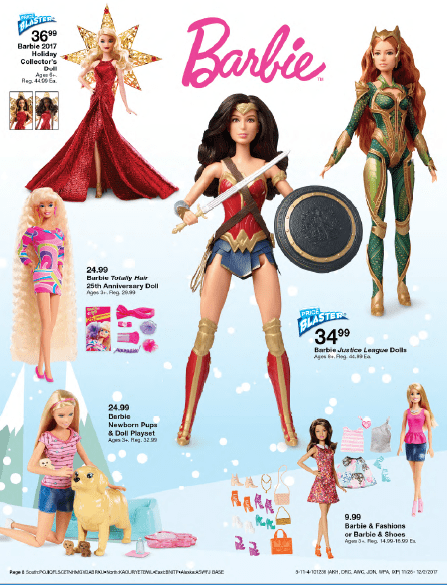 Here are some of our favorite picks from the deals on Barbies you will find this year: 
Barbie 2017 Holiday Collection Doll $36.99 on Price Blaster (Reg. $44.99)
Barbies $9.99 (Reg. $14.99 to $16.99)
Use 10% off coupon and pay $9!
Playville Winter Princess Dolls $7.99 (Reg. $14.99) on Price Blaster!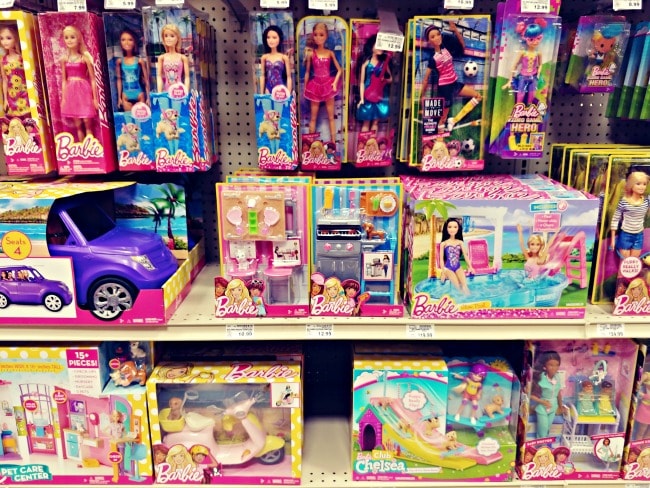 Like the Legos, my local Fred Meyer always has an entire row full of Barbies and Barbie toys if your shopping for someone who loves Barbies!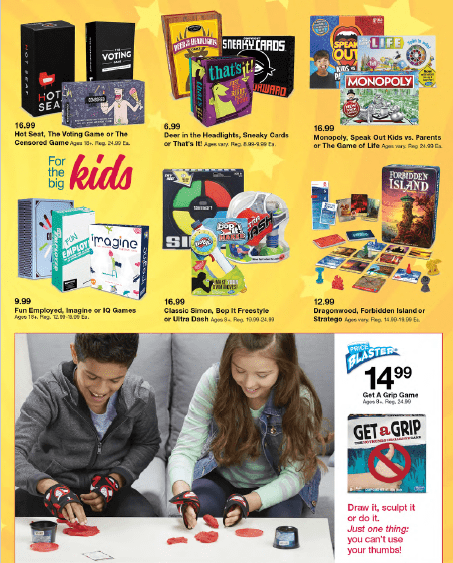 The board game deals are always my favorite each year. I love these ones, because generally speaking my kids do not grow out of board games, and they are something we can use as a family for family time together too. I have a game closet, where we collect board games, and I always wait until they go on sale to add to our game closet.
Here are some of my favorite deals on game boards right now: 
Get a Grip on Price Blaster for $14.99 (reg. $24.99)
Speak Out Kids Vs Parents – $16.99 (reg. $24.99)
Use 10% off coupon and pay $15.30!
Check out the full Fred Meyer Holiday Toy book here, for all the deals you can expect this holiday season.
Disclosure: This post was sponsored by Fred Meyer. All opinions are 100% my own. See our disclosure policy for more details.