Favorite Grilling Tips & Applegate Organic Beef Hot Dogs – Now available in Seattle & Portland areas
This post may contain affiliate links and I may be compensated for this post. Please read our disclosure policy here.
It's only a few days away until Labor Day weekend which is a very popular weekend for grilling, so we wanted to share some of our favorite tips for grilling. My favorite part about grilling is that my husband cooks – he loves to grill especially when we have friends over as the men end up hanging out by the grill talking. We also love how fast & easy grilling is for a quick meal!
Our favorite grilling tips:
Keep marinades on hand, as they go on sale. That way when meats go on sale, you always have something in the cupboard to dress it up on the grill, for a special meal.
Alternate rubs and marinades to really look like a master. 
Grill corn right in the husks. Saves foil, and gives the corn a wonderful grill flavor. The husks protect the corn, and its very easy to husk afterwards. To dress your grilled corn up, make Mexican style grilled corn, by adding a light spread of sour cream, a sprinkle of salt, pepper, chili powder and parmesean cheese. Yum!
Cut up veggies and toss with olive oil, coarse salt and coarse pepper for a quick, easy and tasty marinade. Then skewer the veggies and grill on the top rack for a tasty and nutritious addition to your meal.
For a kid friendly meal, toss your pizza on the grill. You can even take a short cut by grabbing a papa murphys pizza and grilling it.
Keep foil on hand to grill small veggies and fish. Just create a foil packet with your food in it, and toss on top of the grill to cook. Salmon withe salt, pepper, lemons and onions cooks really well on the grill with this method. Toss diced veggies with a little Italian dressing and cook this way too.
Throw a pack of brawts on the grill. Get a thin loaf of french bread and slice up in brawt sizes to use as the bun. Chop up onions, jalepenos, tomatoes, cheese and anything else your family would add as a topper. Let people serve themselves and add their favorite toppings.
Add some bbq ribs, teriyaki chicken wings and hot dogs to the grill and serve up as a smorgasborg for the family. – This is a great meal if you can't decide on what to make for dinner.  Simply smother the ribs in a premade bbq sauce, marinate the wings in teriyaki sauce and then throw all the meats on the grill. Add a green salad and rustic loaf of bread, and you have a meal fit for royalty, with little effort. This is one of my family favorites when we have company. Sometimes we will add shrimp skewers, or steaks. Best part is that there are always enough left overs for the next night, so I get a night off cooking!
Grill your desert. Add sliced pineapple, peaches or apples to the grill. Serve hot off the grill served with a scoop of vanilla ice cream.
The Great Organic Beef Hot Dogs by Applegate:
One of the most popular items to grill, especially for BBQ's where there will be lots of kids, are hot dogs!  For those of you who are looking for a healthier & organic option for hot dogs, we wanted to share about a new product that has come to the greater Seattle & Portland areas, which are
The Great Organic Beef Hot Dogs by Applegate
.  These are 100% organic, antibiotic & nitrite free, grass-fed organic beef hot dogs, which are now available in select stores across the Northwest. You can head to the
Applegate Facebook page
& click on the "Store Locator" page to find a store location near you (search for "The Great Organic Beef Hot Dogs"). I searched for my area & found that Fred Meyer is the store that carries these hot dogs in my area.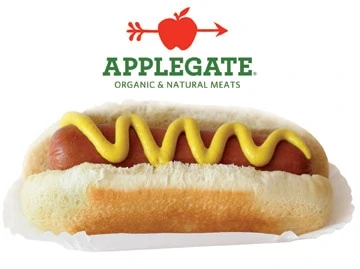 If you're new to Applegate Farms products, they have been around since 1987, providing high quality, natural & organic meat products. Their animals are fed a vegetarian diet with no animal by-products or antibiotic given to them to promote their growth at a faster rate. They use celery juice & sea salt to preserve their products the natural way, without using artificial nitrates or nitrites. The Great Organic Beef Hot Dogs from Applegate only have 8 grams of fat, too & high in omega-3 fatty acids. So, these hot dogs definitely sound like something to check out the next time you're at Fred Meyer or another store location that offers Applegate products if you're looking for a healthier alternative for hot dogs.
Make sure to follow Applegate  Farms on Twitter & check out their Facebook page to find out when more Applegate products will be making their way to the Northwest.
For more grilling tips & recipes, make sure to check out our Summer Grilling Pinterest board.
Disclosure: I wrote this blog post while participating in the SocialMoms and Applegate blogging program, as a compensated post. The opinions & ideas expressed here are my own. To read more posts on this topic, click here.