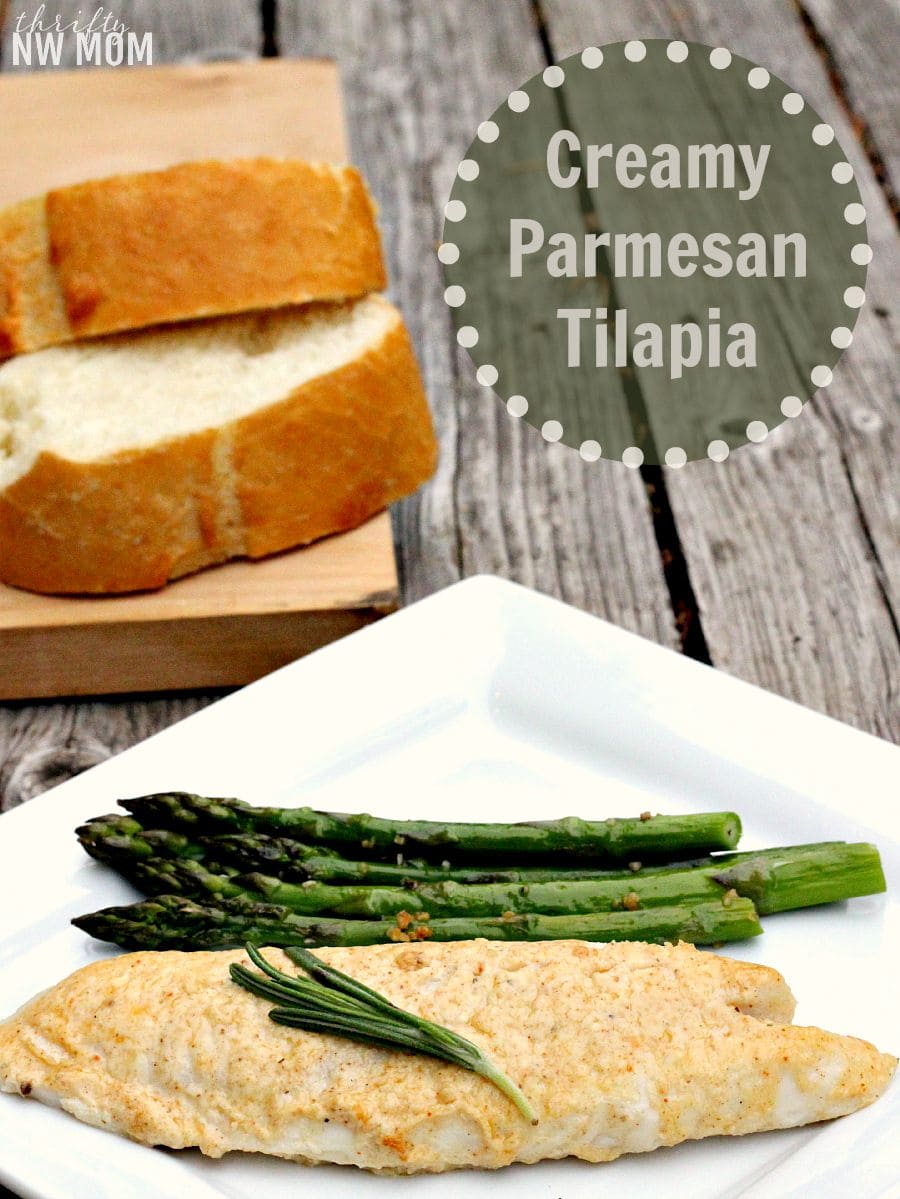 One of our favorite go-to meals on busy weeknights is a Creamy Parmesan Tilapia recipe. I love to try to have fish for dinner  once a week and tilapia is so light & flaky, that my girls love it too (and I have a pretty picky eater, so that's saying a lot).  The best part about this recipe is that it can be cooked quickly – prep & cook time is 15 minutes or less. It's a great meal to serve to guests, too. Plus, Tilapia is a very affordable fish to serve your family – we typically buy our tilapia at Costco in the individually packaged packets (it's $14.99 for 2 1/2 lbs).
With this Creamy Parmesan Tilapia recipe,  we typically use a couple typical spices to give it more flavor (onion powder, pepper, & basil), but then I learned about an option to have a much greater variety of fresh spices to add to the recipe to give it a lot more pizazz and saving some time. And what a difference it made once we tried the fresh blend of spices from RawSpiceBar with our favorite tilapia recipe. It definitely made the tilapia & other flavors in the recipe stand out more & packed in a lot more flavor into our favorite dish.  I loved the fact that we were able to take a recipe we love & give it even more of a boost of flavor, while still keeping it very affordable as we only used a little bit of the spice blend but it still injected it with nice flavor.
RawSpiceBar is a monthly subscription box service that delivers small batches of freshly ground spice blends by mail. They send 3-4 spice blends a month  and each month has a specific theme from a different region around the world.  Included with your monthly spices is a list of recipes to use with each of the spices, to get you started with inspiration on how to use these unique spice blends. For us, we enjoyed the opportunity to spice up (pun intended :) ) one of our favorite seafood recipes & bring out the flavors even more with a unique Chesapeake Bay Spice blend that we were sent.
RawSpiceBar is also an opportunity to try out some new recipes using the recipes that are sent along with the spice blends.  Typically, each packet will be used in a dish to serve 8-10 people (the spice blends weigh between 1-2 pounds) – that's so that you don't have waste as the spices are freshly ground, which means they will be the most fresh for the first 3 weeks & after that, you should store in an airtight container for up to several months to keep the most flavor & freshness.  However, with our tilapia recipe, we only used a teaspoon in the dish, since it's such a light fish – it didn't need a lot of the blend to really bring out the flavors. So, now we have ideas of more ways to use the spice blend & they list a number of other ways we can use this Chesapeake Bay Spice Blend that I would have never thought of such as on french fries, potato salad, popcorn, deviled eggs & much more!  Even though it's made to be a seafood blend, if you're not a fan of seafood & this arrived in your box, you'd still have a number of other fun ways to use the spice blend.
Benefits of Using RawSpiceBar Subscription Boxes::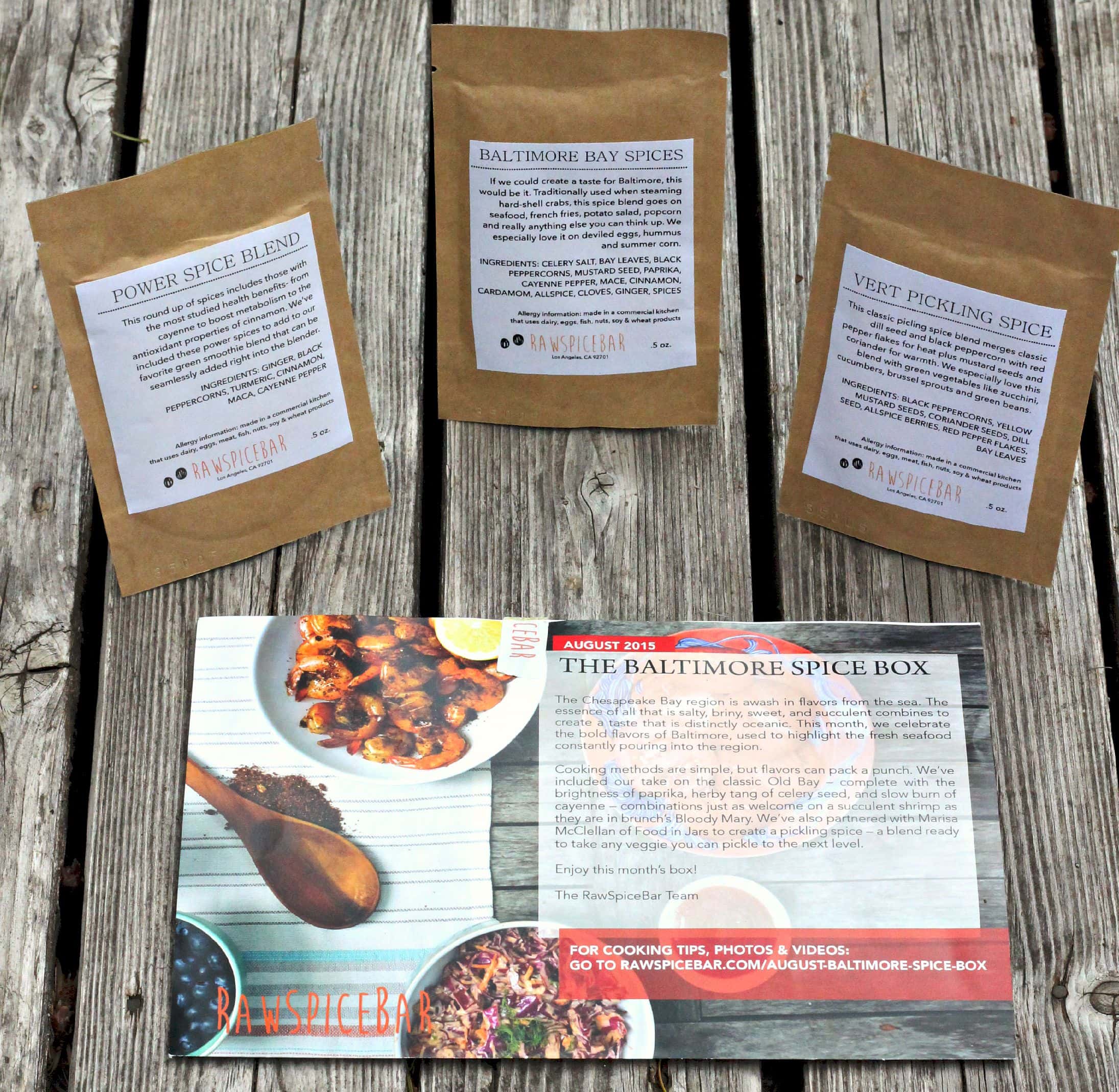 Variety – Each month you will receive 3-4 spice blends from a specific region around the world. I received 2 different boxes (they actually come in small brown mailer packets) and the August box was a Baltimore Spice Box and the September box was an Istanbul (Turkey) Spice Box. Some of the other spice boxes have been a Jamaican spice box, Peruvian Spice Box, Memphis Spice box & more! They work with different chefs with experience with the different cuisines & regions. They typically will provide at least one recipe that works for vegetarians or vegans as well.
Affordable -It is just $6/month to have the box of spices sent to you. Most of these spice blends have 10+ ingredients and some are quite unique, so it could be expensive to buy all of them individually, so this is an opportunity for you to try out some unique spices you may not otherwise try.  Spices can be quite marked up in the stores, although there are some options for purchasing spices in bulk bins where you buy what you need – however the difference is that you are not purchasing freshly ground spices in the bulk bins or the stores.
Quality – The spices are whole toasted, ground and blended typically just a few days – week before they ship the packages to you, so they are very fresh. Plus, they always try to purchase organic & fair trade spices whenever possible for their blends (unless it is cost-prohibitive or limited availability). There are no added fillers such as MSG, salt, rice, sugar or flour, but they use the whole spice to roast, grind & blend together whenever possible.
Perfect Gift Option for the Foodie in your Life – With Christmas coming up in a few months or considering birthday, Mothers/Fathers day gifts down the road, I think RawSpiceBar subscriptions make an excellent gift idea for the foodie in your life. I love that it is a gift that keeps on giving, as they get to be surprised each month with new, unique spices to provide them with new inspiration in cooking international cuisines or foods they may not typically try. My husband is one who gets enjoyment out of trying new things in the kitchen & loves to experiment with different spices & foods, so he was very excited about this subscription service & is planning the different ways he wants to use the spice blnds (he is using both the recipes that came with the box, as well as using those as a starting point for other ideas he has). He's already hinted to me that he'd love this as a birthday or Christmas gift (he has a fall birthday coming up).  He loves to travel & try unique foods, and he loves to cook, so this is just the type of thing that interests him, if you know of someone who also has similar interests – loves to try new cuisines & foods & loves to cook!
Here's what was in the two boxes I received as part of my review::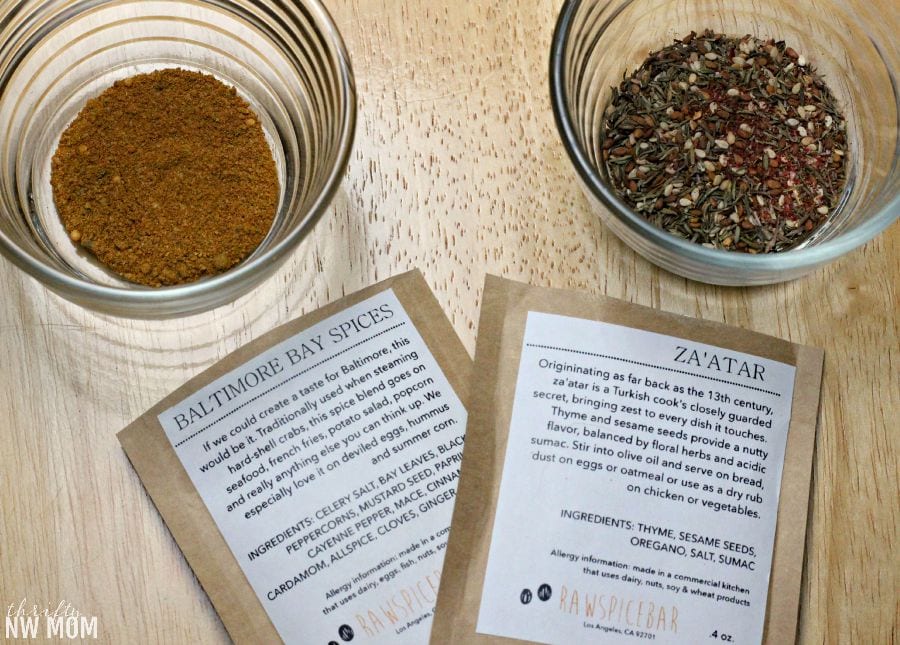 Baltimore Spice Box (August)::
Chesapeake Bay Spice Blend – for seafood, french fries, potato salad, popcorn topping & much more
Power Spice Blend – they provided a Detox Green Smoothie recipe to try
Vert Pickling Spice – they provided a pickled zucchini recipe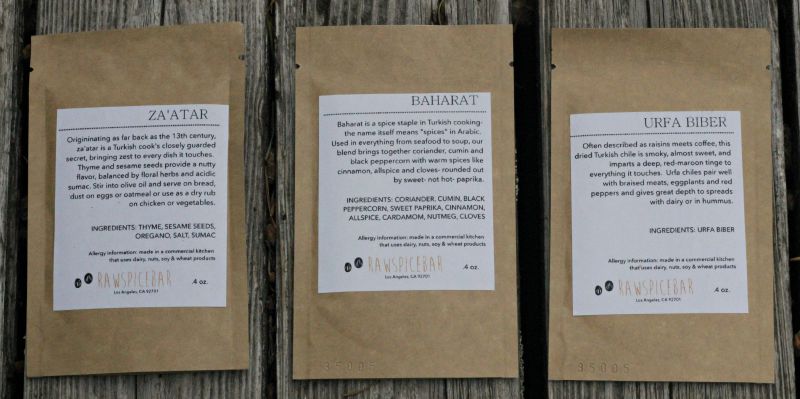 Istanbul Spice Box (September)::
Baharat Spice Blend – they provided a Baharat Lamb Pizza recipe)
Urfa Pepper Blend – with a Roasted Beef & Urfa Pepper Hummus recipe
Za'atar Spice Blend – with a Za'atar & Pita Crusted Cauliflower recipe
As you can see, these are definitely some gourmet & very unique blends with exotic recipes. The recipes are definitely ones that the adventurous cook will enjoy trying out – or coming up with their own recipes to use to change up a recipe with new flavors as we did with our tilapia recipe!
If you want to check out RawSpiceBar, you can sign up for the monthly subscription service for yourself or you can give a gift certificate to a friend to sign them up for the service! Plus, if you try it out & love it, you can invite your friends & earn a free box if a friend signs up for the service under you. You can sign up for a month at a time, 6 mos or 12 months (by signing up for 12 months, you'll get 1 month free), paying $66 for the year.
Print
Parmesan Tilapia Recipe + Raw Spice Bar
---
Prep Time:

5 mins

Cook Time:

10 mins

Total Time:

15 mins
Ingredients
4

–

6

tilapia fillets

1/4 cup

butter (softened)

3 tbsp

lemon juice

3 tbsp

mayonnaise

1/4 cup

Parmesan cheese

1/4 tsp

dried basil

1/4 tsp

black pepper

1/8 tsp

onion powder
(I used a teaspoon of RawSpiceBar's Bay Spice Blend in place of the basil, black pepper & onion powder)
---
Instructions
Preheat broiler for your oven
Mix together butter, lemon juice, mayo, and parmesan cheese.
Add in the basil, pepper & onion powder (I used the Bay Spice Blend from RawSpiceBar to season)
Mix it all together well.
Line a pan or cooking sheet with aluminum foil or grease a broiling pan.
Place tilapia fillets on the pan/cooking sheet.
Broil for 2-3 minutes (should only be a couple inches away from heat)
Flip the tilapia fillets over & broil them again for 2-3 more minutes.
Remove them from the oven & add the Parmesan/herb cheese mixture on top.
Broil the tilapia for 2-3 more minutes and until topping is browned.
Watch carefully as you don't want to overcook the tilapia – it should be flaky when you cut it.
Disclosure: This post was sponsored by RawSpiceBar and I did receive two monthly subscription boxes to facilitate my review of the product.