We are having fun with our Christmas Advent Activities as we  celebrate the 25 Days of Christmas with our kids and according to them, their favorite activity so far is decorating (and eating) Christmas cones! This is such a fun activity regardless of the age of your child and super simple as most of these items you probably already have on hand from Christmas treats! It would make for a fun Christmas Eve treat before bedtime as well!
Ingredients:
Sugar Cones
Frosting (packaged or homemade)
Green food coloring for frosting (or use natural food coloring to make frosting green)
Favorite candies to decorate the tree – we used m&ms, gum drops, & sprinkles but you could use anything & everything you want to make it creative
Pull-apart licorice (if you want to use as garland on your tree). We originally bought regular licorice as you can see on our tray, but realized we didn't have enough cones, so my hubby went out & got the pull-apart licorice which worked much better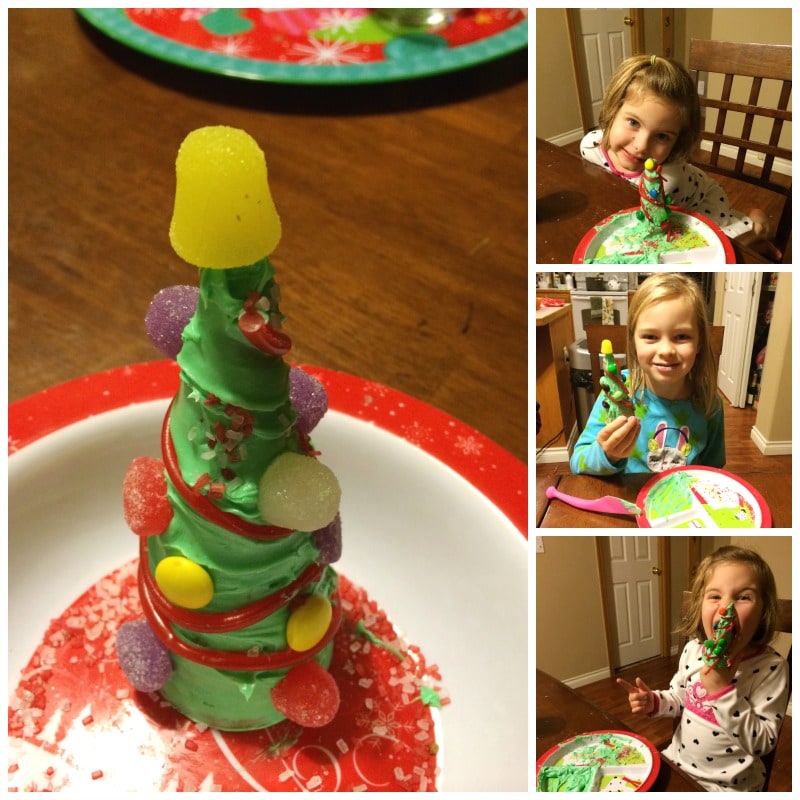 This is a simple treat where you just set out all the candies & frosting and let kids decorate their own Christmas Tree Cones! I gave our girls plastic knives & they had fun putting the frosting on first & then adding whatever candies & licorice they wanted on their tree. After they were done, they had fun devouring their Christmas tree cones!
For more information about the 25 Days of Christmas & Christmas Advent activities, check out these posts::
Let us know if you try this & if you have any other variations to add to it! We'd love to see your pictures, too!