BabyLegs.com – 75% off your purchase of $75 or more!
This post may contain affiliate links and I may be compensated for this post. Please read our disclosure policy here.
BabyLegs is back with their super popular 75% off sale sitewide when you spend $75 or more on your purchase. You can choose any style to include in your order (excludes gift cards & VIP memberships) Just use the coupon code: FALL75OFF at checkout when your order is $75 or more. You will pay a flat rate of $5.99 shipping. This sale ends on October 24, 2012.
BabyLegs not only offers fun, unique leg warmers (including organic leg warmers), they also have a number of  sets of baby socks you could buy, too.  You might want to think about going in with a friend too, if you think you'd only need half the amount of Baby Legs but want to get the best deal with the 75% off coupon code.
Here's a scenario to get 6 pairs of BabyLegs for $4.12/each:
Buy 5 pairs of BabyLegs leg warmers or baby socks – $12/ea = $60
Buy 1 pair of Baby Legs leg warmers – $15 
Your total will be $75 before the coupon code
Use coupon code: FALL75OFF to discount it to 75% off (- $56.25 discount) = $18.75
Shipping- flat rate of $5.99
Final Price:  $24.74 for 6 pairs of baby legs or $4.12/ea shipped!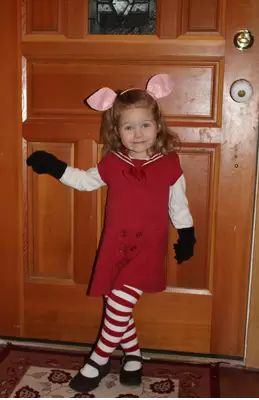 Baby Legs red & white striped leg warmers came in handy for my little gal's Olivia the Pig costume last Halloween
We've taken advantage of this 75% sale several times. Even though my girls are past the stage of wearing these as babies, they still wear them under their skirts as leggings or on their arms as an extra layer in the cool mornings or evenings of our Northwest summers. I just like keeping a couple pairs in the car to have on hand in case we need a little light layer of warmth.