American Girl Free Events in Stores – July, August & September
Washington DC Store we visited in July
If you have a little girl who loves American Girl dolls or just loves dolls in general, you might want to check out the FREE American Girl events that are taking place this summer and early fall at their stores. These events are taking place at American Girl stores around the country – so make sure to check out the website to see the full schedule. I'm just going to list the events that will be taking place at the Seattle store for those who are local here in the Northwest (these are only the dates for the Seattle location – so make sure to check out the dates for your local store).
It does say that these events are open to girls ages 8 & up (except the Bitty Babies events), but I'm not sure how strict they are about those ages. Let us know if you've been to one of these events before & what your experience was like.
FREE American Girl Events at the Seattle Store:
 For Girls ages 8 & up:
Summer Author Tour: Meet Dr Cara Natterson (for ages 10 & up) – Meet the author of "The Care and Keeping of You 2", the popular American Girl  book for older girls to learn about their bodies. July 23rd (in Seattle)
Saige's Scavenger Hunt – go on a scavenger hunt around the store to learn fun facts about the 2013 American Girl doll of the year. Girls will also get to take home a free American Girl poster. in July & August
Summer Reading Bookmark Craft – Make & decorate a pretty bookmark inspired by American Girl activity books. Dates in July & August
Saige's Art Event with Crayola Model Magic – Create a mini hot air balloon sculpture using Crayola Model Magic. Event takes place on dates in July & August.
Grandparents Day Card Craft – Girls can decorate their own handmade card & envelope & add a special message inside for their grandparent. All events held on September 8th, 2013, across the country.
Saige's Horse Collage Craft – Create a paper collage inspired by Saige's love of horses & art. Held on September 13 & 27th at the Seattle store
There are also additional fun events you can find on the American Girl website which will have a cost – we've just included the FREE events. 
For Preschoolers:
 Bitty Baby's Story Time – Hear a reading from "Bitty Baby & Me" , which is the first title in a new picture book collection from American Girl. For ages 3 & up. Event will be held in late August & September in Seattle (as well as locations around the country)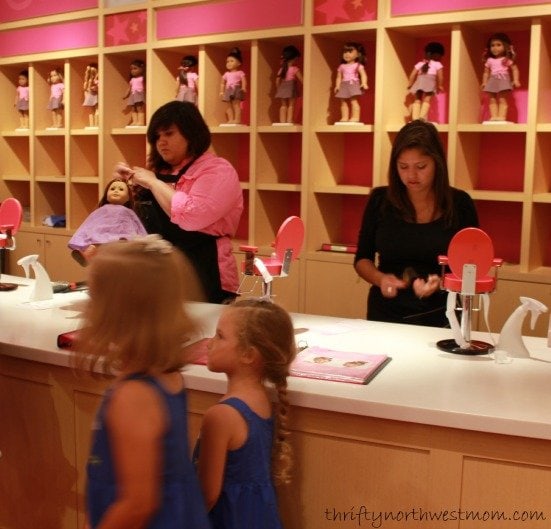 Hair Salon for dolls
We went on our first visit to an American Girl store this month on our visit to Washington, DC. My girls had such a great time seeing all the dolls and all the accessories. The fun part about this store is that you can bring your doll with you, which I think would be fine for these free events as well, so you can get some fun photo ops with your girl & her doll. Just be warned that your little girl is going to want everything – so we came prepared with money that my older daughter had earned before our trip & she could use that to buy anything she wanted.  They also have a cafe where you can have a meal with your doll and they even have a special seat for the dolls to sit in, if you want to make that part of your excursion for the day.
Don't forget to check out our ideas for ways to save on clothing, accessories & more for American Girl Dolls! We'd love to hear your tips, too, if you have them to share!