Wii U Console Deal with Super Mario Maker Deluxe Set – $299.99!! Cyber Monday Deal Live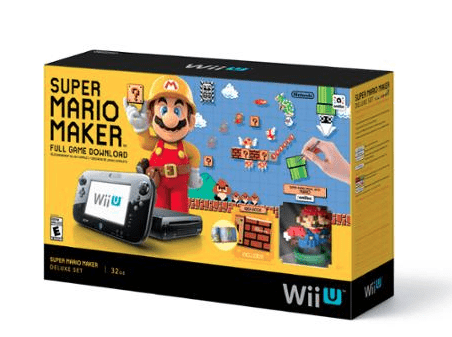 Nintendo Wii U Super Mario Maker Console Deluxe Set –
Walmart Exclusive
Walmart has gone live with their Wii U Console Deal with Super Mario Maker Deluxe Set for just $299.99.  This set is exclusive to Walmart for the Mario Maker game & it's a Cyber Monday *HOT* Price!
You can find a comparison of all the Wii U deals in our Wii U Guide.
Here's what it includes::
It comes with a high-speed HDMI cable so you are able to connect rapidly. It also comes with an AC adapter, the GamePad, a sensor bar, the cradle, a stand and a console.
It also comes with a full game download of Super Mario Maker, an idea book and the 30th Anniversary Mario Modern Color Amiibo. This truly is a complete package for all of your needs. Enjoy some gaming and time with friends with the Nintendo Wii U Super Mario Maker Console Deluxe Set.

Nintendo Wii U Super Mario Maker Console Deluxe Set, Walmart Exclusive:
Black Wii U console
Super Mario maker full game download
Super Mario Bros. 30th anniversary Mario modern color Amiibo figure
Super Mario maker idea book
Wii U GamePad
Wii U AC adapter
Wii U GamePad AC adapter
High-speed HDMI cable
Super Mario maker deluxe set includes sensor bar
Wii U GamePad cradle
Wii U GamePad stand
Wii U console stand