The Value of Using Rainchecks
This post may contain affiliate links and I may be compensated for this post. Please read our disclosure policy here.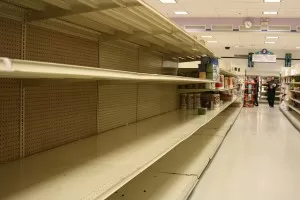 What is a Rain Check?
If you are shopping and the store has no more stock of an item on a shelf you can ask them to issue you a Rain Check. This Rain Check will guarantee the store will honor the sale price of that item the next time it is in stock. Note that most Rain Checks expire 30 days after you receive them so I hang onto mine in the same area of my binder as the Register Rewards, +UP Rewards, and Catalinas so I know to keep an eye on them and not let them expire on me.
When is a good time to ask for a Rain Check?
Usually  the times I ask for a Rain Check is when I go to a store all excited to take advantage of a deal only to be heart broken and find there are no more in stock. But there are other times. Sometimes I may be the one to take the very last of an item off the shelf. I pick it up and think (sigh) I really was hoping to grab three of these package of raisins. So then when I am checking out I ask them can I get a Rain Check for two more packages of raisins?
What does a Rain Check look like?
This piece of paper will have all of the info you see below that I have for a Rain Check I received in December. Make sure these areas are filled out:
Name of the item
Sale Price and Regular Price
Quantity you would like of this item
Today's date
Store Manager Name
You may notice the sale price and regular price are not filled out on mine. You will see why in the second picture. The next best bet which I actually prefer is to have them staple the item from the current ad.
Here is the sale the store was having. It was for $3.99 for a box of Pot of Gold Hershey's then you get a $2 +UP reward to use later. By having them clip the actual ad and staple it to the Rain Check it eliminates the need to have to explain how this sale worked. With a deal such as this it would have been difficult to write out.
How much should I put for the Quantity?
The first thing I would look at is there a Limit? A lot of times sales will limit you to a certain number to make it fair to all of the other shoppers. If there is a limit that is usually the number I put in that spot. If not I use my rule of thumb which is that sales seem to run in 12 week cycles. How many of these items does my family need for the next 12 weeks. For the sale above you may notice I picked five. I felt like this was a fair number for my family for three months. The answer to that question is only one you can answer.
(but let's be fair and not clear the shelves of that store until the next stock day)
Plus, something to also consider is any coupons you may be wanting to stack with this deal to make it sweeter. Such as the deal above for the Pot of Gold deal. I also had a coupon for $1 off which would have made this deal only $1 out of pocket expense (yep I was bummed to see they didn't have any more in stock). I have to think am I still willing to pay $1.99 for this item if it comes in AFTER my coupon expires. If not I may not want as many as I had previously thought. Like I said this is something you have to decide according to your budget.
Sometimes you can have what is called the Perfect Couponing Storm. You can have a Rain Check for an item at a sale price only to have a coupon in the next two weeks come out to make the deal even sweeter. Who knows, crazier things have happened!
Even if that doesn't happen I highly recommend consider shopping with Rain Checks. I have yet to run across a cashier that was not more than happy to issue one to me.
I would love to hear your experiences with shopping with Rain Checks. Or if you have any questions that I may not have answered regarding this subject, please feel free to leave them in the comment section and I will do my best to answer your questions.
Abby is the author of the blog Steals Plus Deals (formerly known as Steals & Deals – just a slight change in name).  Head on over there & you'll see a  new, fun retro-chic look for Steals Plus Deals! Abby is a stay-at-home mom of three children & she lives in the Seattle-Tacoma area. However, her blog focuses on deals for people around the country.  She scours the web to find the best online deals from sample sites, daily deal sites & more!