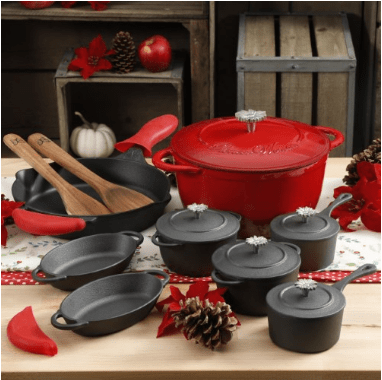 If you know someone that loves to cook with cast iron, this is a pretty deal. Right now you can get this The Pioneer Woman Timeless 18-Piece Red Cast Iron Essential Set for $79! That is down from the normal price of $149.
They also have it available for the same price in Turquoise.
Product Details:
Consisting of every kitchen basic, this set includes a 2pc 5QT gradient enamel cast iron dutch oven, 1pc 10" preseason plus cast iron round skillet, 2pc mini preseason plus oval au gratins, 4pc mini preseason casserole, 4pc mini preseason sauce pan, 2pc silicone side handles, 1pc silicone long handle sleeve and 2pc wooden tools. Cookware is available in red and turquoise. Please see care and use manual included with the set for care instructions for each item.