#StressLess2BMyBest – 5 Tips To Relieve Stress on a Budget!
This post may contain affiliate links and I may be compensated for this post. Please read our disclosure policy here.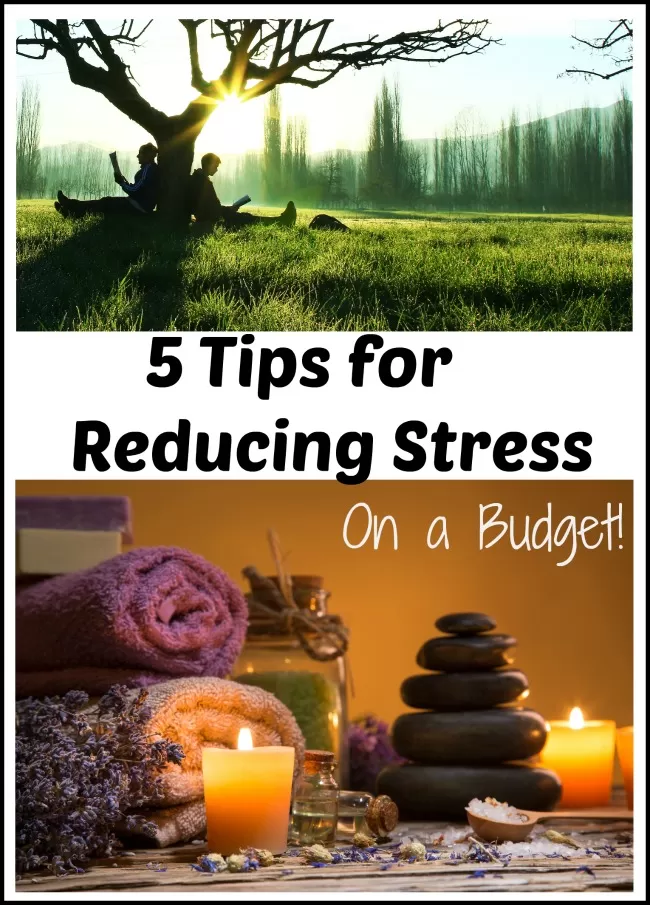 This blog post is part of a paid SocialMoms and RESCUE blogging program. The opinions and ideas expressed here are my own.
Stress is something that we all deal with. We know that moms can be particularly susceptible as we are generally focused on taking care of everyone else.  Add to that the fact that many stress relievers often recommended can be budget busters (i.e. expensive spa visits, etc.), and many moms just keep pushing through each day. We wanted to encourage you moms (and anyone else dealing with stress), that there are some fun and affordable things you can do to take care of yourself and melt some of that stress off your shoulders.
Top 5 Ways to Relieve Stress on a Budget:
1) The best way to feel better quick is to get enough sleep.
This can be difficult, especially for moms with young kids, so here are some ideas on how to work a little more rest into your schedule:
Ask for nap time as a gift. This might sound a little strange, but I have talked to many moms (and have done this myself) who have asked their husband to take the kids out for Mothers Day and give mom time to rest. I have done the same thing on a birthday in the past. A few holidays a year are not going to get you all caught up on your sleep, but it is a good way to let family and friends know how much you value a little nap here and there, and hopefully they will offer more often.
Set up a babysitting club with other moms who have kids your age. This might work particularly well for single moms, who may not have someone to watch the kids. The trick here is going to be to use that time to get extra rest, and not run those errands, etc.
If you have small kids, consider bringing a "Mothers Helper" in for an hour or two a week to get caught up on sleep. I Mothers Helper is often a young person (tween or teen) who can help out around the house. You will still be there, so you can feel ok about having someone watch or play with the kids while you sleep (and they are often very affordable!).
RESCUE has a sleep product (and BOGO free coupon too) if you need a little help getting rested!
2) It's the little things that matter.
You don't have to run away for a full girls weekend to spoil yourself. There are things that I know I can do to relax myself, that don't require alot of time or money, and so I just make a conscious effort to do those if I feel like my stress level might be starting to creep up. Figure out what those things are for you, and be sure to partake in them regularly!
Some ideas include:
Soak in a hot bubble bath
Go somewhere quiet, and take 20 minutes to read a book
Take a walk or run (be sure to pay attention to the small things around you, like a beautiful garden, or your favorite tree, the laugh of your kids, etc)
Drink a glass of wine while you are cooking dinner, or brew your favorite tea while reading a book, or any other beverage that makes you feel like a grown up!
Burn your favorite candle, and relax to a quiet candle lit evening after you have put the kids down
Have friends over on a weeknight evening
Skip cooking dinner, and order a pizza and rent a movie
3) Laughter is still the best medicine.
Here are a couple of ideas on how you can get to "laughing it up, and taking stress down a notch" on a budget:
Plan a family game night with games that can really get folks laughing (and moving, is another plus)! Games like Charades, and Who Am I can get folks acting silly and having fun.
Head to a local comedy show. Many comedy parlors will offer up free tickets (just pay service fees) or you can often find cheap tickets through local discount ticket retailers like Goldstar. We have a local show called comedy sports, which is an impromptu comedy show with lots of audience interaction, and you can often get tickets for under $10!
Rent a couple of comedies, and spend the night at home relaxing and having a few laughs!
4) Physical Touch will help you lift those spirits!
Give out hugs freely, kiss your spouse goodbye in the morning, shake hands with people you meet, or a light touch on the shoulder or pat on the back for a friend you are hanging out with.
There is something about being part of a community that helps melt stress away in many situations. Things like getting involved in a local church group, or women's group for example, can help you connect with others and relieve stress. Even better though is that human touch that we all need from each other. Hug friends and family often. Not only will it help you feel better, but it will be good for their soul too!
5) Ok, here are the tips most of you have probably been waiting for. Spoil yourself every now and then!
Get a massage, or your hair done in a salon, or a make-over. Turn your phone off while your out if you can. Here are some tips on how to do these kinds of activities without breaking the bank:
Plan a salon party with friends. Do you have a friend who is good at hair? One who can do makeup well? One who does not mind polishing people's toes! Gather them all together for a night of fun, where you can exchange services and pamper each other. Or make it a monthly thing, where each person hosts and shares their specialty that month.
Utilize local beauty schools. You can often get super discounts on hair services, massages, and other spa services by going to beauty schools vs. businesses.
Check deal sites like Groupon and Living Social for discounts on salon offerings. Many times you can save around 50% off when you purchase these deal vouchers first.
Barter services with someone who offers massages or salon services. Do you grow your own tomatoes or have some carpentry or computer skills, etc. that someone else can use? See if you can find someone who is willing to trade their hair cutting, nail art or massage talents for yours! There are many sites online these days that can help facilitate barter situations (just be careful and do your research up front to make sure they are legitimate). Even better, get a friend to connect you with someone who can offer those things!
Sign up for your favorite salon's emails or follow them on social media. I often get email offers for free services if I book a service, etc. that can really help you save! I then wait for these special promotions before booking. Some salons even have loyalty programs, where you can earn free services after so many visits, so be sure to check into that too!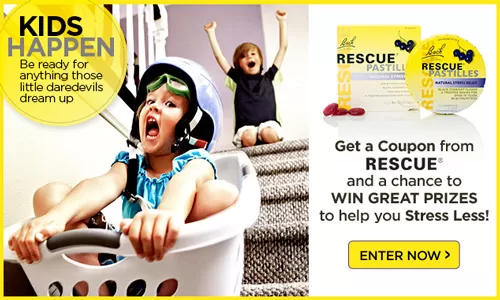 Click on the "Enter Now" button above, to get your coupon and enter to win prizes #StressLess2BMyBest!
In addition to those 5 money saving ideas, RESCUE is offering a Buy One Get One Free coupon for their line of Stress Less product line!
Be sure to visit the RESCUE website here and download YOUR BOGO free coupon to try RESCUE for yourself , PLUS you will be automatically entered into the #StressLess2BMyBest sweepstakes on the coupon page for a chance to win great prizes!
Now it's your turn. We would love to hear what your favorite ways to reduce stress on a budget are?
Don't forget to stop by the Rescue Facebook page and follow them there too!
"This blog post is part of a paid SocialMoms and RESCUE blogging program. The opinions and ideas expressed here are my own." Please note that FTC blogger guidelines recommend posting the disclosure clearly at the top and at the end of sponsored blog posts. Disclosure Guidelines: https://ftc.gov/os/2013/03/130312dotcomdisclosures.pdf