Skywalker Trampolines Jump N' Dunk Trampoline with Safety Enclosure and Basketball Hoop, 8-Feet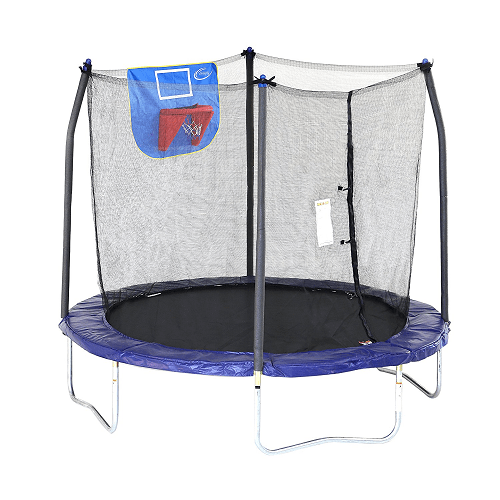 Skywalker Trampolines Jump N' Dunk Trampoline
with Safety Enclosure and Basketball Hoop, 8-Feet
Looking to get a trampoline? Here is a deal on Amazon you may want to check out. They are offering the Skywalker Trampolines Jump N' Dunk Trampoline with Safety Enclosure and Basketball Hoop, 8-Feet!
Product Details:
Although not required by law, all Skywalker Trampolines products are thoroughly tested for safety and durability, and are found to meet or exceed all standards put forth by the American Society for Testing and Materials (ASTM)
Safety is our #1 priority, and our patented no-gap enclosure design eliminates dangerous gaps between the enclosure net and the jump surface (Patent #RE45, 182). By attaching the net at each spring, kids are safe from hazardous pinch points and openings
Skywalker Trampolines stands behind our quality guarantee, with a warranty that exceeds those of top competitors. The trampoline frame features a 3-year limited warranty, and all other materials are covered by a 1-year limited warranty.
Skywalker Trampolines frames feature reinforced T-sockets at the leg and enclosure joint, increasing frame stability and preventing structural twisting. The T-sockets are made of rust-resistant galvanized steel, extending the life of your trampoline.
72 tightly-coiled springs, 5.5″ long are located around the outside of the enclosure net for added safety. Each spring is made of steel, and features a rust-resistant coating for a longer life
Our enclosure net features a dual zipper and latch clip closure system to keep kids safely inside the enclosure system while jumping.
This enclosure system features upright foam padded poles for added stability. Each pole is angled at the top to keep the enclosure net away from the poles for added safety while jumping. Each pole is topped with a pole cap for secure net attachment.
Basketball hoop has breakaway rim with hook-and-loop attachment, 2 foam basketballs included
*Remember that Amazon prices are subject to change at any time. Make sure the price is current before you purchase the item. 
 More Ways to Save at Amazon: