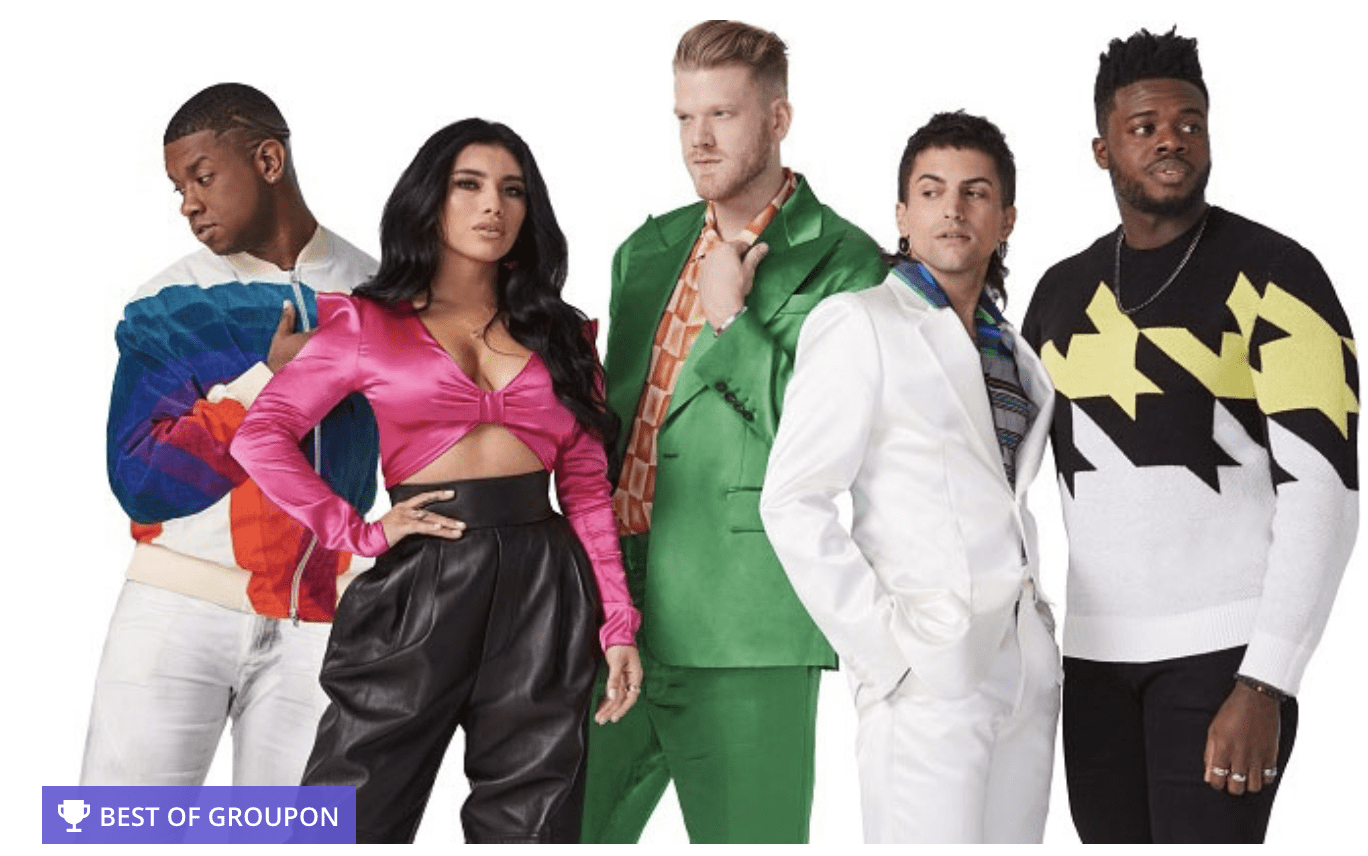 Pentatonix Discount Tickets – 50% off
If you love the a capella group, Pentatonix, we have found some awesome discounted tickets for their upcoming Northwest show in July, 2019. There are discount tickets for 50% off the regular price right now!
The $20 tickets (reg. $40) are sold out, but there are still some of the $30 (reg. $60), $40 (reg. $80) and $65 (reg. $103) ticket options available . The seating level will depend on the type of ticket you choose to purchase. There will be a service fee added to your tickets (up to $10), but it still is a good deal if your trying to get your hands on these tickets. We did share a previous offer from Groupon, and that one sold out, so I would check this one out soon if you are interested in going.
This is a 3 time Grammy winning a capella group that I've heard put on a fabulous show. They are also on tour with special guest, Rachel Platten.
The show is on Wednesday, July 3rd, at 7:30pm, in he Tacoma Dome (doors open at 6:30).
How you know them: This three-time Grammy Award-winning a cappella group from Arlington, Texas has released nine albums that have cracked the Top 10 of the Billboard 200 chart.
Their hits: They've earned platinum certification for "Mary, Did You Know" and "Hallelujah," as well as gold certification for "Can't Sleep Love."
Their online presence: Their YouTube channel has more than 15.5 million subscribers, and their videos have amassed more than 3.4 billion views.
Their latest albums: PTX Presents: Top Pop, Vol. 1 features a cappella renditions of 11 modern pop hits including Camila Cabello's "Havana." The group also released their fourth holiday album, Christmas Is Here!, featuring a cover of "Making Christmas" from The Nightmare Before Christmas.
Rachel Platten
How you know her: as the power-pop singer-songwriter from Massachusetts who documented her struggles with breaking into the music industry in her first smash hit, 2015's "Fight Song," from her major-label debut album, Wildfire.
How that paid off: Her vulnerability struck a chord with listeners and critics alike, earning her a Billboard Top 10 hit and a Daytime Emmy Award for a live performance of the song on Good Morning America.
Her latest: 2017's Waves, her fourth studio album featuring the single "Broken Glass."