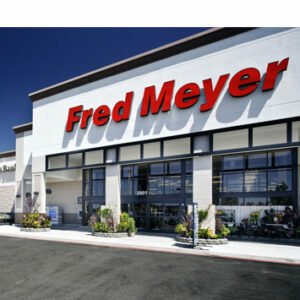 We're back with Fred Meyer deals this week – there were some unexpected issues that happened last week, so I wasn't able to get them done, but we're back to normal now!  Here are this week's Fred Meyer weekly deals & coupon matchups through February 4th. Make sure to check the store ad yourself & use the Thrifty NW Mom Coupon Database if there are specific sale items that you'd like to match with a coupon.
You can use E-coupons paired with Fred Meyer store coupons. So, make sure to load E-coupons from these sites to your Fred Meyer card before you go: Shortcuts.com, Cellfire.com & FredMeyer.com. You can no longer pair E-coupons with manufacturer coupons, though.
Fred Meyer Coupon Policy:
Fred Meyer has their coupon policy online, which means that you can print it off & stash it away in your coupon binder. One important change to their coupon policy recently – you can use Catalina coupons from other stores at Fred Meyer! Another recent change is that only 2 internet coupons per manufacturer, per customer, per day will be accepted.
*** These are our favorite deals of the week!
Produce:
Anjou or Bosc Pears- $.78/lb ***
Organic Navel Oranges- $.99/lb
Large Hass Avocados- $1/ea
Colored Bell Peppers or English Cucumbers- $1.25/ea
Organic Braeburn or Cameo Apples- $1.28/lb
Wonderful Pistachios- $2.99/ea
Use $1/1 printable coupon
Final Price: $1.99
Thanks Frugal Chic Living! 
Personal Watermelon- $3/ea
Dairy:
Fred Meyer Yogurt- $.33/ea with in-ad coupon (Limit 9)***
Fred Meyer Cottage Cheese or Sour Cream (Select Varieties, 16 oz)- $1.25/ea
Kroger Large Eggs (Grade AA, 12-count)- $1.33/ea with in-ad coupon (Limit 3) ***
Kroger Cheese (Select Varieties, 6-8 oz Shredded, Bar or Slices)- 3 for $5, $1.66/ea with in-ad coupon (Limit 3) ***
Simple Truth Organic Milk (Select Varieties, Half Gallon)- $2.68/ea
Baileys Coffee Creamer (Select Varieties, 32 oz)- $3.50/ea
Use $1/2 Baileys Coffee Creamer Coupon, Blinkie Coupon
Final Price: $3/ea, When You Buy 2
Meat:
Foster Farms Split Chicken Breasts- $1.19/lb
Foster Farms Ground Turkey (Fresh, 20 oz, 93% lean, 7% Fat)- $2.99/ea with in-ad coupon (Limit 4) ***
Use $1/1 coupon from 10/2 SmartSource insert
Final Price: $1.99 for the package or $1.59/lb 
Extra Lean Ground Beef- $3.49/lb
Boneless Chuck Pot Roast- $3.99/lb
Boneless Top Round London Broil- $3.99/lb
Johnsonville Pork Brats or Italian Sausage (Select varieties, 19 oz)- $3.99/ea
Kroger Medium Cooked Shrimp (51-60 ct per lb, Sold Frozen in a 1 lb Bag or Bulk)- $5.99/lb with in-ad coupon (Limit 4)
Use $1.50/1 Kroger Frozen, Bagged Shrimp, Fully Cooked or Raw, in the seafood department Kroger eCoupon
Final Price: $4.49/lb
Boneless Flat Iron Steak- $5.99/lb
Deli:
Boneless Chicken Wings- $.25/ea
Stonemill Gourmet Dip- $3.99/ea
Sub Sandwiches- $5/ft
Private Selection Summer Sausage or Brie (8-10 oz)- $5.49/ea
BBQ Baked or Sweet Glazed Chicken (8 piece)- $5.99/ea
Wholesome@Home Pizza- $6.99/ea
Jennie-O Turkey Breast- $7.49/lb (Substituted with Private Selection Oven Roast or Pepper Turkey at stores featuring Boar's Head)
Spinach Dip Bowl or Snack Cheese Platter- $12.99/ea
Hormel Party Tray (Select varieties, 1.75 lb)- $13.99/ea
Assorted Wrap Tray- $24.99/ea
Meat and Cheese Tray- $34.99/ea
Fried Chicken (50 piece)- $39.98/ea
Fried Chicken (100 piece)- $79.96/ea
Other Grocery Deals:
Butterfinger, 100 Grand or Nestlé Crunch Candy (8 pk)- $.88/ea with in-ad coupon (Limit 2)***
Use $1/2 Nestle Crunch or Butterfinger Hearts Coupon, 8-10 oz (if included)
Final Price: $0.33/ea
Thanks, Fabulessly Frugal!
Farmhouse Rice or Pasta Sides (Select Varieties, 4-6.2 oz)- $1/ea
Ocean Spray Cranberry Blends Juice Cocktail, 100% or Light (Select Varieties, 4 ct or 64 oz)- $1.88/ea with in-ad coupon (Limit 4)
Kashi TLC or Heart to Heart Crackers (Select Varieties, 7.9-9 oz)- $3/ea
Pepsi Soft Drinks (Select Varieties, 24 pk, 12 oz Cans)- 2 for $11, $5.50/ea with in-ad coupon (Limit $3 off Total)
Household/Health & Beauty Deals:
 Friskies Cat Food- 10 for $4, $.40/ea ***
Use $0.50/1 Purina Friskies Indoor or Friskies Plus Adult Cat Food Cans Coupon, 1-12 ct 1/15 Smart Source Insert (if included in sale)
Final Price: FREE, When You Buy 1 Can at $.40/ea
VO5 Shampoo & Conditioner- $.79/ea with in-ad coupon (Limit 2)
Fred Meyer Home Sense Bathroom Tissue (Select Varieties, 12 Double Rolls)- 2 for $7, $3.50/ea with in-ad coupon (Limit 2)
Depend or Poise (Select Varieties, Underwear 14-20 ct, Pads 30-72 ct Excludes Super Underwear 26-30 ct)- $10.99/ea with in-ad coupon (Limit 2)
Buy 10 Save $5 Promotion Items:
When you buy 10 items from this promotion you will automatically save $5. Prices listed are after the promotion has been applied (-$.50/per item).
Lipton Naturals Tea or Propel Fitness Water (Select Varieties, 20 oz-24 oz)- $.49/ea
Mom's Best Naturals Cereal (12-16.5 oz) – $.99 *** Stock-up Price!
Use $1/2 printable coupon
Final Price: As low as $.49/ea 

Honest Tea (16.9 oz)- $.79/ea
Ragu Pasta Sauce (16-26 oz) – $1.39 ***
Use $.50/1 coupon from 1/29 Red Plum insert
Final Price: $.89/ea
Thanks This Beautiful Frugal Life! 
Pepperidge Farm Goldfish Crackers – $.99 ***
Post Cereal (Select Varieties, 13-25 oz Quaker Chewy Granola Bars Select Varieties, 6-10 ct)- $1.99/ea***
Use $1/ 1 Post Honey Bunches of Oats Cereal, 13 oz+ Coupon
OR use $0.55/1 Post Pebbles Cereal Coupon 1/15 Smart Source Insert (if included in sale)
Final Price: As Low As $.99/ea
Pepsi Soft Drinks 2 Liter- $.99/ea 
Philadelphia Cream Cheese (8 oz)- $1.29/ea
Kraft Deluxe Macaroni & Cheese or Velveeta Shells & Cheese (Select Varieties, 10-14 oz)- $1.29/ea
Marzetti Veggie Dip- $2.49/ea***
Use $1/1 Marzetti Veggie Dip Coupon
Final Price: $1.49/ea
Edge or Skintimate Shave Gel- $1.49/ea
Garden of Eatin' Tortilla Chips- $1.69/ea
Cheez-It Crackers (Select Varieties, 9.7-14 oz)- $2.39/ea
Use $1/2 Keebler Crackers and/or Sunshine Cheez-it Baked Crackers Coupon 1/29 Red Plum Insert
Final Price: $1.89/ea, When You Buy 2
Lay's Potato Chips or Kettle Cooked Chips (Select Varieties, 8.5-10.5 oz)- $1.99/ea
Frito Lay Naturals or Miss Vickie's Chips (Select Varieties, 8-9 oz)- $1.99/ea
M&M's Candy (Select Varieties, 9.9-12.6 oz Bag)- $2.19/ea
Tostitos Tortilla Chips (Select Varieties, 9-13 oz Tostitos Salsa Select Varieties, 15.5 oz)-$2.49/ea
Johnson's Baby Care (Select Varieties, 5-15 oz)- $2.49/ea
All Free Clear Laundry Detergent, Liquid or Powder  – $3.49 ***
Use $1/1 coupon from 1/1 Red Plum OR $.75/1 printable coupon
Final Price: $2.49/each 
Hebrew National Beef Franks (Select Varieties, 11-12 oz)- $2.99/ea 
Fred Meyer Orange Juice (Gallon)- $2.99/ea 
Dreyer's Ice Cream (Select Varieties, 48 oz)- $2.99/ea
Crest Pro-Health Toothpaste (Select Varieties, 4.2 oz)- $2.99/ea
Dove Men+Care Body Wash- $2.99/ea
DiGiorno or California Pizza Kitchen Pizza (Select Varieties, 11.9-34.2 oz)-$4.49/ea
Yuban Coffee (Select Varieties, 33 oz)- $8.49/ea
Use $1.50/1 Maxwell House Coffee or Yuban Coffee eCoupon
Final Price: $6.99/ea
Other In-Ad Coupons & Offers:
Buy 1 Get 1 50% off All Home Decor Candles & Home Fragrance
Buy 1 Get 1 50% off Men's Levi's Jeans (505 Straight Fit Jeans) with in-ad coupon (No Limit)
Save 15% on All Video Game Accessories
Save 30% on GE 2-Pack CFLs