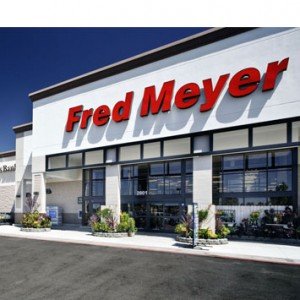 Here are this week's Fred Meyer weekly deals & coupon matchups through April 8th.
Make sure to check the store ad yourself & use the Thrifty NW Mom Coupon Database if there are specific sale items that you'd like to match with a coupon.
You can use E-coupons paired with Fred Meyer store coupons. So, make sure to load E-coupons from these sites to your Fred Meyer card before you go: Shortcuts.com, Cellfire.com & FredMeyer.com. You can no longer pair E-coupons with manufacturer coupons, though.
Fred Meyer Coupon Policy:
Fred Meyer has their coupon policy online, which means that you can print it off & stash it away in your coupon binder. One important change to their coupon policy recently – you can use Catalina coupons from other stores at Fred Meyer! Another recent change is that only 2 internet coupons per manufacturer, per customer, per day will be accepted.
*** These are our favorite deals of the week!
Produce
Celery – $.49/lb***
Yams or Sweet Potatoes – $.69/lb***
Asparagus – $1.38/lb
Organic Mini Peeled Carrots – 2/$3
Gold Pineapple – $1.99***
Dairy
Fred Meyer Sour Cream – $.99***
Fred Meyer Milk, half gallon (includes chocloate)- 4/$5***
Philadelphia Cream Cheese – 4/$5
Fred Meyer Butter, 1lb:  3/$5 (with in-ad coupon, limit 3)***
I Can't Believe It's Not Butter – $1.99
Use $1.25/1 printable coupon from coupons.com
Final Price: $.74***
Meat & Seafood
Save $10 on F.G. Meyer Flame Crafte Bone-in Spiral Ham (with in-ad coupon, limit 2)
Foster Farms Split Chicken Breast – $1.59/lb
Sprial Sliced Ham – $1.98/lb
Other Grocery Deals
Fred Meyer Canned Vegetables – 2/$1 (with in-ad coupon, limit 10)***
Fred Meyer Broth, Cream of Mushroom Soup or Cream of Chicken Soup – 2/$1***
Big K Soft Drinks, 2-Liter – 4/$3***
Birds Eye Vegetables – 10/$10 (Steamfresh shown in ad)
Buy 3
Use $1/3 coupon from 3/4 Red Plum insert
Final Price = 3/$2 (about $.67 each)***
Update – there is also a Use $.50/2 coupon from 4/1 Smart Source (regional coupon) making them $.50 ea!
Pure Protein Bars – 10/$10
Buy 2
Use $1/2 coupon from coupons.com
Final Price: 2/$1 ($.50 each)
Country Oven Bread or Buns – 3/$4 (with in-ad coupon, limit 6)
Nestle Nest Eggs – 2/$3
Buy 2
Use $1/2 coupon from 3/25 Red Plum insert
Final Price: 2/$2 ($1 each)***
Hershey's Whoppers Eggs – 3/$5
Buy 3
Use $2/3 coupon from 3/25 Smartsource insert
Final Price: 3/$3 ($1 each)***
Jolly Rancher, Life Savers or Starburst Jelly Beans – $1.99
Buy 2
Use $1/2 coupon from 3/18 Red Plum insert
Final Price: 2/$2.98 ($1.49 each)
Nabisco Snack Crackers – 2/$4
Use $1/1 printable coupon for Triscuit Dill from facebook.com (if included) OR
$1/2 printable coupon from smartsource.com
Final Price: as low as $1 each***
Starbucks Coffee – $7.99
Use $1.50/1 coupon from 3/25 Smartsource insert OR
$1.50/1 printable coupon for Starbucks Naturals from coupons.com OR
$1/1 printable coupon for any Starbucks Bagged Coffee from coupons.com
Final Price: as low as $6.49
Bud, Coors or Miller – $14.99***
Household/Health & Beauty Deals
Kitchen Gadgets – B2G1 Free (with in-ad coupon)
Bakeware – B1G1 50% off (with in-ad coupon)
Got 2b Styling Aids – $3.99
Use $3/1 coupon from 2/12 Red Plum insert
Final Price: $.99***
Microfiber 2-Pack Bed Pillows – $7.99***
Buy 4, Save $4 Instantly at checkout
* Prices already reflect $1 instant savings per item when you buy 4
Downy or Bounce, 90-105ct sheets or 52-60 loads – $3.99
Use $2/3 coupon for Tide, Downy, Bounce or Tide Stain Release from 4/1 P&G insert OR
$1/2 Tide, Downy, Bounce or Tide Stain Release from 4/1 P&G insert OR
$.50/1 coupon for Tide, Downy, Bounce or Tide Stain Release from 4/1 P&G insert
Final Price: as low as $3.32 – $3.49
Tide Detergent – $4.99
Use $2/3 coupon for Tide, Downy, Bounce or Tide Stain Release from 4/1 P&G insert OR
$1/2 Tide, Downy, Bounce or Tide Stain Release from 4/1 P&G insert OR
$.50/1 coupon for Tide, Downy, Bounce or Tide Stain Release from 4/1 P&G insert
Final Price: as low as $4.32 – $4.49 each
Charmin, 12 double or 16 basic rolls – $5.99
Use $.25/1 coupon from 4/1 P&G insert
Final Price: $5.74
Glad Trash Bags – $6.99
Buy 2
Use $2/2 printable coupon from coupons.com
Final Price: 2/$11.98 ($5.99 each)
Bounty Paper Towels – $14.99
Apparel Deals
** In-ad coupon for Extra 15% off Apparel, Shoes & Accessories (valid 4/1 – 4/7)
Men's & Women's Socks – B1G1 50% off (with in-ad coupon)
Kids' Holiday Apparel – Save 50%
Men's Russell Tees, Tanks and Sleeveless Shirts – $5.99
Toys & Movie Deals
** In-ad coupon for Extra 10% off Housewares, Home Decor, Furniture, Bedding, Bath, Toys, Tools, School & Office Supplies, Hardware, Home Improvement, Automotive, Sporting Goods, Luggage and Books & Magazines (valid 4/1 – 4/7)
** In-ad coupon for Extra 10% off All Music CD's, Vinyl & Musci DVD's
Board, Card & Handheld Games: B2G1 Free (excludes Lego Games)
Use $3/1 coupon for Candy Land, Chutes and Ladders, Memory or Cootie Game from 3/25 PlaySaver insert OR
$5/1 coupon for Scrabble Flash, Simon Flash or Yahtzee Flash Game from 3/25 PlaySaver insert OR
$3/1 coupon for Operation, Battleship or Twister Game from 3/25 PlaySaver insert
Final Price: varies

Pillow Pet Pee Wee – $9.99
We Bought a Zoo – $14.99 (DVD) or $19.99 (Blu-ray Combo Pack)
* FREE 6 or 10 pack Jolly Time Popcorn with purchase and in-store manufacturer's coupon

War Horse – $16.99 (DVD) or $26.99 (Blu-ray Combo Pack)
Use $5/1 printable coupon for Blu-ray Combo Pack from warhorsemovie.com
Final price = $16.99 (DVD) or $21.99 (Blu-ray Combo Pack)
Other In-Ad Coupons and Offers
** In-ad coupon for an Extra 10% off Patio Furniture
Save 15% off Video Game Accessories (with in-ad coupon)
All Art & Craft, Yarn and Notions – Save 20% (with in-ad coupon)
Pansies, 4-Pack – $.79 (limit 1 flat per customer)***
Flowering Annuals in 4″ Squart Pots – 4/$5
5-Stem Tulip Bunches – 2/$7
5-7 Bloom Easter Lily in 6″ Pot – $7.99***
Premium Quality Dozen Roses – $9.99***
20-Stem Mum Bouquet – $9.99
Big Value Bunch (Flowers) – $9.99